Through November, Punjab Farm Fires Imperil Delhi's Air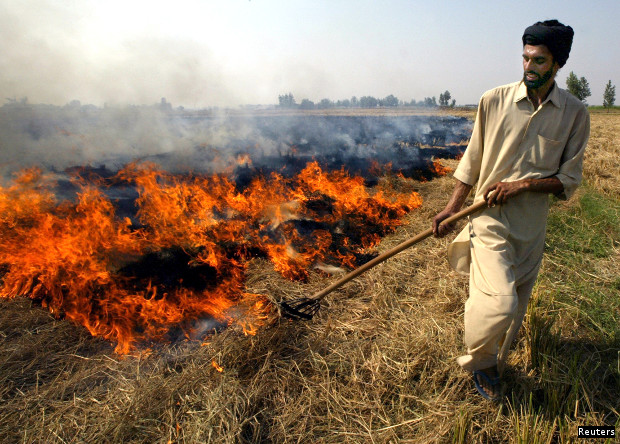 A farmer in Chandigarh burning paddy husks after a harvest.
Since September 2015, an ecological and public health disaster has been unfolding in Indonesia, as fires burn out of control. Such fires spread a haze over the region every autumn; this year is different only in severity and because it has caught international attention, with Indonesia surpassing China and the USA for several weeks as the world's biggest carbon emitter.
North India – and, in particular, Delhi – has its own version of this public-health disaster unfolding right now. Once winter sets in, the PM2.5 pollution levels across Delhi are routinely more than 20 times above safe levels mandated by the World Health Organisation. In October and November, farmers in Punjab and Haryana burn their fields as this is the cheapest and easiest way to clear paddy stubble after harvest. This practice has been steadily rising since the advent of mechanised harvesting in the mid 1980s.
Wind carries the smoke across the region and particularly to Delhi. A few weeks ago NASA released satellite images of the plume of smoke they create.
In a recent article, our colleagues at Evidence for Policy Design showed how Delhi pollution rises and falls in patterns, over the course of the day, the week, and the year. The article showed that October – which is when the burning of paddy stubble starts – marks the onset of high winter pollution in Delhi.
High-quality satellite imagery makes it possible to examine this link more closely. The top two panels of Figure 1 below uses NASA satellite imagery from 2003 to 2015 to map how much average pollution in any given week deviates from the annual average for Delhi (top panel) and for Punjab (middle panel).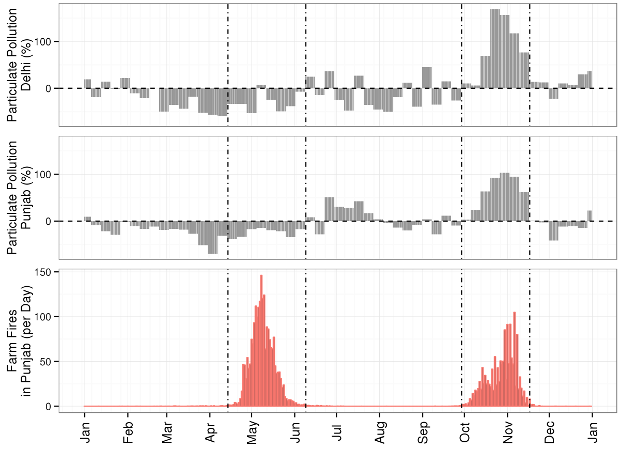 Figure 1: Punjab farm fires and percentage change in pollution from annual mean levels in Punjab and Delhi (based on data from 2003–2015)
The bottom panel of Figure 1 plots the monthly distribution of crop fires in Punjab (using the same NASA imagery): the paddy stubble burning period between the first week of October to the third week of November accounts for about 40% of crop-burning occurrences through the year. And, alongside, relative to the annual average, pollution levels increase by more than one and a half times in Delhi and roughly double in Punjab by the last two weeks of October. In contrast, stubble burning following wheat harvesting in the summer has relatively less impact, possibly because the wind and monsoon rains clear the air.
The last month has seen a flurry of policy activism around crop-burning. On November 4 the National Government Tribunal directed Delhi and four adjacent states to ban crop burning and announced fines for offenders. But there was little thought paid to what it would take to make these policies implementable; it is clear that no state government has enough agents on the ground to chase down every fire.
Rather, we need more nuanced policies. First, government – and perhaps civil society – should invest in data infrastructure that makes better information available to regulators and those on the ground. Satellite data such as that presented in this article can both help predict the onset of crop burning and identify areas where crop-burning is very high.
Figure 2 below uses the same NASA satellite imagery to map the incidence of farm-fire events across Punjab districts for the two main burning seasons. While the practice is widespread and decentralised, there is a clear geographical distinction in the distribution of paddy and wheat farm fires.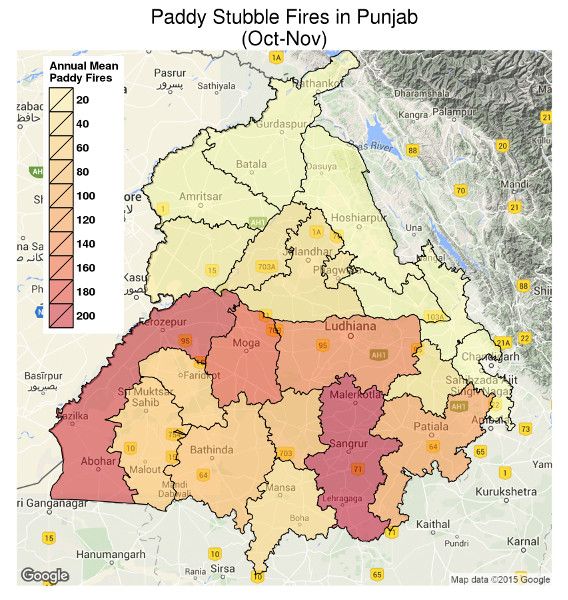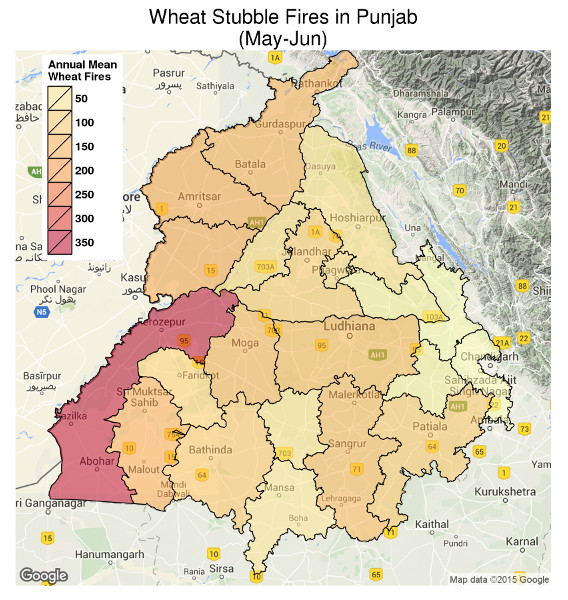 Figure 2: Autumn and spring farm fires in Punjab (based on data from 2003–2015)
More than 60% of paddy farm fires are concentrated in the five districts of Sangrur, Firozepur, Moga, Ludhiana and Patiala – and all five districts rank high on rice production. In contrast, wheat farm fires are more evenly distributed with the exception of the district of Firozepur that alone accounts for one sixth of all fires.
This regional variation suggests potentially high returns from prioritising targeted interventions in high-incidence districts. But for such interventions to be effective, it is critical that they acknowledge, and account for, individual incentives. It is difficult to get someone to give up a practice when it is others, and not them, who face the externalities of that practice.
The Punjabi farmer must breathe in smoke – but only in the short term, and this small cost is far outweighed by the benefit of having his land cleared at a low price. The negative externalities of his actions are distributed among millions of citizens living in distant Delhi and other cities in the region, where the cumulative effect of air pollution causes a staggering loss of life years.
Regulators need to identify and enforce policies that will cause farmers to internalise the externalities. If fines are to be used, the authorities have to be willing to invest the resources needed to make them implementable – for instance, provide local agents with satellite imagery that will allow them to target the big offenders.
At the same time, we need to recognize that if many fires are started by poor famers with very small plots then small fines will be politically infeasible and administratively impossible to implement.
In such situations, the high health cost of crop burning in regions further away such as Delhi creates a clear economic case for the government to assume some of the cost--for example, by subsidising cleaner ways of clearing fields and making profitable the use of agricultural wastes as fuel. There is anecdotal evidence that in some cases such policies have worked but we need rigorous pilots followed by swift large-scale rollout.
Finally, clearly not all farmers are equally reliant on crop burning across Punjab. Despite comparable paddy production, farmers in districts like Ludhiana and Patiala appear less likely to burn fields than Moga, Firozepur, and Sangrur. Can policy build on this? For instance, policymakers could use pilot projects to examine whether using social incentives such as rewarding blocks that reduce burning to below the district average can change the norm.
Today, the advent of daily satellite data makes it possible to monitor and evaluate the impact of these policies. The key is to recognise the need to design policies that align farmer incentives with the social good and then creates the data infrastructure needed to make these policies implementable.
(Pande is the Mohamaed Kamal professor of public policy and co-director of Evidence for Policy Design (EPoD) at Harvard Kennedy School. Sugathan is an assistant professor of business policy at Indian Institute of Management Ahmedabad and an associate in the Sustainability Science Program at Harvard Kennedy School.)
---
"Liked this story? IndiaSpend.org is a non-profit, and we depend on readers like you to drive our public-interest journalism efforts. Donate Rs 500; Rs 1,000, Rs 2,000."