The Story Of Trainee First Officer Garima Sheoran, And The Rise Of India's Women
Mumbai: In 2016, when 17-year-old Garima Sheoran was admitted to the highly-competitive Indira Gandhi Rashtriya Uran Akademi (IGRUA), India's national flying school at Fursatganj Airfield in Uttar Pradesh's central district of Amethi, nobody in her hometown of Rohtak, Haryana, knew what she was doing.
"Look, I come from a Jat family from small town Haryana," Sheoran, now 20 and a trainee first officer for SpiceJet airline, told IndiaSpend over the telephone, describing the atmosphere there as "not that great for girls". It was--and still is--unusual to see parents investing in their daughters' professional education, she explained. "If people knew they would say, 'Why are you spending so much on your daughter? Leave it for your son!'... Everybody expects girls to study engineering or medicine and get married early."
For two years, aside from her parents and younger brother, only an uncle knew the truth. "It was so awkward when neighbours, friends and relatives would ask, 'Where is Garima? How is she doing?' They would brush off the subject and say, 'Oh she's fine, she's studying engineering in some faraway college.'"
A fast-talking, confident young woman with long, black hair, and an affinity for English pop music (her callertune is the song 'Havana' by Cuban-American singer Camila Cabello), Sheoran represents a demographic that reveals the progress of India's women: women pilots, who constitute 12.4% of India's commercial pilots, more than twice the global average of 5.5%, and ahead of most Western countries, including the United States (5%) and United Kingdom (5.2%), according to 2018 data from the International Society of Women Airline Pilots.
Sheoran represents the generational progress Indian women have made in many areas, such as maternal and infant mortality, healthcare, and primary, secondary and college education. Her story is also a reminder of the progress made by her district and state--and the progress that still remains for India to catch up with the world and, in some cases, the subcontinent.
Rapid progress, enduring gender bias in Sheoran's home district
Rohtak, with a population of 1 million according to Haryana's 2017 economic survey, is the native home of a significant portion of Sheoran's pastoral Hindu Jat community, whose lineage to the area can be traced back to the 12th century AD.
The district, known to be a state hub for education, has a literacy rate of 84%, higher than the national average of 74%. However, while the male literacy rate here is 88%, the female literacy rate is 16 percentage points lower at 72%, indicating a continuing gender bias against women in the state.
Across India, the state ranked sixth for crimes against women, according to a 2016 report of the National Crime Records Bureau, the latest available data, and reported the most gangrapes nationally: 1.5 for every 100,000 women.
With 879 women per 1,000 men, Haryana also reported India's lowest sex ratio among states, according to Census 2011, up by only eight over 60 years since 1951 when the sex ratio was 871.
Haryana has 17 districts classified by the government as "gender-critical", one of which is Rohtak, with 867 females for every 1,000 males. It was from here that India gained its first Olympic medal in 2016, when local wrestler Sakshi Malik became the first Indian female wrestler to win a medal at the Olympics, IndiaSpend reported in 2016.
'Where I come from, parents only do this for sons'
Six months before flight training, Sheoran could not imagine being a pilot.
One day, while she was studying for engineering and medical entrance tests (which she cleared), her parents suggested flying as an option.
"I was honestly taken aback when they came up to me," said Sheoran. "I was like, 'OK! I didn't know this could be something I can do... now that it's in front of me, I would definitely like to try it out."
It was only when she cleared the medical examination at IGRUA that she felt she might become a pilot.
"I learnt then that it was my father's dream to see me become a pilot, and he had never said a word before," Sheoran said. She was still worried if her father, a right-to-information officer at Maharshi Dayanand University, a Haryana state university, and mother, a public-school teacher, could afford the flying school's fees and other costs.
"My parents sold off some land and found a way to gather some money," said Sheoran, "I was still unsure because, you have to understand, where I come from, parents usually only do this for the sons. But my mother told me, 'Promise me you will not ask us how and what we paid for this.'"
Sheoran went on to get her commercial pilot's license in 15 months (cadets at IGRUA generally take 18 months to two years to reach this point).
"Only after I got a job did we tell our family the truth," she said, with a laugh. With her first salary, she gifted her mother a gold ring. For her father and 15-year-old brother, she bought Skagen watches, an expensive Danish brand.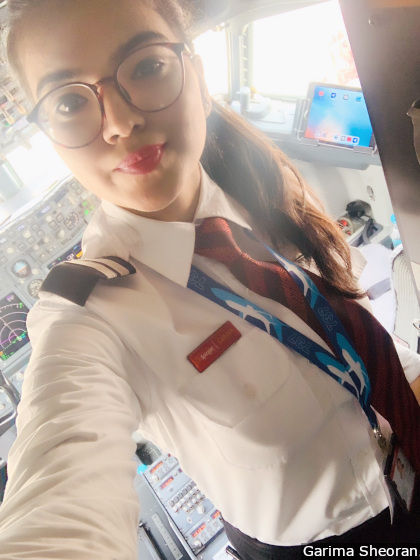 Trainee First Officer Garima Sheoran (20) in the cockpit after earning her stripes
Sheoran has already cleared the exams and interviews for her airline transport pilot's license, which is 'frozen' until she turns 21. She can then apply to be a captain, after completing 2,500 hours of flying an aircraft.
India's women pilots light the way
Sheoran's story is similar to that of many women across urban, semi-urban and rural India. They are overcoming inhibitions and shredding stereotypes to become pilots and commanders to lead the world in this profession.
Of 1,092 women pilots in India, 384 or 35% are commanders (or captains), which is 7 percentage points above the global average of 28%. In the US and UK, women captains account for 27% and 28% of women pilots, respectively.
"Female pilots don't feel the traditional challenges women face otherwise in other jobs," said Air Marshal VK Verma (retd), former director of IGRUA. There is equal pay, as stipulated by the unions, and there are other facilities provided by the airlines, such as childcare and security, he said.
"We have found a great keenness among young girls who want to become pilots, and we see no difference in the skill sets of men and women," he said. Many of IGRUA's women trainees, have gone on to become flying instructors at the academy; its chief flying instructor is a woman.
Aviation is a glamourous example, but as educational and health outcomes improve, growing numbers of women are venturing into what were once considered non-traditional career paths and becoming leaders in professions.
As of 2015, 17 CEOs of India's 500 largest listed companies were women, the Economic Times reported in 2016. Of these, seven were in the banking & financial services industries. This was more than four times as many as in 2005, when no more than four CEOs of the largest, listed companies were women.
The number of female judges rosed from six in 1950 to 124 of 229 judges in the Supreme Court and higher courts in India, the New Indian Express reported in December 2016.
These advances, albeit from a low base, reflect the progress that India has made in female literacy.
The rise of women in education, particularly the sciences
Female literacy in India rose from 9% in 1951 to 65% in 2011, according to 2017 government data.
The gross enrollment ratio for girls in upper primary (grades VI-VIII) rose from 66.4% in 2005-06 to 97.6% in 2015-16. Enrollment in higher secondary education (grades IX-XII) rose from 36% to 69% over the same period.
The number of women enrolled in universities has risen by 33% over four years, from 2.1 million in 2011-12 to 2.8 million (2015-16).
More women are entering science and technology education, traditionally the preserve of men. Over six years, the number of women enrolled in a bachelor's degree in science has risen 130% from 1 million in 2011-12 to 2.3 million in 2017-18.
Women enrolled for a master's in technology rose 73% in less than five years, from 34,217 in 2011-12 to 59,259 in 2017-18, according to government data.
Much of this development was made possible by bettering women's health.
Health indicators are improving
Significant improvements in the health of Indian women over the decades have allowed them to pursue higher education.
The proportion of "thin" women (with a body mass index--a measure of weight for height--of less than 18.5 kg/m2), aged 15-49 years has declined 13 percentage points, from 36% in 2005-06 to 23% in 2015-16.
The incidence of stunting (low height for age) among Indian girls reduced from 23% to 16% over 10 years to 2016, and the percentage of underweight (weight for age) girls declined from 16% to 11% over the same time period, according to the data from the 2015-16 National Family Health Survey (NFHS).
A leading reason for the improvement in health outcomes for both women and children has been a focus on the health of mothers, IndiaSpend reported in July 2018.
The maternal mortality rate has declined from 398 deaths per 100,000 live births in 1992 to 130 deaths in 2014-16, according to the 2013 Sample Registration Survey (SRS), the latest available data.
Meanwhile, the mean age of marriage, a key determinant of female empowerment, has increased from 19.5 years in 1991 to 21.3 years in 2013, the 2013 SRS report showed.
The proportion of women married before 18 declined from 18% in 1996 to 2.2% in 2013, while the percentage of women married after 21 rose from 29% to 56% over the same period.
These indicators point to growing decision-making powers among women over the years.
In 2005-06, currently married women, who usually participate in household decisions, was 76.5%, rising to 84% in 2015-16, according to NFHS data.
One of the reasons attributed to greater decision-making powers is the growing economic independence of women, the data showed. The percentage of women with a bank or savings account that they themselves operate has more than tripled, from 15% to 53%.
However, despite the pilots and the CEOs, the progress of women is inadequately reflected in India's workforce.
Fewer women are working, even the flying school does not have enough
India's female Labour Force Participation Rate (LFPR), or the number of women in the labour force per 1,000 persons in urban and rural areas, declined over 18 years to 2011, IndiaSpend reported in January 2019.
Female LFPR in urban areas declined from 165 per 1,000 in 1993 to 155 in 2011. In rural areas, the female LFPR fell from 330 to 253 over the same period, we reported.
While jobs for men increased by 0.9 million, 2.4 million women fell off the employment map in the first four months of 2017, IndiaSpend reported in August 2017. Only 27% of Indian women are currently in the labour force. Among G-20 countries, only Saudi Arabia is worse. You can read our in-depth reporting about women at work in India here.
That women are held back is evident even at the flying school in Fursatganj. While capacity has been increased to accommodate the rising aspirations of women, women constitute less than a quarter of cadets enrolled.
"There must be some inhibitions at the family-level... [despite increasing seats] but it is obvious that aspirations are rising tremendously," said former director Air Marshal Verma.
"I think my choice of career has definitely opened my relatives' eyes to the possibility of trying different career paths," said Sheoran. "But this is still something they would only consider for their sons."
On her Instagram account, where her count of followers crossed 1,000 in January 2019, Sheoran gets several messages from girls across India, asking her for advice on the IGRUA entrance exams, information on scholarships--and on convincing parents to let them become pilots.
"A lot of girls, many from Gwalior, Meerut, and other parts of UP, Rajasthan and Haryana, reach out to me regularly, asking about misconceptions related to my job," said Sheoran. "They want to know if it is unsafe, or if we struggle with discrimination--I immediately share with them news articles about India's progress with women pilots."
"The main problem I keep hearing is that parents will never agree to pay for them to learn to fly, so I ask them to study and apply for scholarships," Sheoran said. "I found out not only IGRUA but also state governments offer scholarships--maybe these need to advertised more. The work hours may be crazy, but the job satisfaction at the end of the day makes it all worth it. These girls need to know they have options."
(Saldanha is an assistant editor, and Salve is a programme manager with IndiaSpend.)
We welcome feedback. Please write to respond@indiaspend.org. We reserve the right to edit responses for language and grammar.