The Slow Death of Kanpur's Leather Economy And UP's Job Crisis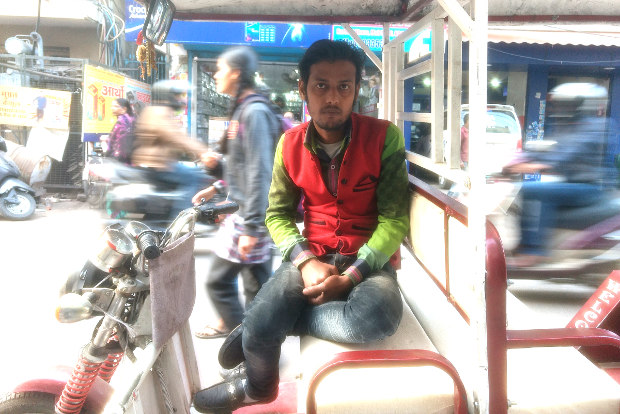 Kanpur (Uttar Pradesh): Shadab Hussain, 23, dropped out of school at age 11 to work in a leather factory in Kanpur, the oldest and largest industrial city of India's most populous state. To support his family, parents and four siblings, he worked eight-hour shifts every day for a monthly salary of Rs 9,000.
Over eight years, he remained semi-literate, but he learned the fine art of creating new shoe designs from photos, making sure the shoes would fit, last and be comfortable. But his skills did not change his status as a casual worker with no medical or other benefits and no prospect of pension. As Hussain came of age working with cow hides, Kanpur's once booming leather economy began to shrink, pushed to the edge by falling global demand, environmental regulations and contemporary cow politics.
Three years ago, with no prospects of a better life or a pay hike, Hussain and five friends from his mohalla (neighbourhood) quit the only job they knew. He drives an autorickshaw today; the others run roadside snack stalls.
In the 1990s, Kanpur's leather industry employed a million workers (there are no official data), according to IndiaSpend's inquiries with the government and leather-industry representatives. With 176 of 400 leather tanning units shutting over 10 years, according to a joint secretary--who requested anonymity since he is not authorised to talk to the media--in UP's industries department, that number has halved.
But earnings from the auto were irregular, from Rs 15,000 to Rs 20,000 a month. So, Hussain is about to begin a job designing and fixing 'uppers' (the upper part of a shoe that contains the tongue) at a shoe factory in NOIDA, located in UP but an extension of the metropolitan region of Delhi, India's richest province, by per capita income.
"They are giving me Rs 12,000 a month but the working conditions are good," he said, describing how he would work in an air conditioned workplace, be given a managerial task, monitoring the supply line, and stand a better chance to get married.
"Kab tak auto chalaunga. Long-term mein thoda standard job chahiye na? (How long will I drive an auto to make a living? In the long term, I need a job of some standard, don't I?)" said Hussain.
Hussain's story is common enough in UP, a state with about 70 million young people, aged 15 to 34, comprising a fourth of young Indians. UP's median age is is 23, the least in India, and jobs--as the findings of a poll commissioned by IndiaSpend reported on February 6, 2017--are this election's leading issue.
The decline of UP's industrial powerhouse offer clues to its future
To understand why UP--a state with 138 million voters--cannot offer gainful employment to young people like Hussain, we looked for answers in the decline of Kanpur's leading industry, leather and leather products.
Kanpur's financial wellbeing is important to UP. The district that houses the city and its industrial areas contributed Rs 19,000 crore--or 4%--to the state's gross domestic product of Rs 4.6 lakh crore ($ 75 million) in 2013-14, according to UP government data. This is the fourth-highest contribution by a single district--the differences between the top four are slender--along with Agra, Lucknow and Gautam Buddha Nagar (which includes NOIDA).
With 2% of UP's population, Kanpur employs 6% of UP's urban workforce, according to the sixth economic census, 2012-13. Only NOIDA generates more jobs–it employs about 10% of UP's urban working population.
UP has 16% of India's working youth (15-34), and 20% of its child population (5-14), which will join the job market over the next decade. About 45% of voters are below 35 years of age, according to data estimate from UP Chief Electoral Officer's website, highest proportion in India, alongwith Bihar.
The future for these children is not good. Like Hussain, nine in every 100 students in UP leave school before completing class IV, the highest primary school dropout rate among India's large states, according to 2015-16 district information system of education data. It has one teacher per 39 school students, as IndiaSpend reported on January 5, the worst in India, and the lowest enrolment rate among large states.
To the ranks of 70 million semi-educated youth, this means, will be added more semi-educated youth. And, if Kanpur's economy is any indication, even casual, semi-industrial jobs once available to people like Hussain may no longer exist.
How Kanpur's leather industry lost its shine
Called 'Cawnpore' during the Raj, Kanpur was once among India's leading cities. It ran its first electric tram in 1907, the same year as what was once Bombay, and seven years after trams were first introduced in Kolkata.
The first textile company—Elgin Mills—was started here, five years after the revolt of 1857. Elgin paved the way for nine textile companies before the start of the 20th century, making Kanpur northern India's biggest industrial city.
Post-independence, most large Kanpur industries hit a growth block. The textile mills went into decline, after nationalisation in the 1970s. The other big Kanpur brand, Lal Imli blankets, set up by British India Corporation in 1876, also died a slow death post-nationalisation. It was leather that led the revival of Kanpur's manufacturing sector in the 1980s.
The district is still the leading producer of leather and leather goods—predominantly footwear—with a quarter (268) of India's footwear factories. Footwear exports form 40% of India's leather exports and a third of India's leather (and leather-product) exports go from Kanpur. Multiple regions in Tamil Nadu together contribute to 34% of these exports.
But Kanpur's leather industry, as we said, is now in such a state of distress that large-scale migration is now evident, as the city's population growth-rate drops.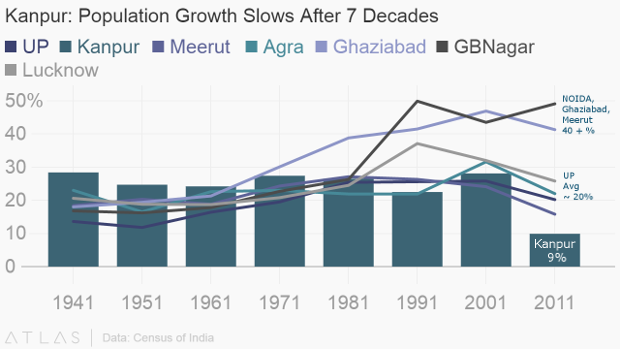 Figures in %; Note: GBNagar = Gautam Buddha Nagar, includes NOIDA
Source: Census of India
UP's population grew 20% over the decade ended 2011, and while other large and growing UP cities, such as Lucknow, Agra and Meerut stayed close to this number, Kanpur's growth rate fell to 9%, after seven decades of a 20% increase. Noida grew at over 40%, indicating rapid urbanisation and development.
Fall in global demand hit Kanpur the hardest
Global demand for leather, mainly from advanced economies, fell after 2014. This can be traced to the slowing of European economies and China. Leather exports from India fell by 4% in 2015-16 after growing over six years, but exports from Kanpur declined 11% over the same period.
Data obtained from Central Regional Office of Council of Leather Exports, Kanpur
Kanpur suffered especially in the footwear components and finished leather goods category. Saddlery--the leather gear used in horse-riding--is exported almost exclusively from Kanpur and its demand did not suffer, but did stagnate.
"Leather and products demand from the European Union has contracted in the past couple of years," said Ali Ahmed, regional director (central region, Kanpur) of Council of Leather Exports.
Industry struggles to comply with green rules
Environmental regulations imposed on tanneries have crimped industry finances. The establishment of National Green Tribunal (NGT) in 2010 and its rigorous monitoring of pollution levels led to 128 of Kanpur's 400 tanneries shutting. There are also at least 500 cases against other leather units in the principal bench of the NGT, as it records archive indicates.
"The tanning industry is known to be very polluting, especially through effluents high in organic and inorganic dissolved and suspended solids content," noted this 2007 report. "A significant part of the chemical used in the leather processing is not actually absorbed in the process but is discharged into the environment."
Cow politics now impacts the flow of raw material
Before 2014, about 1,000 cattle were brought to Kanpur's largest abbatoir. Last year, after three years of political heat and emboldened Hindu vigilantism, this dropped to 500 and post-notebandi--as the scrapping of 86% of bank notes, by value, is termed colloquially--the number fell to less than 100, industry representatives told IndiaSpend on condition of anonymity because of the sensitive nature of the issue. The numbers are now rising, slowly.
"Cattle, which are now become a liability to farmers, run about 10 industries," said Taj Alam, vice president of Uttar Pradesh Leather Industries Association. These industries include pharmaceuticals where gelatin prepared from hoofs, horns and the insides of hides are used, soaps where animal fat is used, upholstery where hair is used.
No place for the small entrepreneur
Worst impacted by the slowdown are small-scale leather shoemakers.
"Leather now represents the expensive segment in fashion merchandise," said Mohammed Raees, a footwear maker in Begumganj, Kanpur's traditional small-scale footwear hub. "Cheaper footwear and ladies' purses can be produced using newly developed polymers, which people can afford and prefer as well."
Begumganj and adjoining Chamanganj housed at least 1,000 household leather factories, according to local residents. These small businessmen had to adapt with changing market preferences. "Indians now demand cheaper stuff for regular use," said Ahmed. "We had to change too."
Guddu Mohammad, 50, a shoe worker, and his four associates work as skilled artisans in the only surviving household shoe making factory in Begumganj. "There were thousands of such shops in my childhood in Kanpur," he recalled. "The large-industry revolution, which swallowed small shoemakers like us, could not accommodate all of us skilled workers."
This story previously said UP had a fourth of India's unemployed youth. That is wrong. UP has a fourth of India's youth population (15-34)?. We regret the error.
(Waghmare is an analyst with IndiaSpend.)
We welcome feedback. Please write to respond@indiaspend.org. We reserve the right to edit responses for language and grammar.
__________________________________________________________________
"Liked this story? Indiaspend.org is a non-profit, and we depend on readers like you to drive our public-interest journalism efforts. Donate Rs 500; Rs 1,000, Rs 2,000."