The Price For Insecurity: Record $18 Billion Of Foreign Tourist Earnings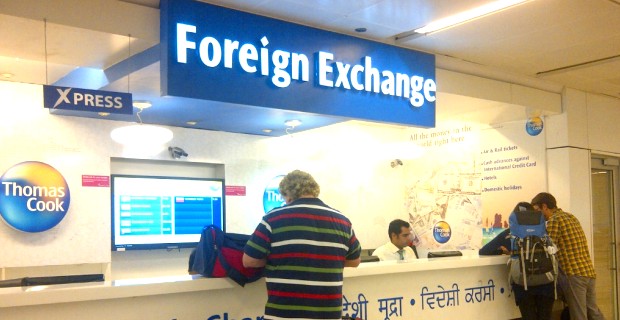 Highlights
* Foreign Exchange Earnings (FEE) from tourism hit a record high of Rs 94,487 crore in 2012, up Rs 16,896 crore from previous year
* FEE over five years was Rs 343,221 crore
* About 29 million Foreign Tourist Arrivals recorded from 2008 to 2012
Crimes against foreign nationals have caused India's already fragile tourist economy to take another knock.
Tourist arrivals – particularly of women- have already been affected – the Associated Chambers of Commerce & Industry of India (ASSOCHAM) says visits to India by women tourists dropped 35 percent in the first three months of this year.
That figure might be disputed. But there could be another problem looming ahead. Foreign Exchange Earnings (FEE) from tourism that hit a record high of Rs 94,487 crore in 2012, up Rs 16,896 crore from the previous year, could be affected too.
FEE in April 2013 had increased 7.5% over April 2012 and as per the latest figures released by the Government (June 11, 2013), it has increased bymore than 9% in May 2013 as compared to May 2012.
Ministry of Tourism data also shows that, during the period 2008-12, tourist arrivals have been steadily increasing (from around 5 million in 2008 to more than 6 million 2012) and so is the FEE (Rs 51,294 crore in 2008 to Rs 94,487 crore in 2012).
Figure 1 (a) gives us the details of the Foreign Tourist Arrivals recorded from 2008 to 2012
Figure 1 (a)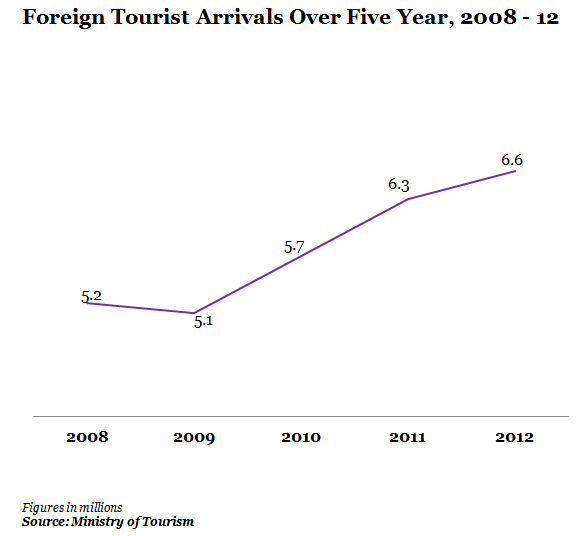 Figure 1 (b) shows us the growth in Foreign Exchange Earnings from 2008 to 2012
Figure 1 (b)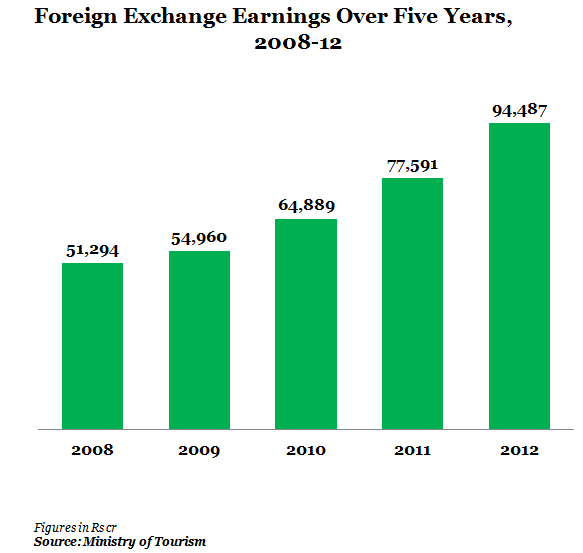 Some 29 million foreign tourists visited India in 2008-12 and barring the year 2009, every year saw an increase in footfalls. Total revenue for the period added upto Rs 343,221 crore.
So on an average, around 5.8 million tourists have brought in Rs 57,203 crore while Rs the annual increase in foreign tourist earnings is around Rs 8,638 crore.
So what's the official reason for the rising FEE and FTA? A response to a Parliamentary question in the Lok Sabha, the lower house, claimed one reason was the Incredible India advertising campaign overseas.
An independent study conducted by the Indian Institute of Tourism and Travel Management says the Tourist Visa on Arrival (TVOA) facility has had a positive and significant impact on foreigner's travelling to India. Presently, TVOA is extended to 11 countries and the facility is available in Delhi, Mumbai, Chennai and Kolkata airports.
But what about the ASSOCHAM claim that tourists are cancelling on India? Interestingly, the latest Tourism Ministry data released on 11 June 2013 appears to contradict the ASSOCHAM figures. According to the Ministry:
- May 2013 saw 3.84 lakh FTA (up 3.2%) as compared to 3.72 lakh during May 2012 which was lower than 3.83 lakh in May 2011.
- FEE in May 2013 stood at Rs 6,089 crore (growth of 9.5%), as compared to Rs 5,562 crore during May 2012 (growth of 10.2%) and Rs 5,047 crore during May 2011.
The data of foreign tourist arrivals may be disputed, for now. What cannot be disputed perhaps is the rupee's depreciation against the dollar – it hit an all-time low of Rs 58.14 on 10 June. This surely makes India a more attractive destination for anyone with hard currency. Welcome to India.