The Oil Subsidy Shocker: Rs 800,000 Crore In 5 Years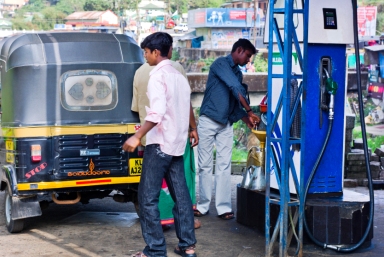 The Government of India is staring at an oil subsidy bill of nearly Rs 800,000 crore over the next five years... nearly double the subsidy of Rs 400,000 crore paid out during the last five years.
The government has been attempting to curb rising petroleum subsidiesby initiating a host of measures generally considered risky in politics - decontrolling petrol prices, increasing diesel prices and limiting supply of subsidised LPG to families.. the only product left untouched till now is kerosene, and the government has re-iterated that it has no plans to hike its price any time soon.
The total petroleum subsidy bill for the current financial year for the government is expected to increase to Rs 1,67,000 crore from Rs 1,38,541 crore in 2011-12. Remember that this comes against the backdrop of crude prices ruling at over $100 per barrel and the rupee trading around 55 per dollar.
Figure 1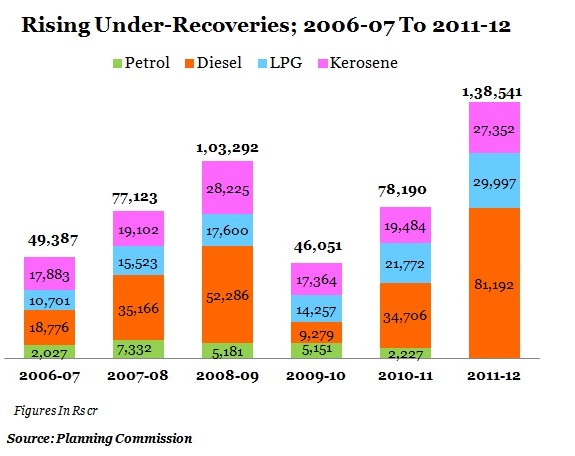 Demand Keeps Going Up
Demand for petroleum products increased at an annual rate of 4.15% between 2007 and 2012. LPG consumption in India increased from 10.8 million tonne in 2006-07 to 15.3 million tonne in 2011-12, a growth rate of 7.21% per annum.
The percentage of all households using LPG as cooking fuel increased from 57% in 2004-05 to around 66% in 2009-10. Access to supplies in rural areas increased from 8.6% households in 2004-05 to 15.5% in 2009-10. Besides, per capita consumption in rural areas was just around 0.3 kg per month as against 1.8 kg in urban areas. So, the potential in rural areas is much higher...
Figure 2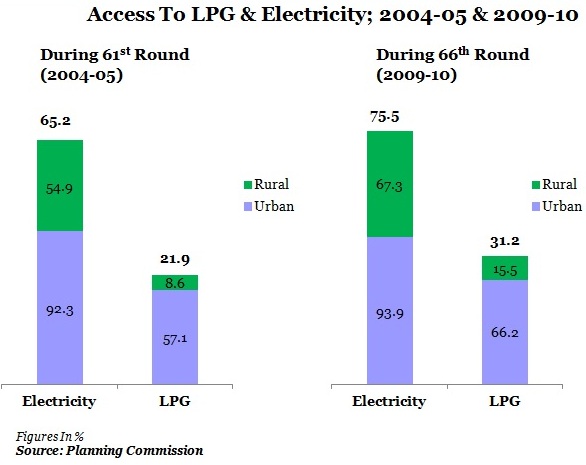 Under-Recoveries Govt's Big Concern
The government dismantled the administered pricing mechanism for petroleum products in 2002 but it was not implemented till 2010 when the pricing of petrol was finally deregulated. The pricing of diesel, LPG and kerosene is still being set by the government. And under-recoveries of oil companies for selling petroleum products is partly borne by the government.The total under-recoveries by the government and oil companies amount to over Rs 4,00,000 crore between 2007-2012.
As per the latest document of the Planning Commission, high oil and gas prices and India's dependence on imports for both oil and gas is likely to continue. The document goes on to add that price adjustments in the petroleum sector has to be carried out in various ways and does not require generalised subsidies.
Although steps have been taken to adjust diesel prices and cap the subsidy on LPG, OMCs are expected to incur under-recoveries of Rs 8,32,737 crore between 2012-17, which is "simply not viable."
Figure 3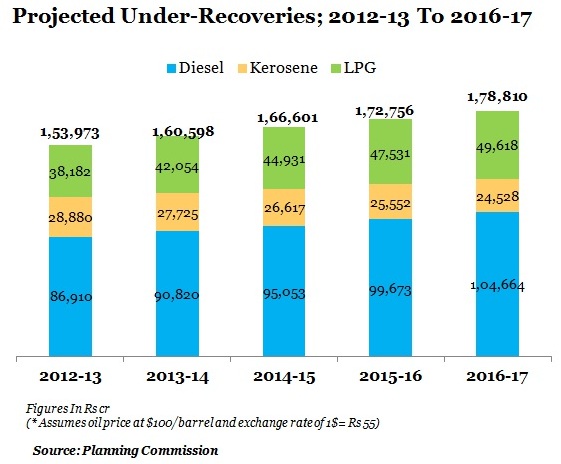 So, while the government increased the diesel price and limited subsidised LPG cylinders to 6 per family, Congress-ruled state governments back-tracked and increased the subsidised LPG cylinders to 9 per family.