The MPs With The Most Profitable Stints In Government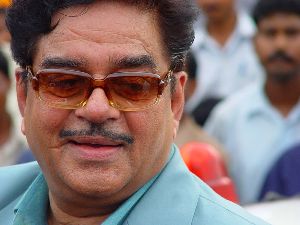 Is a stint in politics profitable?
Depends on how you define profitable. If it's in money terms, the answer is yes. Not to say that the earnings accrued from their being politicians or their specific roles but many politicians saw their wealth multiply quite sharply in the last five years.
This is also the period average economic growth was slower at 4.7% (2009-14) compared to the previous period of 6.6% from 2004-2009. And real estate prices have not appreciated as quickly.
So which re-elected members of parliament (MPs) saw the biggest jump in assets from their last term in office from 2009?
According to data released by Association for Democratic Reforms (ADR), Shatrughan Sinha, erstwhile actor and BJP candidate from Bihar, witnessed the highest jump in assets. During the time of the 2009 Lok Sabha Elections, his assets amounted to about Rs 15 crore. Five years later, during the 2014 Lok Sabha elections, his assets amounted to almost Rs 132 crore, an increase of about Rs 117 crore.
Second in the list is Biju Janata Dal's Pinaki Mishra from Orissa whose assets rose from Rs 29.69 crore in 2009 to about Rs 137 crore in 2014, an increase of Rs 107.41 crore.
Nationalist Congress Party's Supriya Sule from Maharashtra saw her assets more than double from about Rs 51.54 crore in 2009 to almost Rs 114 crore this year.
Here's a look at the remaining MPs who fall in the top ten in terms of increase in assets.
Table: Top 10 MPs By Increase In Amount Of Assets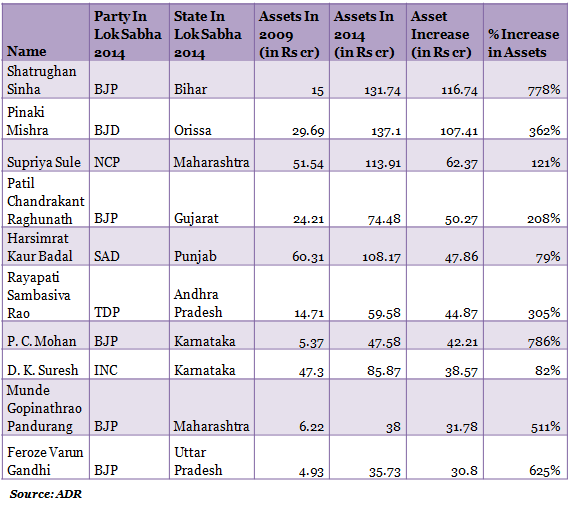 While these MPs got re-elected, here's a look at some of the high profile leaders who earned a lot of money during the last five years but were shown the door by the electorate.
Table 2: Billionaires Leaders Who Could Not Make It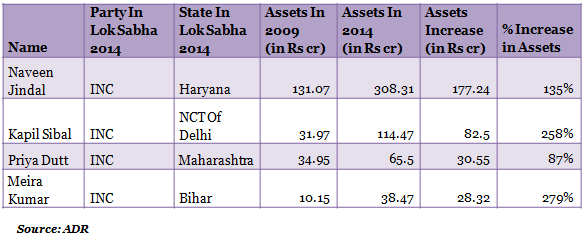 Former Congress MP Naveen Jindal saw his assets increase by Rs 177.24 crore from Rs 131 crore in 2009 to Rs 308 crore in 2014.
Kapil Sibal, the former Minister of Human Resource Development and Communications & IT, saw a 258% increase in assets, since 2009 his assets amounted to almost Rs 32 crore and by 2014, his assets were worth a little over Rs 114 crore.
Priya Dutt from Maharashtra saw an 87% increase in her assets after being elected in 2009. During 2009, her assets amounted to almost Rs 35 crore, and in 2014, her assets rose to Rs 65.5 crore, up about Rs 30 crore.
Another interesting person of note was former Speaker of Lok Sabha Meira Kumar. She had declared assets amounting to Rs 10.15 crore during the 2009 elections. During five years in power, her assets more than tripled with her declaring assets of a little over Rs 38 crore during the 2014 elections.
While the electorate didn't let a lot of the high profile and high net-worth MPs get re-elected, one can't help think that becoming an MP does give you better returns than most savings schemes.