The Curious Case Of Onion Prices And Bihar Elections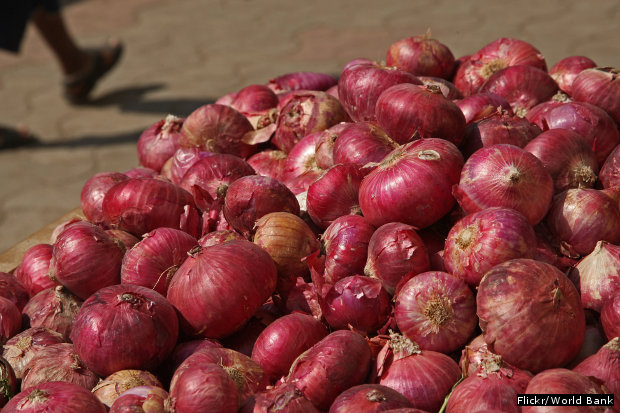 Onion prices and the stock markets have recently been in the news but for contrary reasons—one is rising precipitously while the other is falling rapidly.
Recently, after the Indian stock markets plummeted by over a thousand points, there was a joke doing the rounds on social media that showed a picture of a housewife threatening to hit her husband who had not heeded her advice of investing in onions and invested in stock markets instead.
Data from the National Horticultural Board shows that onions are among the most consumed vegetables, especially by the poor. Annual domestic onion consumption is around 15 million tonnes and so, it's not difficult to see where this joke is coming from.
The price of onions, staple in most Indian households, has increased from Rs 1,325 per quintal (national average) in January to over Rs 3,300 per quintal today. This translates to a greater than 150% increase over the last few months, with expectations of a further rise in prices.
There have been many explanations for this price rise–deficit monsoons that have affected the late kharif crop, unseasonal rainfall that damaged the winter harvest and impacted supply etc. However, this Mint article that says onion production was neither unusually low this year nor was there anything abnormal with the quality of produce, draws our attention to collusion among onion traders as a possible explanation for this surge in onion prices.
But there seems a whole other curious coincidence to rising onion prices–they seem to match every Bihar election cycle. India is a country where an election is held every year – general or state or both. A cursory glance at the data revealed evident peaks in the price of onions over the last decade. Bihar, which is the 4th largest consumer of onion in India, is now gearing up for elections in September. So, we examined wholesale prices of onions in Patna from 2004 onwards.
In 2005, over the six-month period preceding the Bihar assembly election in October, the national average onion price rose by almost 240% to Rs 1,060/quintal. Similarly, there was an over 155% increase in price in that same six-month window in 2010.
In the current run up to the Bihar assembly elections, what we are seeing is an astounding co-incidence of a rise in nodal onion prices in the Patna wholesale market six months before the election. Earlier this year, the price of onions stood at Rs 1,488/ quintal. Today, six months later, there has been an over 142% increase to Rs 3,603/quintal in Patna with a major proportion of that increase occurring over the last two months with expectations of a further price rise in the next two months.
Source: National Horticulture Board
Probing further we observed similar trends in 2005 and 2010 before the Bihar assembly elections that were held in October in both years. In both years, nodal wholesale onion prices at Patna steadily rose over the six months leading up to the elections, by 230% and 177% in 2005 and 2010 respectively.
Source: National Horticulture Board
While prices have risen at other times too and this is merely an observation and not a rigorous analysis to prove or disprove any hypothesis, a 100% correlation between the Bihar election and rising onion prices is intriguing.
If we accept the argument that onion prices are more a function of hoarding and market manipulation practices as the Mint article argues, then rising onion prices during election cycles is indeed the curious case of "Onionised Elections".
(Rithika Kumar is an Analyst at IDFC Institute. Additional inputs from Praveen Chakravarty, Visiting Fellow at IDFC Institute.)
(This story is part of IndiaSpend's special analyses of Bihar. You can read the other stories of this series here.)
_______________________________________________________________
"Liked this story? Indiaspend.com is a non-profit, and we depend on readers like you to drive our public-interest journalism efforts. Donate Rs 500; Rs 1,000, Rs 2,000."