Swine Flu Is Back But States Like Tamil Nadu Coping Better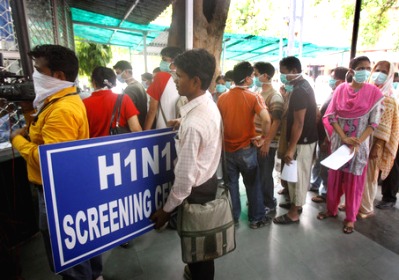 India's Health & Family Welfare Ministry declared last week that Influenza A H1N1 (which caused the swine flu pandemic in 2009) is one of the viruses causing an increase in seasonal influenzas, mainly in places like Delhi, Rajasthan, Haryana and Punjab.
IndiaSpend's Sourjya Bhowmick looked at the data to find that between 2009 and 2012, Maharashtra (11,408) and Delhi (11,267) reported the highest number of H1N1 cases; the highest casualties (1,079) were reported in Maharashtra followed by Rajasthan (374); and the mortality rate due to H1N1 was 7% of total reported cases.
Figure 1 lists shows the All India reported cases from May-Dec 2009 to January 27, 2013:
Delhi reported the maximum cases of H1N1 in 2009 while Maharashtra moved ahead of Delhi in the following years. Maharashtra has the highest number of deaths, which may be attributed to the size and population of the state. Tamil Nadu, which is strong in healthcare services, has seen the least number of deaths when compared with other states.
Since the first outbreak of H1N1 cases in 2009 till 2012, a total of 53,487 cases were reported across the country resulting in 3,224 casualties, a mortality rate of 7%. We can also see that H1N1 cases declined in 2011 as compared to 2009-10 but increased again in 2012.
Let us now look at the numbers for the current year – from January 1, 2013 till February 6, 2013:
Figure 2
Since January 1, 708 cases have been reported and 132 people have died due to swine flu. Incidentally, in one month, the mortality rate is 19%, which is far higher than the mortality rate of the previous years.
Rajasthan has reported the maximum cases (326) and the maximum deaths (65) this year followed by Punjab with 90 cases and 17 deaths and Haryana with 78 cases and 23 deaths. Incidentally, in the first two months of the year, the H1N1 pandemic is focused on North India. The impact is concentrated in Rajasthan, the reasons of which are not really known.
World Health Organisation (WHO) had declared that the H1N1 pandemic had ended in August 2010. However, WHO had also mentioned that H1N1 will recur for a few more years in the form of seasonal influenza. Media reports already suggest that there have been 5 deaths in China and 10 in Iraq.
The Health Ministry claims that the anti-viral drug Oseltamivir, the only resistant anti-biotic, is available free of cost through the public health system. A central stock of 5.5 million tablets is also maintained to fight the ailment.
Around 1.6 million tablets of Oseltamivir has already been despatched to Rajasthan and Haryana but vaccination measures are still not being considered though the mortality rate due to the present outbreak has surpassed the yearly mortality rates of the previous years.