Surprise, Surprise: Delhi Only Metro With Free Water Offer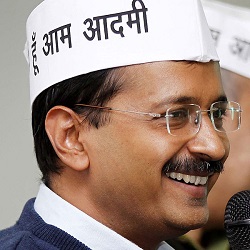 Delhi Chief Minister Arvind Kejriwal may have set a new trend in Indian politics – promising free water to everybody in the state.
While freebies like television sets, food processors and rice are common across the nation, this could perhaps be the first time a politician has promised 700 litres of free water. And delivered on the promise, at least for now.
From January 1, 2014, all Delhi households with meters will receive 666 litre free water (20,000 litre per month). Consumption above that limit will be charged. Till now, they were paying about Rs 220 for 20,000 litre, according to media reports.
How does that compared with other big metros like Mumbai , Chennai and Kolkata? Well, there is no free water supply in any of the cities. Mumbai Municipal Corporation charges Rs 3 per 1,000 litre from slums and Rs 4 per 1,000 litre from residential housing societies. So, a consumer of 700 litres per day (or 20,000 litre per month) would be paying around Rs 60-80 per month apart from other charges.
Chennai Metro Water charges a uniform Rs 2.50 per 1,000 litre till 10,000 litre and Rs 10-25 between 11,000 litre to above 25,000 litre depending on the dwelling.
And Kolkata Municipal Corporation charges Rs 7 per 1,000 litre. Incidentally, meters were installed in the city but readings and billings were implemented in the city only recently. It also appears that while the consumption is being metered, most consumers either do not receive bills or do not pay for them if they do !
Let us now look at a few other, somewhat random comparisons: Kerala collects Rs 140 for 20,000 litre and Himachal Pradesh has various rates from Rs 21 per connection per month in rural areas to Rs 8.60 per 1,000 litre in semi-urban areas to Rs 17.20 per 1,000 litre in municipal corporations like Shimla.
The argument on water is interesting. Many economists have argued that there should be a charge on water across-the-board rather than free anywhere. The experience with free power, for instance, has not been very heartening and most states have paid dearly. As have farmers. It would be interesting to see to what extent this promise is sustained and how.