Students In Literate States Lead Spike In Indian Protests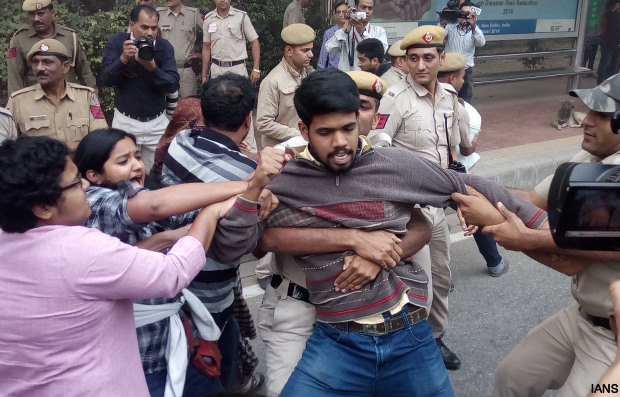 Bengaluru: States with higher literacy levels report more protests, and nearly half of these protests were led by political parties, according to an IndiaSpend analysis of police data over six years.
The sharpest rise in unrest came from student-led agitations (148%) between 2009 and 2014, the period covered by the analysis, show the data, gleaned from the Bureau of Police Research & Development (BPRD), a national police agency.
Karnataka reported the most student protests (12%), despite a statewide ban on student unions in colleges. A high literacy rate and a concentration of educational institutions in the state could be the reason, said Venkatesh Nayak, coordinator, Access to Justice Programme with Commonwealth Human Rights Initiative, an advocacy.
Up to 75.6% of Karnataka is literate (national average: 74%) and the state's capital, Bengaluru, has more colleges (911) than any Indian city.
Tamil Nadu, Punjab, Madhya Pradesh and Maharashtra together account for more than 50% of all protests recorded by the police between 2009 and 2014. Except Madhya Pradesh, all other states have literacy rates higher than national average.
Protests rise across India over five years, 200 every day
Between 2009 and 2014, 420,000 protests were held across India--an average of 200 protests every day nationwide (Table 1), and a 55% rise over five years.
Source: Bureau of Police Research & Development.
The increase was mainly driven by Tamil Nadu and Punjab which, between them, registered nearly half the increase in protests nationwide.
Unrest grew across the country for varied reasons--communal (92%), government employee grievances (71%). political (42%) and labour (38%), our analysis shows.
Tamil Nadu leads the unrest on the streets
With almost 25% of the total number of protests, Tamil Nadu reported more agitations than any other state in the country. This is almost three times the number witnessed by the state that came second on the list, Punjab.
Agitations are the collective expression of dissatisfaction with government authorities, and social, political and economic establishments. They could relate to an array of issues--from education, essential services and transport facilities to wages, dalit issues and rights of women.
A protest gets recorded by the police either when prior permission is sought for holding it or when officials take suo-moto cognisance, based on information they gather.
Tamil Nadu has a history of high-profile agitations: From anti-Hindi agitations in the pre-Independence era to public expression of solidarity with the Tamils in Sri Lanka and marches against the Kudankulam nuclear plant.
MG Devasahayam, a former bureaucrat who was also actively involved in the Kudankulam protest, was of the view that this could be because governance in Tamil Nadu is not democratic enough.
"But there are also small parties that simply need to show their presence. So, on the Cauvery issue, there were hundreds of agitations," said Devasahayam. "Everyone wants their name to appear in the media."
Delhi, the country's capital, was seventh in terms of number of protests--it reported nearly 23,000 in the period under study (Table 1). The city has designated demonstration sites, the best-known being Jantar Mantar, Ramlila Maidan and India Gate. Protests are a daily affair at these venues. These range from retired soldiers' demand for "one rank, one pension" to protests that followed the Nirbhaya rape case in December 2012 and Anna Hazare's anti-corruption movement.
The less empowered are less likely to agitate
Underdeveloped states, such as Uttar Pradesh and Bihar--with 25% of India's population collectively--accounted for less than 1% of agitations during 2009-14. These states are numbers one and three respectively on India's population chart and have literacy rates much below the national average (Bihar has the lowest).
Similarly, undivided Andhra Pradesh, fifth in terms of all-India population ranking but with a literacy rate of only 67%, recorded only about 1.55% of all the agitations that took place in the country in the period.
The outliers and why they seem quiet
Kerala, Goa, Himachal Pradesh, and the northeastern states defy the link between protests and literacy. But that could be explained on the basis of their small populations.
In Kerala, the high court imposed a ban on bandhs--as protests are called colloquially--in 1997, which could also be one reason why protest numbers remain relatively low.
The northeastern states are generally considered to be politically volatile. But it is likely that in at least one state, Manipur, the absence of public protests can be attributed to the Armed Forces (Special Powers) Act, which enforces curfew-like situation in the state, said Nayak.
Assam reported the most protests in the northeast: 17,357. The Bodoland issue--a long-simmering movement for a separate state for an ethnic tribe called the Bodos--the question of illegal immigrants from Bangladesh and the diverse agendas of the many ethnic communities could be reasons.
Politics parties drive most stirs
Political parties and their affiliates are behind 32% of the protests recorded in the country. And if you add their student bodies and labour unions, the percentage goes up to 50%.
Madhya Pradesh, Gujarat, Maharashtra and Tamil Nadu together accounted for more than 60% of the political agitations held across India in six years. This is despite the fact these states had governments that had completed their five-year tenures during the period.
In Maharashtra, the number of demonstrations staged by political parties was large but their scale and intensity were not as high, said former state police chief Rahul Gopal. Political protests are often triggered by the need to be noticed by the electorate, he added.
Crowd control and how it varies across states
While 48% of 3,929 protests in Jammu and Kashmir (J&K) were quelled by force, less than 0.1% of 109,548 demonstrations in Tamil Nadu--the state with the largest number of agitations--were similarly tackled.
Up to 45% of protests that attracted police force were in J&K alone. The agitations in the wake of the killing of Burhan Wani in July, 2016, were dealt with using pellet guns, a move criticised for mass blindings and other injuries it caused. (Table 3)
Over the last six years, the government has used police force to check less than 1% (3,972), according to the BPRD data.
Most instances of police force were reported from J&K, West Bengal, Manipur and Rajasthan. Madhya Pradesh and West Bengal have also seen a flurry of demonstrations against major developmental projects that caused displacement of native populations, said Nayak. (Table 2 & 3)
Force of any kind, especially firing, is resorted to only when there is a chance that the protest might turn into a riot, said Gopal.
"Bullets are the last resort," he said. "Batons or just the presence of a high number of police personnel is enough to make sure that protests do not get out of control in most cases."
The Supreme Court had observed in August, 2016, that while maintaining law and order is necessary, care has to be taken not to use force beyond what is "absolutely essential". The apex court had issued the warning while hearing a petition alleging police brutality at a demonstration in support of Jammu migrants in 2007.
Dissent comes at a price
Agitations do lead to losses--both in terms of human casualties and damage to the economy and businesses.
The Bharat Bandh held two months ago, to focus attention on labour reforms, cost taxpayers about Rs 18,000 crore, said news reports. Ten days later, riots erupted in Karnataka over the Cauvery river row and resulted in a loss of Rs 22,000-25,000 crore, according to trade body ASSOCHAM.
Earlier in the year, violent agitations by Jats in Haryana cost northern states about Rs 34,000 crore, the PHD Chamber of Commerce and Industry said in a statement.
Karnataka, which stands sixth in the list of states with most agitations since 2009, made headlines globally when curfew had to be imposed for a few days owing to rioting over Cauvery water. Bengaluru, which hosts offices of tech giants such as Google, Microsoft and Infosys, came to a standstill.
CNN, BBC and Wall Street Journal reported the water war to their audience and media houses back home ran stories with headlines that said the episode had sullied the IT hub's image.
(Sood & Singhal are Bengaluru-based independent reporters and members of 101Reporters, a pan-India network of grassroots reporters.)
We welcome feedback. Please write to respond@indiaspend.org. We reserve the right to edit responses for language and grammar.
__________________________________________________________________
"Liked this story? Indiaspend.org is a non-profit, and we depend on readers like you to drive our public-interest journalism efforts. Donate Rs 500; Rs 1,000, Rs 2,000."