Spending Soars. Yet, India's Military In Crisis
The defence budget of India—the world's largest arms importer—has more than doubled over the past decade from Rs 80,500 crore to Rs 229,000 crore for the financial year 2014-15.
Yet, the defence forces are critically short of arms, and men and women at arms.
The army, navy and air force are short of officers by 17% (7,989), 17% (1,499) and 3% (357) respectively, according to latest data tabled in the Lok Sabha. Consider the arms deficits in the three services:
--The Indian Air Force (IAF) is short of 272-306 fighter aircraft (as this IndiaSpend report explains) and 56 medium transport aircraft.
--The Indian Army needs about 3,000 to 3,600 artillery guns, 66,0000 assault rifles, 2 lakh pairs of ankle leather boots and 66,000 rounds of armour-piercing ammunition for T-90 tanks.
--The navy needs 12 diesel-electric submarines, 6 nuclear attack submarines and 7 stealth frigates.
The three defence wings also collectively need more than 1,000 helicopters. This is an indicative list: The actual list of defence requirements and shortages is longer.
Yet, the Ministry of Defence ­accounts for the second-highest share of India's budget, after the finance ministry.
Source: Ministry of Finance
The defence budget accounts for 1.78% of India's Gross Domestic Product (GDP) and 12.76% of total central government expenditure, said Amit Cowshish, distinguished fellow at Institute for Defence Studies and Analyses (IDSA).
The revenue-to-capital ratio of the defence budget is 60:40. Revenue expenditure is for payment of salaries and maintenance of defence bases and equipment. Capital expenditure is for equipment purchases and modernisation.
India is expected to spend Rs 94,587.95 crore in 2014-15 as capital expenditure, a 20% increase from Rs 78,872.23 crore last year.
"The requirement of funds (for defence purchases) is directly related to carried-forward committed liabilities and signing of new contracts," Cowshish said in an email interview with IndiaSpend. As a result, the forces could expect a similar increase in the 2015-16 budget "if – and this now seems to be a big if – new projects, such as the one for a new combat aircraft, go through".
Let us now look at sector-wise allocations of the defence budget.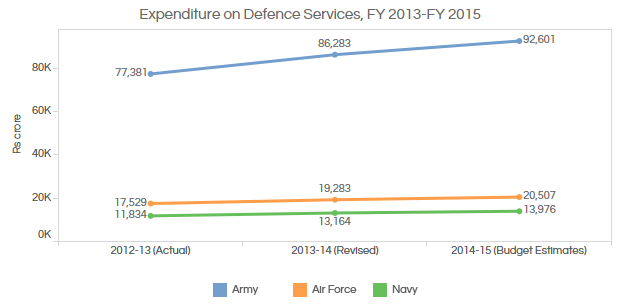 Source: Ministry of Finance
Among the three defence wings, the army has consistently cornered the highest funding. In 2014-2015, It accounted for Rs 92,601.32 crore, which is 40% of total expenditure, followed by the air force and navy at Rs 20,506.84 crore (9%) and Rs 13,975.79 crore (6%), respectively.
The pension question
The budget allocation does not take defence pensions into account, as this is placed under a different budget head. The MoD allocated Rs 50,000 crore for defence pensions in 2014-2015, an increase of 9% from Rs 45,500 crore in 2013-14.
Last year's budget earmarked Rs 1,000 crore for the one-rank-one-pension scheme for ex-servicemen. This might grow to an estimated Rs 8,000 crore this year, as the Times of India reported.
More than two million ex-servicemen in India have been demanding one-rank-one-pension, which ensures that the same pension is paid to personnel who have retired in the same rank with the same length of service, irrespective of retirement date.
Funding research and development
Investing in defence research and development (R&D) is expected to boost India's indigenous arms industry and reduce its dependence on imports. The Indian government spent 42.7% of defence capital expenditure on arms imports in 2013-2014, according to data tabled in the Lok Sabha.
As we mentioned before, India is the world's largest importer of arms as per Stockholm International Peace Research Institute (SIPRI), an independent international institute that researches conflicts, armaments, arms control and disarmament.
The MoD has almost doubled the capital expenditure for R&D to Rs 9,298.25 crore in 2014-2015 from Rs 5,257.60 crore in 2013-2014. Besides, the MoD has provided Rs 5,984.67 crore for salaries and maintenance of research centres.
____________________________________________________________
"Liked this story? Indiaspend.org is a non-profit, and we depend on readers like you to drive our public-interest journalism efforts. Donate Rs 500; Rs 1,000, Rs 2,000."