Solar Light Cleaner, Cheaper. Yet India Subsidises Kerosene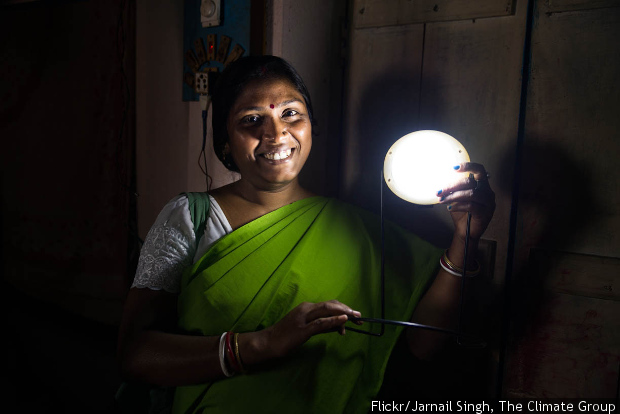 A woman demonstrates the use of a solar-powered lamp. Despite the health risks it poses, 43% of rural Indian households use kerosene as their primary source of lighting and kerosene subsidy reform will encourage large-scale uptake of solar lighting, according to new studies.
Solar lighting could reduce rural India's dependence on kerosene, an unsafe fuel that also places a heavy subsidy burden on the government, a 2017 study has found.
For every consumer who switches from kerosene to solar resources for lighting, the government could annually save around Rs 600 (not including leakage costs) and every household could save around Rs 576 by not using kerosene, according to several studies by the International Institute for Sustainable Development (IISD), a not-for-profit organisation based in Canada. The conclusions can be found in the three policy briefs here, here and here.
In rural India, 43% of homes use kerosene as the primary lighting source, according to 2011 Census data. In 2013, India accounted for as much as 15% of global consumption of kerosene.
Subsidised kerosene made available through the public distribution system (PDS) to the poor cost the government Rs 11,496 crore ($1.8 billion) in 2015-16. This represented 41.7% of all fuel subsidies and a fifth of what India invested in renewable energy in 2016.
However, as much as 45% of subsidised kerosene is diverted to the black market and never reaches its intended beneficiaries.
The IISD briefs examine the current system of kerosene subsidies in India and the impact they have on the distribution of off-grid solar lighting solutions. The briefs suggested policy reforms that could enhance off-grid solar penetration and help the transition from kerosene to solar lighting.
Why kerosene is hazardous
In India, the poorest 40% of households consume about 57% of kerosene allocated to PDS, according to this May 2017 IISD brief.
As many as 55.6% of rural households used kerosene as the primary energy source for lighting in 2001. Over a decade this fell, as we said, to 43.2%, according to census data reported by The Energy and Resources Institute, a non-profit research organisation based in New Delhi.
During the same time period, the number of people using solar energy as their primary lighting source increased from 0.3% to 0.5%.
Source: The Energy and Resources Institute
While government subsidies make kerosene more affordable, the light produced from kerosene lamps is of low quality, and comes with the risks of fire and poisoning, as IndiaSpend reported on July 29, 2017.
Indoor pollution caused by kerosene can be 10 times worse than outdoor air pollution. The primary cause of child poisoning in developing countries is accidental kerosene ingestion.
The challenge is how to make a smooth switch
"A switch to solar power is desirable, but remains unattainable as long as subsidies for kerosene represent an obstacle, discouraging the poor to switch to solar," stated a 2017 report by The Health and Environment Alliance, a not-for-profit alliance based in Brussels.
Policymakers face a tough situation in planning the switch: Kerosene subsidies constrain development of a solar lighting market but it is the lack of this market that necessitates kerosene subsidies, the IISD brief pointed out.
Since poor households often struggle to afford solar appliances--its purchase, unlike kerosene, is not spread over time--subsidy reform must be coupled with tackling the barriers to greater off-grid solar penetration. This could also include innovative payment options.
Other benefits of off-grid solar energy
Schoolchildren who have access to solar lighting study for one hour longer per night, on average, than those who do not. Clean lighting solutions in India have provided around 1 billion hours of night study time for 2.5 million children, according to the Climate Group, an international non-profit.
In terms of employment opportunities, by 2015 at least 200,000 people were directly employed by the off-grid lighting sector in India. The potential jobs-to-population ratio for alternative lighting technologies is 30 jobs per 10,000 people living in rural areas. In the case of the kerosene value chain, this is one job per 10,000, according to a 2014 analysis by the United Nations Environmental Programme (UNEP).
A switch to solar-based lighting would bring environmental benefits. The substitution of all traditional lighting in India with solar would save about 34 million tonnes of carbon dioxide annually, according to 2010 UNEP estimates.
Why solar penetration remains low in India
Market penetration of solar lanterns and solar home systems in India remained at approximately 5-6% of the total estimated market in 2015.
"For off-grid solar applications to meet the needs of approximately 135 million Indian households that will continue to lack grid access in the next decade, growth in availability and sales will need to increase significantly," the IISD analysis said.
What are the reasons for low solar penetration? High upfront cost of solar applications, and the persistent subsidisation of kerosene, the IISD analysis said.
At current subsidies, household expenditure on a basic, entry-level solar lighting system is only marginally lower than the kerosene option. If kerosene subsidies were to be removed, however, households would save Rs 760 per annum.
If more expensive solar systems (Rs 2,300 and above) are considered, there are low or no savings over kerosene use. One way to ease the switch is to provide direct subsidy payments to customers purchasing solar lighting systems. Further, since the change reduces the government's fiscal burden, a portion of the savings could be used to fund programmes that promote solar penetration.
This may sound counter-intuitive to the idea of promoting solar lighting but the analysis made one suggestion: Phase out of low- or no-cost solar lanterns because they distort the market and kill competition. Private companies find it hard to sustain their businesses in the presence of cheap subsidised products.
Supplying subsidised lanterns also creates dependence on the distribution programme, and if that ends or the subsidy is dropped, the market will collapse, said the study.
The use of mobile money, pay-as-you-go models, monthly instalments and aggregation of small borrowers to facilitate group loans are some innovative financing models that could be used, but these models have seen a slow uptake in India with few companies willing to try these models, the brief said.
(Patil is an analyst with IndiaSpend.)
We welcome feedback. Please write to respond@indiaspend.org. We reserve the right to edit responses for language and grammar.
__________________________________________________________________
"Liked this story? Indiaspend.org is a non-profit, and we depend on readers like you to drive our public-interest journalism efforts. Donate Rs 500; Rs 1,000, Rs 2,000."