Small Political Parties Are A Thriving Business In UP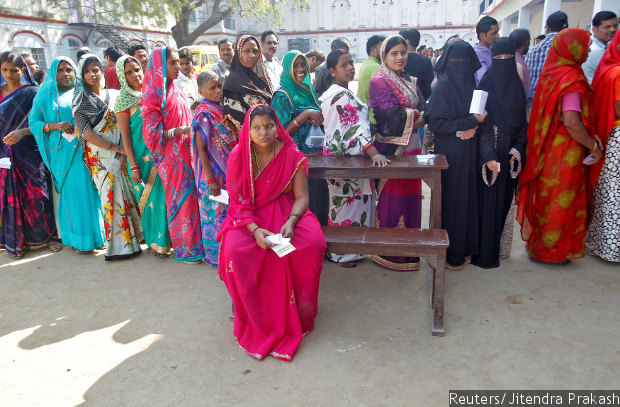 People queue up to cast their vote in the last phase of the elections of the Uttar Pradesh assembly in Varanasi on March 8, 2017. More than 470 political parties are registered in Uttar Pradesh, many of them too small to poll enough votes to be deemed "recognised".
Lucknow, Uttar Pradesh: As India's most populous state, Uttar Pradesh (UP) has the highest number of assembly seats in the country--404--and one-fourth of all unrecognised political parties (1,786) in the country (a party can be registered but unrecognised). Among its 474 unrecognised political parties are sundry small outfits vying for seats against the bigwigs--the Bharatiya Janata Party, Samajwadi Party, Congress and Bahujan Samaj Party.
Who are the people behind these parties, and what drives them to fight Leviathan battles they are certain to lose?
An analysis of political parties' annual returns, and IndiaSpend's interviews with party founders and government officials in UP, shows a lucrative political economy revolving around elections, with sundry small parties using elections to evade taxes, reroute black money and make quick bucks by coercing serious candidates to pay them for withdrawing their candidates to avoid splitting the vote bank.
Playing spoiler
Jostling for votes in this year's high-stakes election is a motley array of players with intriguing names such as the Anjaan Aadmi Party (Unknown Man's Party) and Apni Zindgi Apna Dal (Our Life Our Party).
In the last three assembly elections, such wee players hardly made a dent--small parties collectively bagged 12% of the votes cast in 2002, and 10% in 2012--while their candidates' numbers fell from 29 to eight in the same period. At the same time, most of the 289 parties that took part secured less than 0.5% of votes.
Yet, their number continues to grow.
Although they attract few votes, small parties' vote share is often enough for them to play a serious spoiler.
Since the difference between the winner and the runner-up in closely-fought battles can be as small as 3-8%, any candidate polling more than 5% of votes becomes a factor in the winning (or losing) equation.
Source: Election Commission of India
In the 2012 assembly polls, candidates of a small party, Suheldev Bhartiya Samaj Party (SBSP), secured the third or fourth position in many constituencies. In the Rudrapur constituency, the winner won by a 5% margin while the SBSP candidate drew 5.6% votes. The SBSP was clearly in a make-or-break position.
Another example was the Bithari Chainpur constituency in the 2012 assembly elections. Here, the first and third positions went to candidates from the Muslim community. The Ittehad-E-Millait Council's (IEMC) candidate, who came third, polled 14% votes, and may have diverted the vote share of the winning candidate--also a Muslim, who won by just 1% margin--since communal identity is a significant factor in how people vote in UP.
An analysis of the total vote share data shows that parties that have been able to secure a minimum of 5% votes have gone on to fight subsequent elections. Shakti Dal, Apna Dal and IEMC are some such parties--all of them secured more than 5% votes in all the three elections they contested.
Their narrow focus--on the sub-region, or a particular caste or community--often bolsters their chances among the electorate. The Apna Dal finds support mainly among the OBC communities of the Varanasi-Mirzapur region; the SBSP appeals to the Rajbhar community in eastern Uttar Pradesh, which constitutes about 18% of the population.
"Appealing to a particular caste or community always helps as Uttar Pradesh is [about] caste-based voting," Lucknow-based political commentator Atul Chandra said. By appealing to their respective communities, these parties manage to split the vote bank and earn the leverage to negotiate a price for withdrawal, he said.
Motives and ambitions
To register as a state-level or national political party in India, an outfit must meet certain criteria, most important of which are a certain percentage of votes polled or winning a specified percentage of seats contested. All other parties are termed "unrecognised".
UP had 75 unrecognised parties in the fray during the 2002 elections. This number rose to 204 in the 2012 polls and now stands, as we said, at 474. The number of candidates from such parties went from 1,332 in 2002 to 2,700 in 2012.
Source: Election Commission of India
Their names often indicate their professed focus: All India Ravidas Samta Party (All India Ravidas Parity Party), Ambedkar Kranti Dal (Ambedkar Revolutionary Dal), Fauji Janta Party (Military People's Party), Rashtriya Vyapari Party (National Traders' Party), Nasha Mukt Bharat Party (Drug-free India Party), Sikshit Berozgar Sena (Educated Unemployed Army), Bhartiya Imaandar Party (Bhartiya Honest Party), and so on.
Then there are the more colourfully named Hitech Party, Best Class Party and Action Party.
The founders of many of these unrecognised parties say their endeavour is to end corruption. Luqman Uddin, who claims to have been a social worker for 16 years, said he formed Bhartiya Imaandar Party with a single-point focus of eradicating corruption. His year-old party has fielded candidates in four constituencies this time.
Anjaan Aadmi Party professes the same mission. Its national president, Ashutosh Mishra, said their focus is on development too. His party is contesting the election in seven constituencies.
Another such outfit, Apni Zindgi Apna Dal, is contesting an election for the first time this year and has fielded four candidates. Party founder Sarjeet Singh Khandsaal said they would contest in all the seats in UP in the next assembly elections in 2019.
Chandra said it is also common for social workers to float a party. "You do social service, you get published in a few local newspapers and then you think you are as popular as the chief minister or the prime minister," he said.
Former Congress leader and three-time MLA from Rae Bareilly's Sadar seat, Akhilesh Singh, recalls that during his early days in politics, a man from his village formed a political outfit and announced he would contest elections against Singh. "Eventually, he visited my father and said he would withdraw his candidature if given Rs 5 lakh," Singh said, claiming his father had refused and the challenger had lost the elections.
Business of politics
The Income Tax Act, 1961, exempts from tax any income donated to political parties. The recipient party also does not have to pay any income tax. Further, amounts less than Rs 2,000 can be donated anonymously.
Donations to political parties are widely known to be a common method of converting black money into white. In December 2016, the ECI delisted 200-odd parties which had never contested an election since 2005, and were suspected to be fronts for money laundering. The ECI had also suggested that the Central Board of Direct Taxes scrutinise their accounts.
101Reporters analysed the annual tax returns filed by some of these parties in the last six years. Lucknow-based Adarsh Rashtriya Vikas Party received Rs 88 lakh as donation in the fiscal year ending March 2012. The party spent Rs 84 lakh--Rs 25 lakh on advertising and Rs 27 lakh on stationery. In the 2012 assembly polls, the party contested 68 seats and all of its candidates lost their security deposit, meaning they failed to secure one-sixth of valid votes cast in their respective constituencies, so their security deposit was forfeited.
The same year, a Kanpur-based political party, Akhil Bhartiya Nagrik Seva Sangh, received a donation of Rs 8 lakh, and had a bank balance of Rs 18 lakh. The ECI does not have any record of it participating in any election.
Like the Akhil Bhartiya Nagrik Seva Sangh, many parties do not contest elections. In the 2009 Lok Sabha elections, 69% of registered parties did not contest, Factly.in, a data-journalism portal, reported in March 2015. In 2014, 27% of all parties contested.
Tax and ECI officials, as well as some politicians, agree that at least some of these fringe parties are formed for monetary gains alone. They indulge in tax evasion, rerouting of black money, and extortion from more serious candidates for withdrawing their candidature to avoid splitting the vote bank.
Since the ECI has neither the remit nor the resources to investigate such receipts, these parties get away easily.
The government defended its decision to demonetise the Rs 500 and Rs 1,000 currency notes by saying it was necessary to weed out corruption and black money, but it has kept electoral funding out of the ambit of anti-corruption actions and the Right to Information Act. This sends a perverse signal and enables dodgy parties to thrive. Politics in UP, as elsewhere in India, will benefit from greater transparency and stricter regulation of money flowing into political parties.
(Patil is the founder and Sharma is a member of 101Reporters.com, a pan-India network of grassroots reporters.)
We welcome feedback. Please write to respond@indiaspend.org. We reserve the right to edit responses for language and grammar.
__________________________________________________________________
"Liked this story? Indiaspend.org is a non-profit, and we depend on readers like you to drive our public-interest journalism efforts. Donate Rs 500; Rs 1,000, Rs 2,000."