Slums, Workers Hold Key To Winning Delhi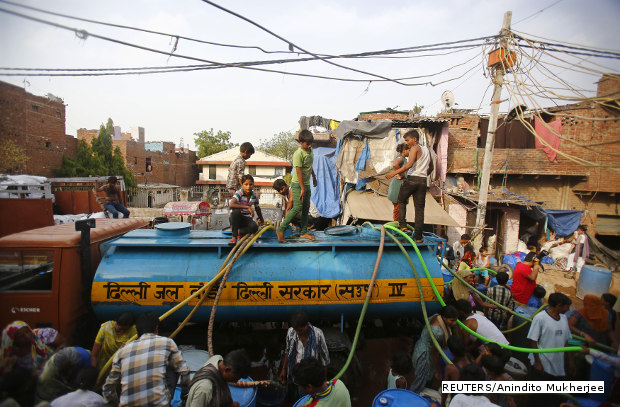 About 93% of Delhi's work force lives in slums, locally called jhuggis, and whichever government takes charge of Delhi will find it difficult to ignore those who live in these long-ignored and illegal dwellings.
This workforce is part of the 11% of Delhi's population that inhabits the slums of the world's second-most populous city. Ahead of the Delhi assembly elections scheduled for February 7, political parties have promised a slum makeover, as we reported earlier.
Home to at least 1.7 million people, the slums—spread across 61 of 70 assembly constituencies—hold the key to winning Delhi. They also appear to be bellwethers of victory.
The areas where the Bharatiya Janata Party (BJP) emerged victorious in the 2013 assembly elections were those with the most slums. The BJP had the support of 52.5% of Delhi's slums, compared to 36.5% who voted for the Aam Aadmi Party (AAP).That was reflected in the BJP finishing first and the AAP second in 2013.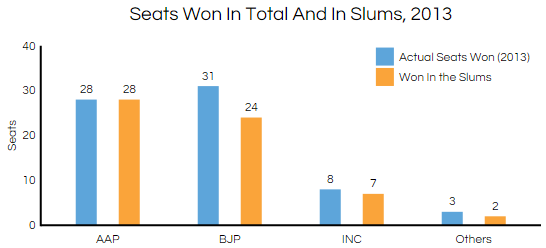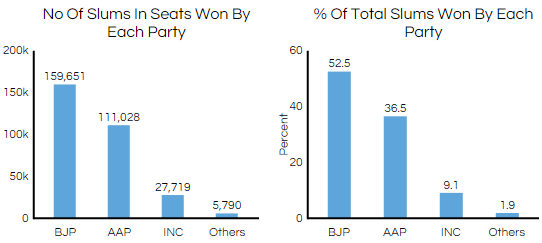 Source: Delhi Urban Shelter Improvement Board/Election Commission
What is a slum? Answering this question is relevant because Delhi is home to sprawling unauthorised colonies that may not be classified as slums but may share its living conditions and voting preferences.
The Slum Area Improvement and Clearance Act, 1956, defines slums as residential areas where houses are "unfit for human habitation for reasons of dilapidation, overcrowding, narrowness of streets, lack of ventilation and sanitation facilities, which are detrimental to safety, health and morals".
Let us look at the number of slums reported in Delhi (zoom in and hover over a constituency for more details):
Source: Delhi Urban Shelter Improvement Board, shapefile from Datameet
A total of 304,188 slums have been reported in Delhi, spread across 61 constituencies.
Moti Nagar with 25,021 jhuggis and Tughlakabad (23,495 jhuggis) have been Bharatiya Janata Party (BJP) strongholds, which the party won in the 2008 and 2013 assembly elections. BJP won the Wazirpur (13,736 jhuggis) seat in 2013 from the Congress, which had won in 2008 by a margin of just 3.54%, a sign of its declining fortunes.
Similarly, Model Town (11,966 jhuggis) and R K Puram (10,894 jhuggis), once Congress bastions, were won by the AAP and the BJP, respectively, in 2013. Here is what happened:

Source: Election Commission 2013, 2008
All three parties have promised permanent housing to people living in more than 3 lakh slums in Delhi. One of the key challenges would be to allow people to continue living in the same area. Below are excerpts from the party manifestos detailing the various promises made to slum-dwellers:
Bharatiya Janta Party
Indian National Congress

Aam Aadmi Party

I. Pucca Houses for Jhuggi Dwellers

• Under the dream Project of Jan Punarvas Yojana by Shri Atal Behari Vajpayee, multi level housing will be constructed and provided for people residing in jhuggies at the same area – 'Jahan Jhuggi Wahi Makan'.

• These houses/flats will have free portable water supply, subsidised electricity/ power supply, gas connections etc. self employment opportunities will be extended to them through Basti Vikas Kendras.

• Proper toilets will be made in every flat and also public areas, so that no one has to go out in the open (to defecate).

• The 2-kilowatt limit will be removed for the cards of residents of jhuggi jhopri areas.

II. Slum Basti

• Special Provisions will be made for maintenance of katras (buildings with multiple households sharing common facilities).

• The ownership right will be given to inhabitants of katras.

• Delhi will be converted into a slum-free city.

Ownership rights of land free of cost to people of jhuggi-jhopdi clusters in the resettlement colonies, as had been done under the 20-point programme by Smt. Indira Gandhi.

I. Better Facilities and In Situ Development of Slums. Our government will bring justice to the people of slums.

• We will perform a survey of all families living in slums and prepare a comprehensive list . As far as possible, most of the slum dwellers will be provided plots or flats in the same location as the existing slum, equipped with a clean living environment.

• If it is not possible to provide residence at the same location, they will be rehabilitated in the closest possible location. The Mohalla Sabha will do the planning of the rehabilitation process and monitoring of the implementation.

• Affordable housing will be developed in sufficiently large numbers so that in the future slums will not need to exist.

• Until rehabilitation is completed, the slums will not be demolished under any circumstances.

II. Until rehabilitation, the following steps will be taken in the slums:

• Broken roads and streets in the slums will be repaired and made into pukka streets.

• Lack of toilets is a big problem in the slums, especially for women. Toilet facilities will be established in all slums of Delhi. The responsibility of maintenance of community toilets and monitoring of cleanliness and sanitation will be given to the Mohalla Sabhas.

• Facilities for drinking water, sanitation and cleaning of sewage canals will be provided in all slums.
_____________________________________________________________
"Liked this story? Indiaspend.org is a non-profit, and we depend on readers like you to drive our public-interest journalism efforts. Donate Rs 500; Rs 1,000, Rs 2,000."