Slowing Economy, Bus Theft Jumps 63%
If you are a bus owner and you are reading this, you need to keep this is mind. Do not step away from your vehicle in Ahmedabad! Data released by National Crime Records Bureau (NCRB) shows that Ahmedabad had the highest number of buses stolen during 2012.
Not just that, bus theft as a whole is becoming an attractive vocation evidently. There were only 186 buses stolen in the country in 2011. In 2012, this number had jumped to 303. This shows an almost 63% increase in the number of buses stolen across the country.
Apart from Ahmedabad, Delhi, Bangalore, Faridabad and Pune also witnessed quite a few bus thefts during 2012. The figure below shows the number of buses stolen and recovered during 2012.
Figure 1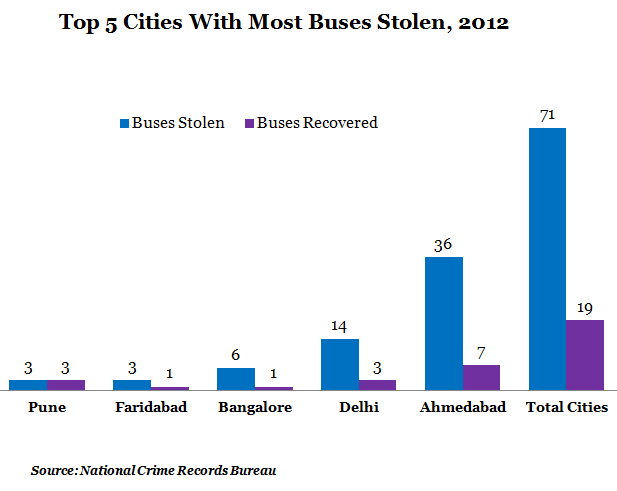 While 71 buses were stolen across various major cities in the country during 2012, that doesn't really give us the bigger picture. Apparently, buses are more coveted than we think. About 303 buses were stolen across the country last year.
Interestingly, auto thieves seem to have a fondness for buses in Assam. The north-eastern state reported cases of 147 stolen buses, which is the highest among the states in the country. The figure below shows the states with the highest number of buses stolen and recovered in 2012.
Figure 2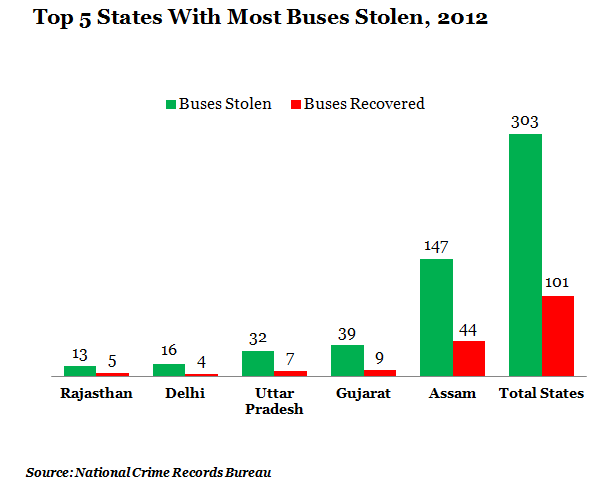 Theft of buses is one of the components of auto thefts across the country. In 2012, 20,291 four-wheelers (motor cars, taxis & jeeps) were also stolen. Delhi reported 4,760 four-wheeler thefts, the highest in the country. Uttar Pradesh & Maharashtra had a lot of car thefts too, with 3,113 and 2,841 cars being stolen, respectively.
There were about 126,255 two-wheelers thefts in 2012. Uttar Pradesh reported 17,777 bike thefts, the highest in the country. Maharashtra and Rajasthan were the other leaders in bike thefts reporting 13,956 and 12,145 cases, respectively.
And now to the bigger picture: 'Auto theft' accounted for 45.7% (1,54,351 cases) of the total theft cases in 2012, an increase of 2.1% when compared with the previous year (1,51,200 cases).
The maximum auto thefts were reported in UP (14.8%) followed by Maharashtra (11.6%) and Delhi (9.3%). Delhi reported the highest rate at 75.1 when compared to the national rate of 12.7 of auto thefts per 100,000 population.
It must be kept in mind that this is the data provided by a central agency. We will keep an eye on the concerned state/city departments for possible reasons for the sudden spurt in bus thefts. Meanwhile, we are wondering, along with a few others; how do you hide a bus?