Slow Progress For PM's Financial Inclusion Dream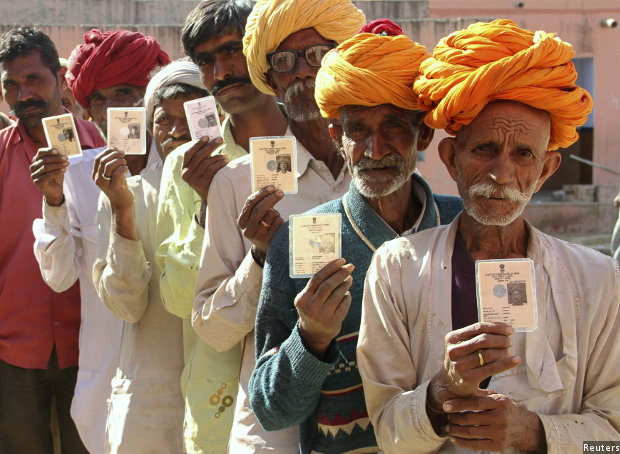 Villagers pose with their identity cards as they stand in line to open a bank account at a camp organised by a private bank in a village at Ajmer in the state of Rajasthan. In January, the Pradhan Mantri Jan Dhan Yojana reached all Indian households, according to official data, bringing 200 million additional families to the banking system.
"Never before in economic history would 15 million bank accounts have been opened on a single day. Never before has the Government of India organised a programme of such scale," Prime Minister Narendra Modi said on August 28, 2014, launching the Pradhan Mantri Jan Dhan Yojana (Prime Minister's People's Wealth Programme), PMJDY.
Seventeen months later, in January 2016, the scheme reached all Indian households, according to official data, bringing 200 million additional families to the banking system.
But the primary goal, direct transfer of government subsidies to people, has not overcome two challenges: linking the unique identification (Aadhaar) card to PMJDY; and getting beneficiaries to use the bank account. The speed of adding accounts, as IndiaSpend reported earlier, was outpacing the delivery of benefits, and Reserve Bank of India (RBI) governor Raghuram Rajan, in 2014, cautioned banks against focussing on numbers alone.
Less than half the 210 million Jan Dhan accounts were seeded with Aadhaar as of January 31, 2016, the data indicate. More than 30% of these accounts have been at "zero balance", meaning the account holder was not using the account.
States struggling to link Aadhaar to PMJDY include Karnataka, Andhra Pradesh, Chhattisgarh, Maharashtra, Kerala and Jharkhand. These states together linked less than 40% accounts to Aadhaar.
It is important that these states fall in line, as subsidies on cooking fuel, auto fuel and food grain impose a multibillion-dollar subsidy burden, the government has said.
The government is estimated to have spent Rs 266,700 crore ($45 billion) on subsidies in 2015, of which Rs 122,700 crore ($20 billion) was spent on food, Rs 71,000 crore ($12 billion) on fertiliser and Rs 60,300 crore ($9 billion) on oil.
Up to half of these subsidies are misappropriated, according to various estimates.
"One of the biggest reforms that India has embarked upon is moving to a market-pricing mechanism across a variety of products such as cooking fuels, auto fuels, food grains and fertilisers," a Kotak strategy report said.
'A policy does not work by itself...people must know how to use it'
"It takes time to properly implement policies in India, more so for financial schemes like PMJDY as a lot of people are unaware of words like bank, loan, subsidy," said Santosh Kumar, professor of public policy and administration at FLAME University, Pune.
The integration of PMJDY, Aadhaar and Mobile (JAM) could be an important component of structural reforms. The idea of JAM, as propounded in the 2015 Economic Survey and Union Budget, was to identify the beneficiary and deposit subsidies directly into her bank account.
"A policy does not work by itself," said Kumar. "The government must have a strong political will to implement the policy properly by scrubbing it of discrepancies."
"There are two aspects to financial inclusion: one is bank accounts and the second is access to credit. The scheme announced by the Prime Minister addresses the first problem. The issue of making credit available to small borrowers remains," said C Rangarajan, former chairman of the Economic Advisory Council to the Prime Minister in The Hindu.
An article published by RBI in May 2013 reveals that more than 42% of rural credit is sourced from non-institutional agencies. "Rural credit markets in India is characterised by the coexistence of both formal and informal sources of finance and the market is fragmented," RBI concluded after four rounds of survey.
Click here for state-wise break-up of credit sources.
"The scheme is a step forward but a lot needs to be done before calling it successful," said Anindita Roy Saha, associate professor of economics at Delhi University. "People from rural and urban areas need to be treated separately. For achieving the objectives, people should be educated about the financial system."
The United Progressive Alliance (UPA) government had opened nearly 60 million so-called no-frills accounts, but RBI data have shown that more than half of them remained dormant.
"The basic idea of financial inclusion is to include most of the vulnerable sections of society in the banking system," said Kumar. "People need to know the potential of the scheme and the documents they have in possession; otherwise, they can't exercise their rights."
(Ghosh is with 101reporters.com, a pan-India network of grassroot journalists. He writes on political and social impact stories.)
We welcome feedback. Please write to respond@indiaspend.org. We reserve the right to edit responses for language and grammar.
__________________________________________________________________
Liked this story? Indiaspend.org is a non-profit, and we depend on readers like you to drive our public-interest journalism efforts. Donate Rs 500; Rs 1,000, Rs 2,000.