Skewed Composition Of Coastal Authorities Threatens Climate Resilience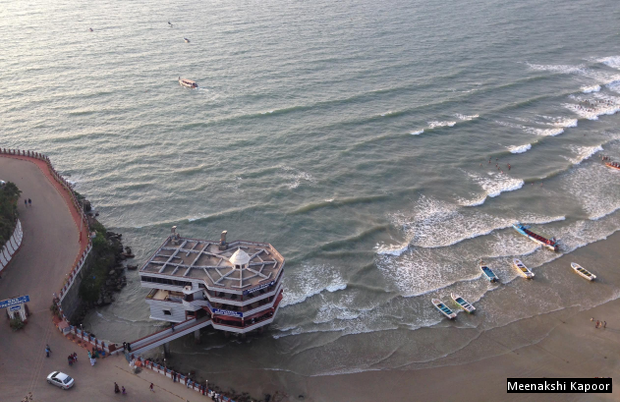 They are supposed to be independent authorities charged with safeguarding a vulnerable coastline--made more so in an era of climate change--along more than 7,500 km, but a recent study has found that these bodies are dominated by officials from government institutions.
The National Coastal Zone Management Authority (CZMA), nine state CZMAs and four union territory CZMAs are filled with members from government departments and academic institutions, according to a study by the Centre for Policy Research-Namati Environment Justice Program, which studies implementation of environmental laws and polices in India.
For these 158 individuals, the CZMA roles are additional responsibilities, and they take decisions for a coastline that runs along the Arabian Sea and the Bay of Bengal.
This might be acceptable, if these authorities were full-time bodies with members dedicated only to coastal regulation. But this is not the case.
Here's a break-up of the current compositions of the CZMAs:
India has acknowledged that its coastline is vulnerable to rising seas due to climate change.
As an adaptation measure, India has said--in recently announced Intended Nationally Determined Contributions (INDCs)--it will limit development activities in vulnerable coastal areas through the coastal regulation zone (CRZ) notification.
India's INDCs also propose the Sagarmala (String of pearls) and the Bharatmala (Indian necklace) projects for safe and sustainable transport.
While Sagarmala will augment ports, Bharatmala involves construction of a 5,000-km road network along the coastal areas to connect those ports.
Responsibilities increase, capacity does not
The CRZ notification was first issued in 1991 and has gone through a series of reviews and amendments, only to be replaced by a new notification in 2011.
The new notification did not revisit the composition of the CZMAs, and continued with the national and state CZMAs.
So, members of the CZMAs in the post-2011 period have remained largely the same, staffed by part-timers, with the CZMAs remaning part-time bodies.
However, the workload for CZMAs has increased manifold.The number of projects approved by an SCZMA in 20 years of CRZ (since 1991) regulations accounts for 60% of all proposals. The number of proposals examined in three years and three months after CRZ (2011) regulations account for 40% (or more) of the total proposals.
What's ignored: Crucial functions, such as coastal violations and conservation
While the examination of project proposals is one aspect of the functioning of the CZMA, there are other responsibilities such as identifying CRZ violations and conservation of critical areas.
The CPR-Namati Environment Justice Program study found that violations are rarely discussed in CZMA meetings.
All CZMAs (except Kerala and Tamil Nadu) show a decline or no change in the number of times violations were discussed in 2013 meetings, when compared with 2010 meetings.
This can be attributed to the increase in number of project proposals reaching CZMAs for appraisal, which take most of their time and attention.
Even for violations that are identified and verified, action is seldom seen.
Goa, observing this lack of action, decided to constitute district committees that would take action against violations.
Another aspect of the functioning of the CZMAs, which has suffered because of the part-time nature of the authorities, is coastal conservation, which is the least discussed issue in meetings.
The CRZ Notification 2011 provided for legal protection, via official notification, in critically vulnerable coastal areas (CVCAs).
CVCAs are coastal areas that are ecologically significant and important to the livelihoods of millions, which is why they must be conserved and managed with community participation. However, no CVCAs have been notified till date.
The CRZ Notification 2011 introduced district-level committees that were to be constituted for all the coastal districts. The committees were to 'assist' the CZMAs in CRZ implementation.
This would have increased the available human resource with the CZMAs by more than four times but the district-level coastal committees are yet to be functional.
They are only being constituted now in states like Goa and Andhra Pradesh.
In Gujarat, orders to constitute these authorities have been issued in all coastal districts, but that is the extent of the action. In Maharashtra and Kerala, the committees have been meeting but their role is limited to taking action against violations. Karnataka and Tamil Nadu are exceptions; in these states, committees are involved in project appraisals.
Strong coastal institutions are important to make coasts resilient to climate change
When India is busy in preparing for the 21st Climate Conference of Parties (COP 21) to be held in Paris in December, the terms of five of the 14 CZMAs have expired.
Without strengthening the CZMAs, the adaptation strategy for coastal regions as showcased in the INDC may not be implemented. And in the absence of a vigorous and informed adaptation plan in place, the mitigation measures for the coasts may only make them more vulnerable to climate change.
(Data tables have been generated from research carried out by Menon, M., Kapoor, M., Venkatram, P., Kohli, K., & Kaur, S. (2015). CZMAs and Coastal Environments: Two decades of regulating land use change on India's coastline. India: CPR - Namati Environmental Justice Program Centre for Policy Research - Namati Environment Justice Program.)
Note: The headline has been updated.
(Kapoor is a researcher with the Centre for Policy Research-Namati Environment Justice Program.)
__________________________________________________________________
"Liked this story? Indiaspend.org is a non-profit, and we depend on readers like you to drive our public-interest journalism efforts. Donate Rs 500; Rs 1,000, Rs 2,000."