Since July 2016, Kashmir Schools & Colleges Have Been Shut On 60% Of Working Days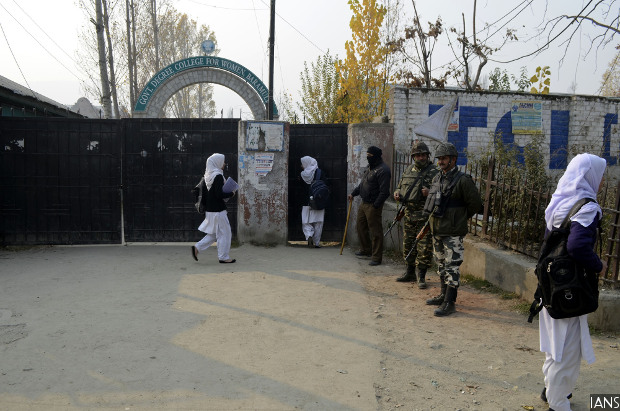 Security personnel guard a college as students enter to take secondary school exams in Baramulla town in Kashmir on November 14, 2016. An analysis of various surveys and reports shows that since July 8, 2016, educational institutions in the Kashmir valley have stayed open on 80 out of 197 working days.
Srinagar: Every time her seven-year-old son returns from school, Rayeesa Akhtar, a young Kashmiri mother who lives in uptown Srinagar's Bemina area, thanks God and prays for schools to remain open through the summer. Hundreds of thousands of parents across Kashmir share her worries--children including Akhtar's son stayed home on 130 days last year, when the July 8, 2016, killing of militant commander Burhan Wani had led to a series of curfews imposed by the police and strike calls issued by Kashmiri separatists.
The killing of Wani's successor, Sabzar Bhat, on May 27, 2017, threatens to further stoke the fire raging since the April 9, 2017 by-elections for a parliamentary seat. On May 27, 2017, separatists announced three days of strike and protests to mourn Bhat's death while the police imposed curfew to prevent people from gathering. Yet, clashes took place between protesters and personnel of the state police and the Central Reserve Police Force resulting in the killing of a youth and injuries to 70 others.
In all, 2016 witnessed 2,690 incidents of stone-pelting, violent demonstrations, firing and use of shotgun pellets. This was 79% higher than the 1,500 insurgency-related incidents recorded in 1989, when the armed rebellion in Kashmir marked its beginning. The figure, shared by a top police official on condition of anonymity, for four-and-a-half months into this year--up to May 18, 2017--is 1,031, and a repeat of last year is not unlikely. Since Bhat's killing, 30 incidents of stone-pelting have been reported on Saturday and Sunday, according to top police officials quoted in the local press.
Changing face of violence
Violence, coupled with curfews and shutdowns, has repeatedly disrupted education in the Kashmir region. However, unlike the 1990s and early 2000s when violent incidents were mainly bomb blasts, grenade explosions and cross-firing, violence since 2010 has mainly taken the form of stone-pelting by protesters and use of force by security personnel by way of firing bullets and pellets to disperse protesters. Between January 1, 2010, and May 18, 2017, as many as 6,897 such law and order incidents have taken place, as against 1,970 insurgency-related incidents, data shared by the J&K police official show.
Source: Data shared by an official of the Jammu & Kashmir police
Schools, colleges in the crosshairs
So far this year, amid apprehensions that the security situation might flare up again, schools have pulled through, although instruction in colleges and universities has been interrupted repeatedly since the April 9, 2017, by-election for the Srinagar-Budgam parliamentary constituency. Widespread violence during the election had resulted in eight civilian deaths and closure of schools and colleges for four days.
Afterwards, some torture videos had gone viral and fuelled a gathering sense of anger among college and university students. Now, students, including women--who had thus far steered clear of stone-pelting and similar activities--are staging frequent protests.
The Jammu and Kashmir government has responded by repeatedly ordering educational institutions, particularly colleges, to remain closed as a "precautionary measure" against student protests. For example, Srinagar's SP Higher Secondary School has been ordered shut on at least six occasions, including, most recently, on May 18, 2017. An April 2017 order had ensured closure of educational institutions across Kashmir for five consecutive days.
Losing more than an academic year
Educationists and civil society activists have been making fervent appeals on Facebook urging students to go back to class, now that they have expressed their anguish. Since the government's April 27, 2017, decision to block 22 social media platforms including Facebook and Twitter, Kashmiris have been using virtual private network (VPN) applications--which extend a private network across a public one, essentially how companies connect geographically-separated offices--to access social media.
J&K education minister Syed Altaf Bukhari warned protesting students on May 18, 2017, that those falling short of attendance will not be allowed to take their exams.
Educationists are worried. "We need our youth educated. We can't afford more ill-educated generations," Roshan Ara, who teaches at Srinagar's College of Education, said referring to the chaos of the 1990s and early 2000s when heightened political turmoil had resulted in violence across Kashmir, depriving two generations of proper education.
A detailed look at the newspaper files of the time gives a clear sense of the intensity of violence in those years--the overwhelming majority of lead stories on newspaper front pages was about violent incidents.
Statistics from J&K Police, as revealed by the official, are even more revealing: Towards the end of 1989, over 1,500 violent incidents were recorded, which included 351 bomb blasts. The frequency of explosions, grenade launches, cross-firings, abductions and demonstrations registered a sharp increase in the years that followed. As many as 4,211 violent incidents which included explosions, improvised explosive device blasts and grenade attacks occurred in the year 1990 alone. The number of incidents went up and down over the years, to close 2016 with 2,690 incidents. This year has seen over 1,000 incidents in its first four-and-a-half months.
Source: Data shared by an official of the Jammu & Kashmir police (1989-2002), and from the annual reports (2003-2016) of the Ministry of Home Affairs.
Right after the onset of conflict in Kashmir, the working of schools and government offices was affected. After initial hiccups due to intermittent strikes, the functioning of schools came to a halt when employees of all educational institutions, in sync with employees of all government departments, went on strike for 73 consecutive days from September 14 to November 28, 1990, to protest against human rights violations. As many as 125 strike calls were issued by separatist organisations in the year 1990 alone, according to data compiled by the crime branch of the J&K Police.
Again, there were phases when the situation improved or deteriorated, and 2016 saw 130 days when curfew or shutdown was imposed. This year, since schools and colleges reopened on March 1, 2017, curfews and strike calls have disrupted normal life on more than 15 days--nearly a fifth (19%) of working days--an analysis of media reports shows.
Source: Data compiled by the crime branch of the Jammu & Kashmir police, analysis of media reportsNote: Data not available for 1997, 1998 and 2004.
In Srinagar, Akhtar remembers how her young child had to stay indoors for four months in 2016. An analysis of various surveys and reports shows that since July 8, 2016, educational institutions have stayed open on 80 out of 197 working days, meaning they have remained closed on 59.39% of working days.
"Thankfully, so far schools have remained open," she said. "But everybody says that if the situation worsens, it might not be possible to keep the schools open." Over the last 27 years, Kashmiris have become inured to political turmoil, security mayhem and human rights abuses. However, closed schools, and home-bound children, bring the realities of the conflict home, quite literally.
(Parvaiz is a Srinagar-based journalist.)
We welcome feedback. Please write to respond@indiaspend.org. We reserve the right to edit responses for language and grammar.
__________________________________________________________________
"Liked this story? Indiaspend.org is a non-profit, and we depend on readers like you to drive our public-interest journalism efforts. Donate Rs 500; Rs 1,000, Rs 2,000."