Shrinking Government, Ballooning Costs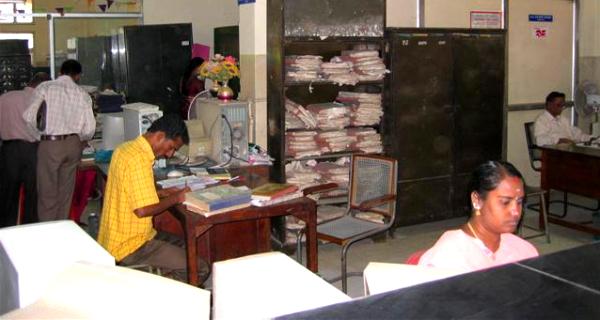 Highlights
* Central Government has spent around Rs 3,64,613 crore ($68 billion) on 2.5 million employees between 2006 and 2011
* Railways, Home and Defence Ministries have the highest salary expenditure
* Overtime allowance of employees increased over 50% to Rs 1,200 crore in 2010-11
There is some good, bad and interesting news about Central Government staffers. We are not sure we know which is which but let's begin with the interesting bit.
If the figures for overtime allowances don't reflect any arrears, it would seem Government staffers worked a lot more last year than ever before - as overtime allowance shot up from Rs 880 crore in 2009-10 to Rs 1,200 crore.
On the other hand, as IndiaSpend's Sourjya Bhowmick finds, India's central or federal government has spent around Rs 3,64,613 crore ($68 billion) on 2.5 million employees between 2006 and 2011. And here's the clincher; total number of Government employees has actually come down from 2.8 million in 2005-06 to 2.5 million in 2009-10.
Now the Rs 3,64,613 crore excludes incentives, which amounted to Rs 25,697 crore in the same period. Railways, Home and Defence Ministries had the highest salary expenditure. All ministries saw a drop in 'basic' or base pay after the implementation of the Sixth Pay Commission.
Here is a look at the total number of central government employees and the total remuneration they received over the last few years:
Figure 1
Incidentally, the total number of employees came down from 2.7 million in 2007-08 to 2.5 million in 2009-10 but total salary expenditure increased by Rs 21,728 crore and average remuneration more than doubled to Rs 3.4 lakh.
Figure 2 details the expenditure under various heads from 2005-2011:
Figure 2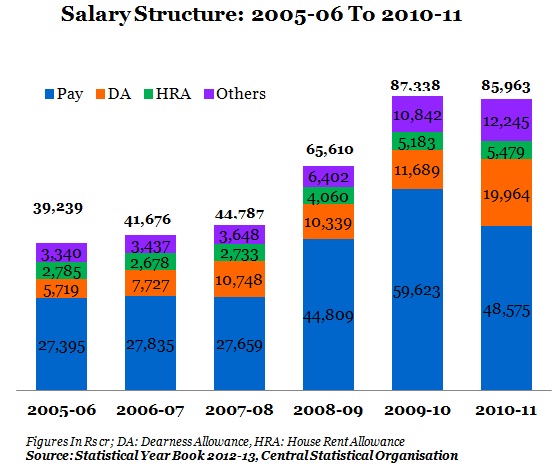 The base pay which was Rs 59,623 crore in 2009-10, came down to Rs 48,575 in 2010-11, which is a decrease of about 18.5 percent (Rs 11,048 crore). The total however has decreased by about Rs 1,375 crore. All the other categories have seen an increase.
A total of Rs 3,64,613 crore has been spent between 2006 and 2011 as pay and allowances. Base salary accounts for the highest component of government expenditure at Rs 2,35,896 crore.
Next is Dearness Allowance (DA), which accounts for the rising cost of living. Government expenditure on DA increased to nearly Rs 20,000 crore in 2010-11 and Rs 66,186 crore over the period under review. House Rent Allowance and Overtime Allowance accounted for Rs 22,918 crore and Rs 5,427 crore, respectively. Incentives and perks (travel allowance etc) increased to Rs 25,697 crore.
So which Ministries/Departments have the highest salary bill? The following table lists the top 10 ministries:
Table 1: Railways Have The Highest Wage Bill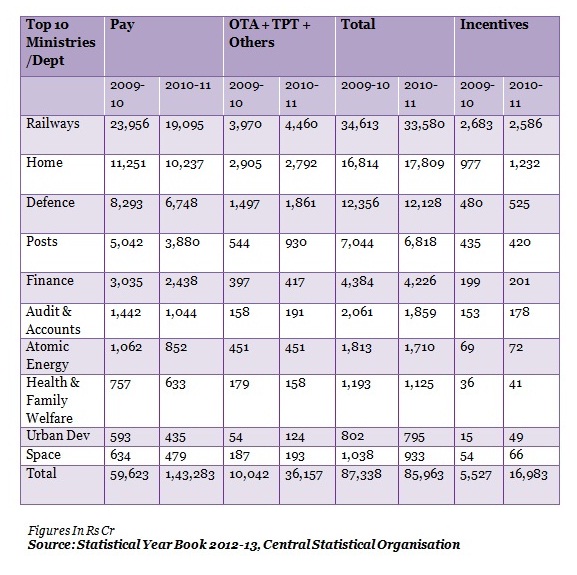 The Indian Railways had a total number of 1.3 million employees in 2010-11. The Ministry of Home Affairs and Defence also have a huge employee base. Ditto with Posts. From Table 1, it can be seen that the base pay of the top 10 ministries had declined in 2010-11.
However, the total expense in 2010-11 was Rs 83,660 crore higher than 2009-2010 due to the payment of 60% arrears of the Sixth Central Pay Commission. Overtime Allowance, Transport Allowance and Incentives increased by Rs 26,115 crore and Rs 11,456 crore, respectively.
So, it's a bit of a mixed bag of good, bad and interesting news when it comes to payroll statistics of the Government of India. Measuring performance of the same staffers – like output and productivity - would of course take a different set of metrics. And that's another story as well.
Glossary
CCT: Compensatory City Allowance
OTA: Overtime Allowance
HRA: House Rent Allowance
DA: Dearness Allowance
TA: Travel Allowance