Sharp Fall In Cattle Deaths Due To The Disaster Management Act, 2005
The cloud burst in Uttarakhand in June 2013 led to over 780 lives being lost. India's ability to react seemed severely tested.
In recent years, India has faced an unprecedented number of storms, earthquakes, tsunamis and floods. In an earlier article reported by IndiaSpend, we saw a decade and more of natural disasters along with the damage caused by them – both to human and animal lives – and loss of property and crops.
Number of cattle lost was at its highest 455,619 in 2006-07 and came down to just 24,360 in 2012-13.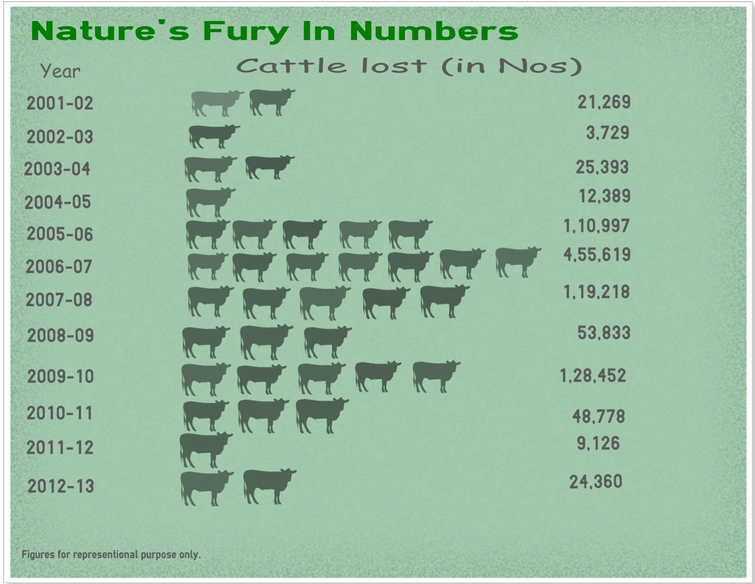 Houses damaged also came down from its peak in 2007-08 of 3.5 million homes to 671,761 in 2012-13.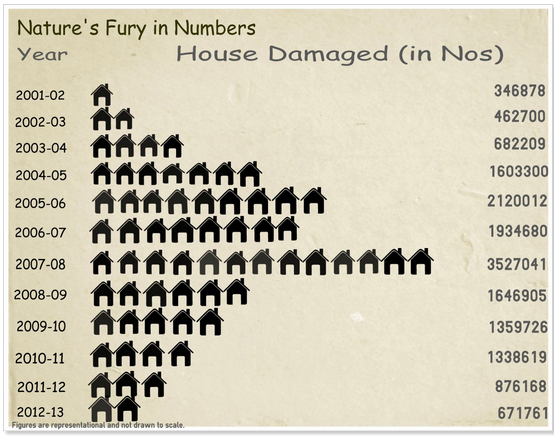 The cropped areas affected also reduced from its peak of 85.13 lakh hectare in 2007-08 to 15.34 lakh hectare in 2012-13.
The declining trend since 2007-08 suggests that damage due to calamities has come down. This could be attributed to the implementation of the Disaster Management Act, 2005 or the fact that maybe the natural calamities were not of the same intensity. Deaths due to calamities have come down from 3,764 in 2007-08 to 948 in 2012-13.