Russian Arms On Display, But US Is Supplier #1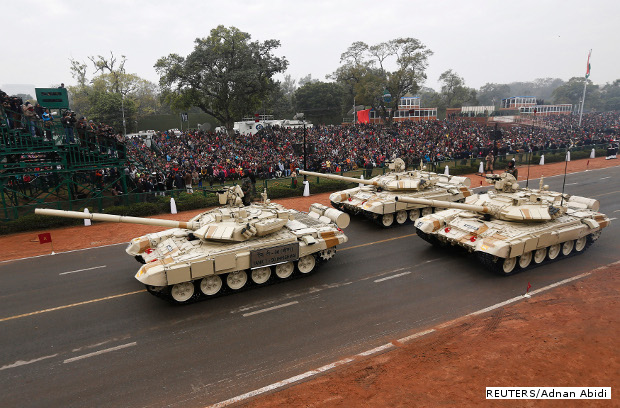 As T-90 battle tanks rumbled down Rajpath and Sukhoi-30 and MiG-29 fighters thundered overhead on Republic Day, India's Russian-supplied arsenal was hard to miss.
Many observers pointed to the irony of a US president watching Russian armaments swing by. But none of this bothered Barack Obama.
The MiGs escorted an American-built P-81 Poseidon maritime aircraft, the message quiet but significant: the US has now overtaken Russia as India's largest arms supplier.
Obama's visit to India is characterised by a series of symbolic firsts in the larger contours of Indo-US relations.
Obama is the first US President to be invited to India as Chief Guest on Republic Day. He is also the first serving US President to visit India more than once.
The spotlight may be firmly on the Republic Day event. However, Obama's visit will also include several high profile bilateral-level talks with Prime Minister Narendra Modi on several issues such as climate change, civil nuclear cooperation, bilateral trade (see IndiaSpend report) and defence cooperation.
On the defence front, the two sides may sign a new strategic framework to replace the earlier 2005 deal, which will expire this year. The new framework is also set to incorporate the Defence Technology Trade Initiative, aimed at boosting India's domestic defence-production capability.
The signing of the defence framework comes at an important time, as the US has recently overtaken Russia as India's biggest arms supplier.
India spent $5.3 billion (Rs 32,615 crore) on buying defence equipment from the US between 2011-12 and 2013-14, according to data tabled in the Rajya Sabha.
Russia comes in second with $4.1 billion (Rs 25,364 crore). India overtook Saudi Arabia to become the largest buyer of US arms in 2013, according to defence and security research group IHS Jane's.
India's Expenditure On Defence Imports FY 2012-2014, Countrywise, In Rs. Crore (Left) And In % (Right)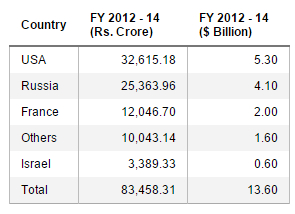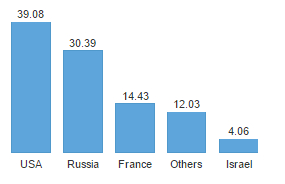 Source: Rajya Sabha
Buying arms from the US is not a recent development. The US sold around 200 second-hand M-4 Sherman tanks to India in 1951-1952, according to the Stockholm International Peace Research Institute.
Thereafter, arms deals continued, either in the form of sales or limited military assistance, as during the 1962 Sino-Indian war. After the war, geopolitical differences due to diverging interests led to a halt in arms transfers.
It was at this time that India leaned closer to the Soviet Union for its defence needs. Indo-US defence ties received a boost in the post-cold war era with the sale of an artillery locating radar (AN/TPQ-37 Firefinder) and Paveway guided bombs in 1992.
However, after the Pokhran-II nuclear tests, US sanctions temporarily ended defence ties. Post 9/11, increased trade between the two countries and greater convergence of interests brought the two countries closer, especially after the 2004 Strategic Partnership Agreement signed between former Prime Minister Atal Bihari Vajpayee and former US President George W. Bush.
This was followed by the 2005 defence framework agreement, signed between then defence minister Pranab Mukherjee and then US defence secretary Donald Rumsfeld.
More than $10 billion (Rs 61,000 crore) worth of defence deals have taken place between India and the US since.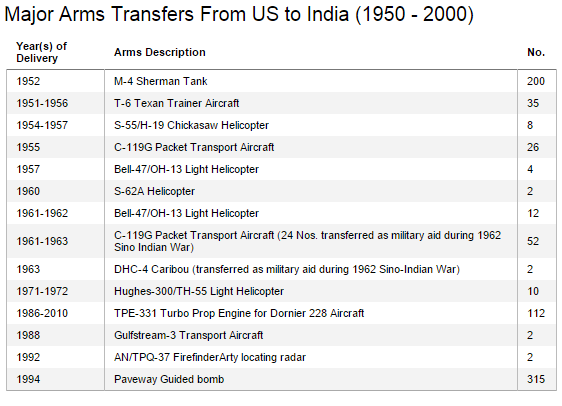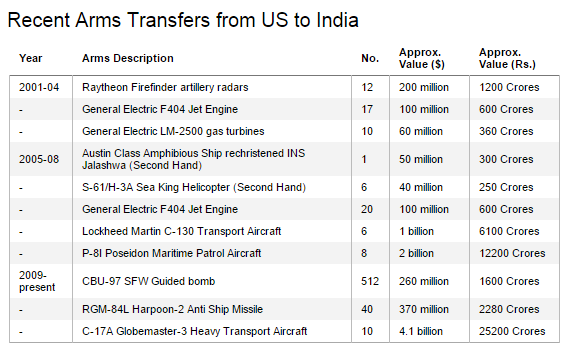 Source: Stockholm International Peace Research Institute and East West Centre
Among the complete weapons systems sold to India, the most advanced and expensive include six Lockheed Martin C-130 transport aircraft and ten C-17A Globemaster-3 heavy transport aircraft worth $1 billion (Rs 6,100 crore) and $4.1 billion (Rs 25,200 crore), respectively.
Eight P-8I Poseidon maritime patrol aircraft are in the process of joining Indian Navy service. The aircraft,worth about $2 billion (Rs 12,200 crore), will be used for maritime security.
India's defence purchases are either in the form of entire weapon systems or as components in indigenous systems. US-based General Electric's F-404 jet engines power India's Tejas light combat aircraft. The upgraded Tejas Mark II aircraft, too, will use the more powerful General Electric GE-F414 jet engine.
General Electric's LM-2500 gas turbine engines propel Indian Navy's advanced Shivalik stealth frigate, and the under-construction indigenous Vikrant-class aircraft carrier.
Although the US is an important alternative to Russia, a traditional source of defence equipment, the relationship has mainly been that of a buyer and seller. US interests are driven by trade, said Monish Tourangbam, a US expert at the Department of Geopolitics and International Relations, Manipal University.
Since India is the world's largest importer of arms, it is too large a market for US to ignore. For India, the US is a source of high technology, which it urgently requires to address its security concerns.
So far, arms sales have comprised 'off the shelf' purchases by India without production, co-production or technology transfer, all of which are important to India's strategic aims, especially with Prime Minister Narendra Modi pushing his 'Make in India' initiative in the defence sector.
This is a major challenge to defence cooperation between the countries. For Indo-US defence ties to move forward, the two nations will need to talk joint development and production of defence equipment, as Russia has done for the Brahmos cruise missile.
Also, unlike the US, Russia has offered India transfer of technology and production of weapon systems, such as the Mig 21 and Sukhoi 30 MKI aircraft, although with disputes over spare-part supplies and sudden cost escalations.
__________________________________________________________
"Liked this story? Indiaspend.org is a non-profit, and we depend on readers like you to drive our public-interest journalism efforts. Donate Rs 500; Rs 1,000, Rs 2,000."