Rural Doctor Shortage Up 200% In 10 Years. What should Delhi do?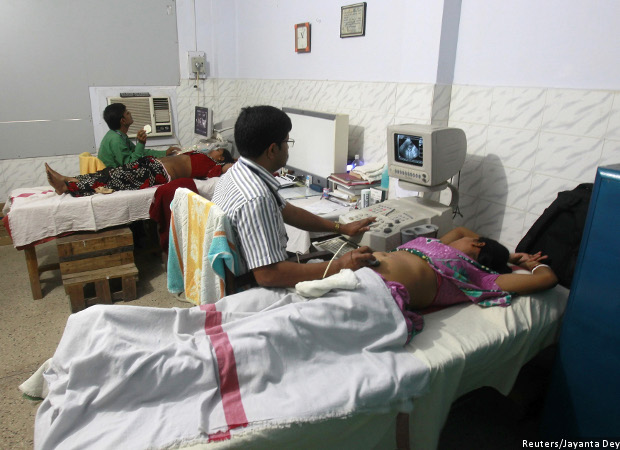 Public-health centres across India's rural areas--25,308 in 29 states and seven union territories--are short of more than 3,000 doctors, the scarcity rising 200% (or tripling) over 10 years, according to government data.
The data are a warning that a 15% cut in capital spending--which includes hiring more doctors and better equipping health centres--for the current year (2015-16) is likely to adversely affect India's already inadequate rural public-health infrastructure.
Central health-budget cuts over the past year were indeed compensated by a commensurate rise in the health spending of states, which was the logic for the cutback, as an IndiaSpend analysis revealed yesterday. But the increase was not uniform across states, and states with poor health indicators might further fall behind.
With health being a state responsibility, the central government reduced its overall health budget by 20% (a reduction in both "plan" and "non-plan" expenditure) to Rs 24,549 crore from Rs 30,645 crore in 2014-15. Plan expenditure adds to social and physical infrastructure, such as hiring doctors and nursing staff, building new health centres and buying new equipment; non-plan spending includes salaries and administrative expenses.
India's poorer states are bedevilled by health indicators that are worse than nations poorer than them. India's healthcare spending is the lowest among BRICS (Brazil, Russia, India, China, South Africa) nations--as are its health indicators--IndiaSpend has reported.
As many as 58% of Indians in rural areas opt for private healthcare (68% in urban areas), as we reported, because public healthcare is inadequate, and healthcare expenses push an additional 39 million people back into poverty every year, this Lancet paper said.
In addition, despite improvements, India still has 40 million stunted (short for their age) and 17 million wasted (low weight) children under five years of age, the world's largest such numbers, IndiaSpend had reported, also the result of a failing public-health system.
There are wide disparities among states when it comes to health facilities and doctors, and a lack of data about urban health facilities, despite the launch of the National Urban Health Mission in 2013.
Health spending fell first time in four years, as quality advances were to kick in
As Finance Minister Arun Jaitley announces the union budget on February 29, the health sector will be looking for increased spending, especially on health infrastructure and human resources in rural areas. The original plan for this phase of planning was to boost the quality of India's public-healthcare system.
The 12th Plan outlay for the health and family welfare department was increased by about 113% to Rs 268,551 crore ($49.4 billion) compared to Rs 125,922.2 crore ($31.3 billion) during the 11th Plan, primarily to improve delivery services.
Planning has been discarded, but 2016-17 is the last year of planning, and government documents still use the terminology.
How the rural healthcare system works
The health infrastructure in rural areas is divided into three tiers; a sub-centre, a primary healthcare centre (PHC) that covers at least six sub-centres; and the community health centre (CHC).
The sub-centre is the most peripheral and is the first contact point between the primary healthcare system and the community. Each sub-centre is manned by one auxiliary nurse midwife (ANM) and one male health worker .
This is followed by a PHC, which is the first contact point between the village community and the medical officer.
A PHC is manned by a medical officer, and is supported by 14 paramedical and other staff. It has four to six beds for patients, and covers curative, preventive, primitive and family welfare services.
The CHCs, the third tier of the network of rural healthcare institutions, are supposed to have four specialists in medicine, surgery, paediatrics and gynaecology; 30 beds for patients; operation theatre, labour room, X-ray machine, pathological laboratory and a standby generator, along with the complementary medical and paramedical staff.
While there was an increase of 5% in sub-centres from 2005-2015, PHCs increased 8% and CHCs increased 61%.
Doctor, health worker shortages in rural public-healthcare widespread
There were more than 5% sub-centres (SCs) functioning without an ANM in 2015 and the rural public-healthcare system is 46% short of male health workers.
Rajasthan accounts for more than half (54%) of all sub-centres that do not have either an ANM or a male health worker.
It isn't very different for doctors: Vacant positions at PHCs increased from 4,282 in 2005 to 9,389 in 2015.
The shortfall of doctors grew from 1,004 in 2005 to 3,002 at the end of 2015, with West Bengal leading the states with a 72% doctor shortfall, followed by UP with 51%.
The public health sector is now being accessed by more people, especially in rural areas, thanks to the National Rural Health Mission (NRHM).
Even if the Centre does not boost spending, as incomes rise, it can focus on generating data and monitoring public-health facilities, evaluating them for quality, efficiency, and working with states to figure out how the poor can get quality healthcare.
(Salve is an analyst with IndiaSpend.)
We welcome feedback. Please write to respond@indiaspend.org. We reserve the right to edit responses for language and grammar.
__________________________________________________________________
Liked this story? Indiaspend.org is a non-profit, and we depend on readers like you to drive our public-interest journalism efforts. Donate Rs 500; Rs 1,000, Rs 2,000.