Rs 18,782-crore Hole Stares At Suresh Prabhu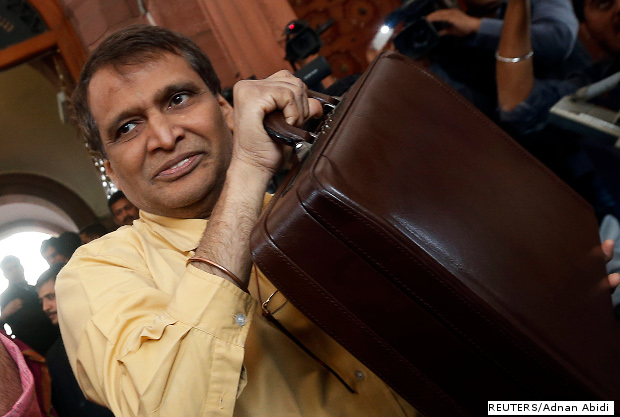 "Prabhu, yeh kaise hoga? (God, how will this happen?)"
In droll fashion, that was the rhetorical question Railway Minister Suresh Prabhu posed to himself and God, as he presented the first full railway budget of the National Democratic Alliance (NDA).
And well he might.
Prabhu's ministry intends to invest Rs 856,020 crore ($137 billion) over the next five years to revamp the world's most travelled railway network--and he intends to do this without any passenger-fare hikes.
For 2015-16, Prabhu intends to spend Rs 100,011 crore, an increase of 52% over the previous year.
Part of the money over this year and the next four, will come from the central government, which, on Thursday, announced Rs 40,000 crore annually as additional finance. The ministry also plans to borrow Rs 17,655 crore from the market, use Rs 17,793 crore from internal resources and get Rs 5,781 crore through private-public partnerships.
This leaves Prabhu with a Rs 18,782-crore hole for this year alone and a task on his hands : to cut costs, raise money and generate profits.
As a first measure to cut costs, Prabhu announced no new trains--the first for a railway minister after many years.
Proposed Investment Plan (2015-2019)

Item

Amount (Rs crore)

Network Decongestion (including DFC, Electrification, Doubling including electrification and traffic facilities)

199,320

Network Expansion (including electrification)

193,000

National Projects (North Eastern & Kashmir connectivity projects)

39,000

Safety (Track renewal, bridge works, ROB, RUB and Signalling& Telecom)

127,000

Information Technology / Research

5,000

Rolling Stock (Locomotives, coaches, wagons – production & maintenance)

102,000

Passenger Amenities

12,500

High Speed Rail & Elevated corridor

65,000

Station redevelopment and logistic parks

100,000

Others

13,200

TOTAL

856,020
Source: Indian railways
The minister has set four goals for the transformation of Indian Railways over the next five years:
* To deliver sustained, measurable improvement in customer experience
* To make the railway a safer means of travel
* Expand modernise infrastructure
* Make the railways financially self-sustaining
The rail budget has laid out a white paper for railway reform.
The minister informed Parliament that the operating ratio (how much money is spent on day-to-day operations to earn revenues, giving an indication of the funds left for safety and expansion) of Indian Railways would improve from 91.8% in 2014-15 to to 88.5% this year, the best in the last nine years.
The operating ratio of a company is said to be good if it is below 80%. The last time it was below 80% for the Indian Railways was 74.7% in 1963-64.
Let us look at the projected income of Indian Railways for 2015-16.
Estimated Income, 2015-16

Budget heads

2013-14 actuals

2014-15 (BE)

2014-15 (RE)

2015-16(BE)

Total Passenger Receipts

36,532

44,645

43,002

50,175

Goods earnings

93,905

105,770

106,927

121,423

Sundry and other earnings

5,721

5,500

5241

7318

Other coach earnings

3,678

4,200

4,028

4,612

Gross traffic earnings

139,558

160,165

159,248

183,578

Total earnings

139,837

164,374

163,450

188,557
Source: Indian railways; Figures in Rs crore
Passenger receipts are expected to increase 16.7% to Rs 50,175 crore in 2015-16. In 2014-15, passenger receipts declined from the budget estimates. Goods earnings increased 1%, and are estimated to increase 13% in 2015-16.
Let us now look at the projected expenses.
Estimated Expenditure, 2015-16

Item

Actuals 2013-14

Proposed 2014-15 (BE)

2014-15 (RE)

2015-16 (BE)

Ordinary Working Expenses

97,570

112,649

108,970

119,410

Appropriation of Depreciation Reserve Fund

7,900

6,850

7,775

7,900

Appropriation to Pension Fund

24,850

28,550

29,225

34,900

Total working expenses

130,320

143,318

140,141

154,476
Source: Indian railways; Figures in Rs crore
Total working expenses are expected to go up from Rs 130,320 crore in 2013-14 to Rs 154,476 crore in 2015-16, an increase of 18%.
The government has also been able to save on working expenses in the current financial year on account of a drop in prices of high-speed diesel (HSD).
____________________________________________________________
"Liked this story? Indiaspend.org is a non-profit, and we depend on readers like you to drive our public-interest journalism efforts. Donate Rs 500; Rs 1,000, Rs 2,000."