Road Accidents Killed 46% More People In J&K Than Armed Violence Over 13 Years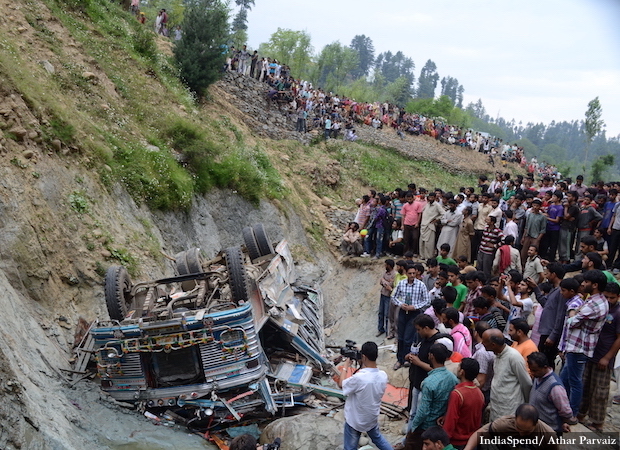 Since 2004, vehicles have killed 46% more people--including civilians, security forces and militants--in Jammu & Kashmir (J&K) than armed violence, according to an IndiaSpend analysis of state police and Indian home ministry data.
Source: J&K Traffic Police, Ministry of Home Affairs
More civilians have died in traffic accidents in the 13 years since 2004 than in armed conflict in twice as many years (since it began in 1989-90), as per records from the J&K Traffic Police and the central Ministry of Home Affairs (MHA).
J&K topped the list of "high accidental death-prone areas" in a National Crime Records Bureau (NCRB) survey conducted in 2013, which found that an accident in J&K state has a 64% chance of causing death as opposed to 36.4% for all of India.
J&K's traffic police blame the accidents on negligent driving on tricky and winding mountainous roads, while residents point out that paucity of public transport options has led to a surge in vehicle ownership, increasing the odds of mishaps.
Lives lost, and lives destroyed
A star student, 14-year-old Adil Ahmad was his father Ghulam Hassan Parray's hope for the family's future. One autumn day in 2007, Adil Ahmad was hit and killed by a minibus while he was out shopping for Eid in his native Wadwun village in central Kashmir's Budgam district.
Adil Ahmad was one of 14,407 civilians killed in 77,786 road accidents in the 13 years from 2004 to 2016, which also injured 1,07,622 people.
This is more than the 13,936 civilians killed in Kashmir's 26-year-old insurgency, as per a report by the central Ministry of Home Affairs.
For a decade since Adil Ahmad's death, 63-year-old Parray has been fighting a legal battle at Srinagar's Motor Accident Claims Tribunal (MACT), where accident victims are provided legal support to get compensation.
"My son was very good at studies. Not only my family, our entire clan was hopeful that he would achieve something big in life," Parray told IndiaSpend.
Ghulam Hassan Parray, who lost his 14-year old son Adil Ahmad in 2007, has been fighting a legal battle for a decade at Srinagar's Motor Accident Claims Tribunal (MACT), where accident victims are provided legal support to get compensation.
Parray, who makes a living from farming, said he has travelled to Srinagar more than 150 times over the past seven years: "I have spent thousands on bus fare."
Officials told IndiaSpend there are 1,624 cases pending at the MACT, many of them for years. "In many cases the documents of the vehicles that have caused accidents have turned out to be fake or incomplete," an official said, requesting not to be named.
Many victims and their families decide against approaching the tribunal either because of lack of faith in the system or due to lack of awareness.
Shameema Begam of Narbal in the northern Baramullah district, whose husband, a driver, was incapacitated by a hit-and-run in 2012, says she had no one to pursue the case. "When my husband lost the ability to earn, the responsibility fell on me. Now I work in people's homes to run my household," Shameema, who has two school-going children, said.
Police blame negligent driving
The frequency of fatal traffic accidents in J&K has alarmed policymakers and figured prominently in the local press, including on the OpEd pages of leading local newspapers.
Traffic authorities blame negligent driving. "Overspeeding has turned out be the main cause of traffic accidents across the state. Most drivers involved in traffic accidents cause the accidents when they do not observe the rules," Inspector-General of the state's traffic police, Jagjit Kumar, told IndiaSpend.
Kumar added that too little deployment of traffic police personnel in remote areas, the poor condition of roads, and presence of sharp curves on some hilly roads also play a role.
Efforts on to improve road safety
Jammu & Kashmir's Transport Commissioner Saughat Biswas told IndiaSpend that the state government has formulated a State Road Safety Policy which lays down guidelines for enforcement of traffic rules, engineering of roads and bridges, analysis of accident data and creation of awareness among people.
"The guidelines say the government should improve the capacity of traffic law enforcement agencies such as traffic police and motor vehicles department for minimizing and avoiding road accidents," Biswas said, adding that the guidelines provide for traffic personnel to be equipped with advanced devices for detecting overspeeding, red-light jumping, drunken driving and so on.
Similarly, the guidelines on road engineering lay emphasis on identifying accident-prone spots and improving road design, Biswas said, adding, "Creating proper health infrastructure is another crucial area. For example, establishing trauma centres and making critical ambulances and recovery cranes easily available."
Too many vehicles
At the same time, policymakers need to grapple with the proliferation of vehicles, for which lack of viable public transport is partly to blame.
The number of vehicles on the roads has doubled from over 7 lakh in 2010 to over 14 lakh (14,881,90) in March 2017, as per the J&K Transport Commissioner's office, foregrounding the need for better public transport.
Source: J&K Transport Commissioner's office
"If people had the choice of using an efficient public transport, why would they buy cars and spend on fuel as well?" Peerzada Mohammad Amin, head of Kashmir University's sociology department, said, adding that more cars are not an indication of development. "It is the result of a policy disaster as people feel compelled to purchase vehicles for easy mobility."
More cars on the road not only indicate policy failure to create sustainable mobility solutions for an expanding population, they also result in more pollution, Delhi-based Anvita Arora, CEO of Innovative Transport Solutions, told IndiaSpend. Better public transport and more space for non-motorized transport such as cycling and walking bring multiple health and mobility benefits, she added.
(Parvaiz is a Srinagar-based journalist.)
We welcome feedback. Please write to respond@indiaspend.org. We reserve the right to edit responses for language and grammar.
__________________________________________________________________
"Liked this story? Indiaspend.org is a non-profit, and we depend on readers like you to drive our public-interest journalism efforts. Donate Rs 500; Rs 1,000, Rs 2,000."