Record Nine-Phase Voting In India's 2014 General Elections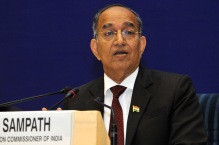 The 16th Lok Sabha elections, associated with many firsts for the country, would be held from April 7 to May 12. The counting of votes for all the 543 Lok Sabha constituencies will be held on May 16.
The 2009 Lok Sabha polls, incidentally, were held in five phases from April 16 to May 13.
An estimated 814 million voters will be eligible to vote in the coming elections.
The firsts include:
* None of the Above (NOTA) option in voting.
* A system of paper trail for electronic voting to be introduced in some constituencies on a trial basis.
* Candidates in a Parliamentary constituency in bigger states can spend up to Rs 70 lakh, up from Rs 40 lakh in 2011. The limit was Rs 25 lakh for the 2009 Lok Sabha elections.
The nine-phase schedule is as follows:
Six constituencies will go to the polls on April 7.
Seven constituencies will vote in the second phase on April 9.
92 constituencies will vote on April 10.
5 constituencies will vote on April 12.
122 constituencies will vote on April 17.
117 constituencies will vote on April 24.
89 constituencies will vote on April 30.
64 constituencies will vote on May 7; and
41 constituencies will vote on May 12.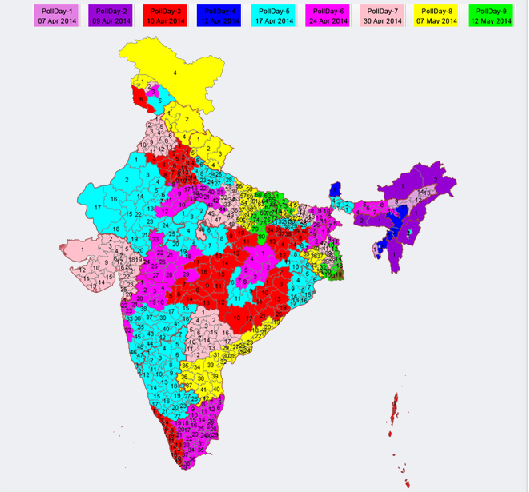 Assembly elections will also be held simultaneously in Andhra Pradesh, including Telangana region, Odisha and Sikkim. With the term of the current Lok Sabha expiring on June 1, the new House has to be constituted by May 31.
IndiaSpend Election-Related Stories Till Now
1) Why India's Big Cities Are Important For Elections 2014
2) Why Congress & BJP Need Allies To Form A Govt
3) Sticking Around Tougher Than Beating Congress Party
4) Prime Minister Manmohan Singh rules out 3rd term; says Modi as PM will be disastrous
5) 14 National Parties Fought Elections In 1951, How Many In 2014?