Record Farm Funding, Up 84%; Crises Also Record-Breaking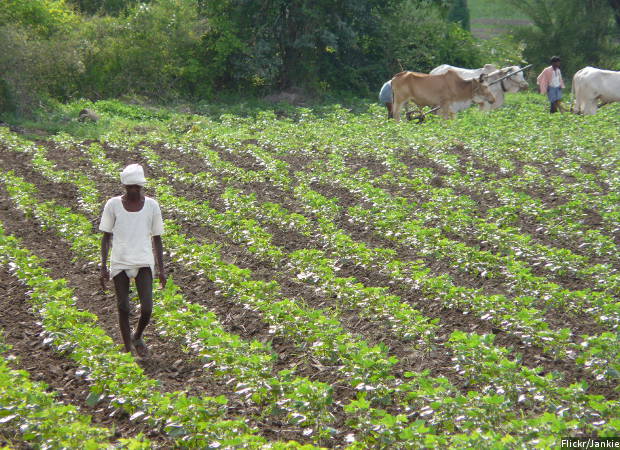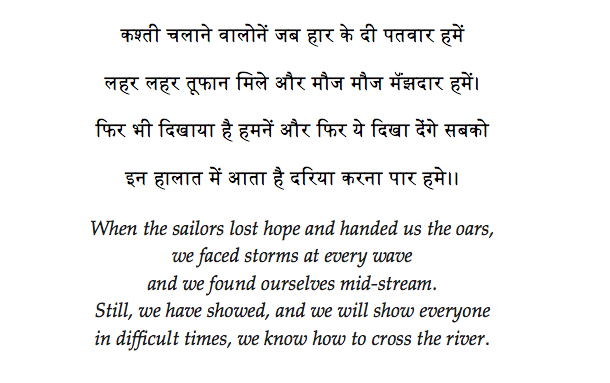 Continuing the poetic trend seen in budget speeches, Finance Minister Arun Jaitley started with these lines, signalling the fiscal path of his government towards budget management during a global slowdown and farm distress at home.
With agriculture growth contracting 1% in the October to December quarter of 2015 and growing only 1.1% in the financial year 2015-16 (advance estimate, obtained by extrapolation of latest available data); back-to-back droughts, the worst in 30 years; and winter (rabi) crop sowing dropping below 60 million hectares, the worst in four years; and a few thousand farmers committing suicide in 2015—Jaitley, 63, kept his budget for 2016-17 focused on the 834 million people who live in rural India.
In addition, rural workers' wages (inflation adjusted) declined for the first time in half a century, Jawaharlal Nehru University economist Himanshu wrote in the Indian Express.
Jaitley's budget has nine pillars: Agriculture, rural development, health, education and jobs, infrastructure, financial reforms, governance and ease of doing business, prudent fiscal management, and tax-administration reforms.
With the rural-focus explicit, stockmarkets (BSE Sensex) tanked 2% during the speech and then recovered, as Jaitley laid out accelerated reforms in tax compliance and administration, especially for small and medium enterprises, and closed 0.66% below.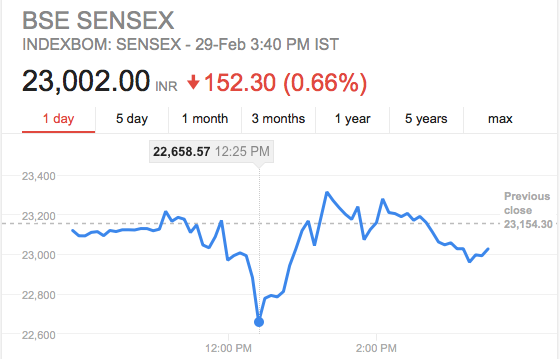 Jaitley's aim--to double farmer income by 2020--is very tough
Jaitley set aside the most money ever for agriculture and farmer welfare: Rs 47,912 crore ($7 billion), a rise of 84% from Rs 25,988 ($4 billion) last year. This includes Rs 6,000 crore for groundwater management, Rs 12,500 crore for irrigation and Rs 5,500 crore for crop insurance.
Changing irrigation, insurance and groundwater-use patterns will not be easy.
Only 34% of India's farmland is irrigated, despite more than Rs two lakh crore spent over 65 years, as we reported, and no more than 15% of 138 million farmers (2010-11 Agriculture Census), or 20 million, have crop insurance, although no more than 10% (12.5 million) actually received insurance benefits.
As for groundwater, levels in India are now more critical than anywhere else on earth, IndiaSpend reported. More than half of India now faces what is called "high" to "extremely high" water stress, most across the fertile Ganga-Brahmaputra basin, as this graphic indicates.
#VikasKaBudget Total allocation for Agri, Farmers' welfare &Irrigation nearly twice the allocation of the prev year. pic.twitter.com/R1ykI15dI6

— Ministry of Finance (@FinMinIndia) February 29, 2016
The budget vowed to double farmer income by 2020, but was silent on the National Commission on Farmers recommendation of a minimum support price (MSP)--the price at which the state buys crops from farmers--of 50% above agricultural production costs. Except for rabi pulses during 2008-09 and 2013-14, the MSP for foodgrains has not increased substantially over four years.
Rural development was given Rs 87,765 crore ($12.8 bn), up 22% from Rs 71,695 ($11 bn) in 2015-16.
The rural economy also received a Rs 655 crore grant—for the Rashtriya Gram Swaraj Yojana (National Village Self-Rule Mission)—to hasten autonomy of panchayati raj institutions, envisioned by Mahatma Gandhi and codified in 73rd amendment of the Constitution.
#VikasKaBudget aspires to connect every village of India with roads by 2019: PM @narendramodi on #Budget2016 pic.twitter.com/k1Qb3iK3tF

— PIB India (@PIB_India) February 29, 2016
Rural roads--specifically the Pradhan Mantri Gram Sadak Yojana (Prime Minister's Rural Roads Mission)--were given Rs 27,000 crore ($4 bn) (Centre and states combined), up 13% from last year's revised estimates.
Jaitley set aside Rs 38,500 crore ($5.6 bn) for the Mahatma Gandhi National Rural Employment Guarantee Act (MGNREGA)--the world's largest public jobs programme--once mocked by Prime Minister Narendra Modi.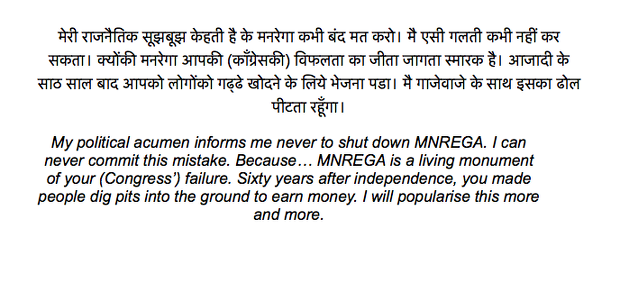 This was the most money ever set aside for MNREGA, Jaitley said in a DD News interview just after his budget speech in Lok Sabha. The revised estimates (released around October – November in the year) of 2009-10 show the allocation to be Rs 39,100 crore, while the budget estimates (prepared using income estimates, before the start of the financial year) of 2010-11 peg it at Rs 40,100 crore, higher than Jaitley's 2016-17 figure.
MGNREGA struggled after achieving peak performance in 2009-10, when it employed 33% of rural households. In 2014-15, it employed only 22% households, as IndiaSpend reported.
Middle-class will pay for rural programmes
The money to address India's rural distress will manifest itself in increased costs of middle-class staples, including air- and rail-tickets, readymade clothes, cars, diamonds, mobile bills, movies and cable, gold, cigarettes and eating out.
Pretty much everything the middle class consumes comes with a red arrow in #Budget2016 pic.twitter.com/HmBLVKxfZi

— Tarun Shukla (@shukla_tarun) February 29, 2016
The budget proposed a Krishi Kalyan Cess (Farmers Welfare Cess) of 0.5% on all taxable services like hotels, communication, property, insurance and travel. The central service tax will effectively be 15% after addition of 0.5% Swachh Bharat Cess and the Krishi Kalyan Cess to the basic 14% service tax.
This pattern may be repeated in the years ahead because agrarian distress is unlikely to end soon, as India's monsoon patterns are changing, likely driven by climate-change, as IndiaSpend reported.
We welcome feedback. Please write to respond@indiaspend.org. We reserve the right to edit responses for language and grammar.
__________________________________________________________________
"Liked this story? Indiaspend.org is a non-profit, and we depend on readers like you to drive our public-interest journalism efforts. Donate Rs 500; Rs 1,000, Rs 2,000."