RBI Leaves Rates Unchanged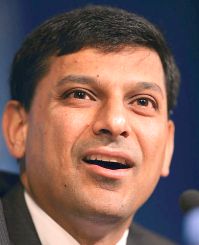 Reserve Bank of India (RBI) has kept key interest rates – the reverse repo rate or rate at which it lends to banks at 8% and the repo rate or rate at which it accepts funds from banks at 7% - unchanged in its first-ever bi-monthly monetary policy statement.
In an attempt to improve liquidity in the system, the central bank has increased the liquidity to be provided under 7-day and 14-day borrowings to 0.75% of net demand and time liabilities (NDTL) but reduced it underweight overnight borrowings from 0.5% of NDTL to 0.25% of NDTL.
The central bank has warned that retail inflation continues to be sticky. The release said: "Retail inflation measured by the consumer price index (CPI) moderated for the third month in succession in February 2014, driven lower by the sharp disinflation in food prices, although prices of fruits, milk and products have started to firm up. Excluding food and fuel, however, retail inflation remained sticky at around 8 per cent. This suggests that some demand pressures are still at play.
"There are risks to the central forecast of 8 per cent CPI inflation by January 2015 stemming from a less-than-normal monsoon due to possible el nino effects; uncertainty on the setting of minimum support prices for agricultural commodities and the setting of other administered prices, especially of fuel, fertiliser and electricity; the outlook for fiscal policy; geo-political developments and their impact on international commodity prices. There will also be a downward statistical pull on CPI inflation exerted by base effects of high inflation during June-November 2013. It is critical to look through any transient effects, including these base effects, which could temporarily soften headline inflation during 2014."
It has, however, said that if inflation continues to decline, "further policy tightening in the near term is not anticipated at this juncture."
The second bi-monthly monetary policy statement is scheduled on Tuesday, June 3, 2014.