Rajasthan's Revolution: In 30 Panchayats, More Girls Born Than Boys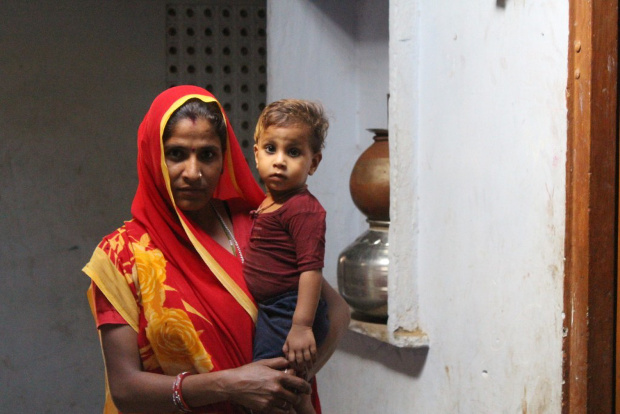 Mali Devi with her two-year-old—and second—daughter Khushi at their home in Dolatpura Kotda, 35 km north-east of Jaipur, Rajasthan's capital. The panchayat is one of 30 where more girls were born than boys over the last year, a historic achievement in a state with India's fifth-worst child sex-ratio.
Dolatpura Kotda, Rajasthan: Mali Devi, a 27-year-old daily wage labourer in Dolatpur Kotda, 35 kilometers north-east of Jaipur, was married at 13 as a part of a tradition called "Gona", where marriages between children are fixed by families. When she turned 18, she moved in with her husband, Hanuman Sahai, also a daily wage labourer.
Like Devi, 51.2% of married women aged between 20 to 24 years in Rajasthan were married before the legal age of 18, according to the Annual Health Survey 2012-13.
At 22, Devi gave birth to her first daughter, Sonu. Given the staunch patriarchy of her society, she faced some hostility from her in-laws, although her husband was very supportive. Pressure mounted on her to deliver a second child, a boy. After two years, she was pregnant again. When her second child was also a girl, Devi was so happy that she named her "Khushi" (happiness).
In most parts of Rajasthan--and many parts of India--there would be no happiness for Devi.
Khushi could have been aborted, starved to death, given limited nutrition and eventually succumbed to ill-health, grown up shorter or lighter than normal and been generally discriminated against. Devi could easily have been harassed or forced to have another child in hopes of getting a boy.
At 882, Rajasthan has India's fifth worst child sex-ratio--the number of females per thousand males in the age group 0-6--and is one of two states (Jammu & Kashmir at 862 being the other), where the child sex- ratio declined between 2001 and 2011.
In Haryana, Punjab and UP, the child sex-ratio improved between 2001 to 2011, but it is still worse than Rajasthan and J&K, where the absolute ratio decreased.
India's declining child sex-ratio will lead to a deficit of 23 million females in the 20-49 age group by 2040, IndiaSpend reported earlier.
At Devi's home, there is no female deficit. Devi is smiling and robust, as is Khushi, two years old. Unlike girls before, her birth has been registered; she has been vaccinated and attends school regularly.
The story of Devi and her girls indicates how Rajasthan's--and India's--grim record of discriminating against and killing girls can be reversed. But, as our story reveals, there is no magic wand, just lots of work, persuasion and cooperation between village officials, health workers, the state government and the people.
A revolution is a lot of hard work at the grassroots
In 2010, the Government of Rajasthan announced that 20 development schemes for women and eight schemes for the girl child would be administered by panchayat samitis or village council committees. This meant that the funds required to administer and shape the programs would be devolved to the panchayat samitis.
The Centre for Advocacy and Research (CFAR), an advocacy, worked with the government on a three-year project to shore up the capabilities of 180 gram panchayats, or village councils, spread across six districts of Rajasthan--Jaipur, Jalore, Dausa, Pali, Sikar and Jodhpur-- to ensure better health, education and rights of girls and women.
As a result of the project, during April 2014 to March 2015, 30 gram panchayats achieved something remarkable in a state deeply entrenched in patriarchy and gender bias: Each of them recorded more live births of girls than ever: 1,620 girls against 1,460 boys across all panchayats, which included Daulatpur Kotda.
| S.No. | Name of Gram Panchayat | No. of Boys | No. of Girls | District |
| --- | --- | --- | --- | --- |
| 1 | Didwana | 33 | 37 | Dausa |
| 2 | Guda Katla | 44 | 48 | Dausa |
| 3 | Badagaon | 22 | 27 | Dausa |
| 4 | Dolatpura Kotda | 65 | 80 | Jaipur |
| 5 | Kukas | 48 | 56 | Jaipur |
| 6 | Mundiya Ramsar | 53 | 57 | Jaipur |
| 7 | Machwa | 84 | 87 | Jaipur |
| 8 | Dantli | 56 | 64 | Jaipur |
| 9 | Goner | 54 | 61 | Jaipur |
| 10 | Leta | 55 | 57 | Jalore |
| 11 | Sankarna | 35 | 36 | Jalore |
| 12 | Samtipura | 39 | 43 | Jalore |
| 13 | Elana | 67 | 71 | Jalore |
| 14 | Bishangarh | 41 | 49 | Jalore |
| 15 | Sanphada | 54 | 67 | Jalore |
| 16 | Tikhi | 35 | 38 | Jalore |
| 17 | Ahore | 39 | 43 | Jalore |
| 18 | Chandrai | 29 | 33 | Jalore |
| 19 | Gura Balotan | 58 | 65 | Jalore |
| 20 | Mokheri | 47 | 51 | Jodhpur |
| 21 | Lohawat Bisnawas | 179 | 188 | Jodhpur |
| 22 | Bithu | 28 | 31 | Pali |
| 23 | Khandi | 27 | 29 | Pali |
| 24 | Kharda | 20 | 24 | Pali |
| 25 | Atbara | 57 | 62 | Pali |
| 26 | Basna | 32 | 36 | Pali |
| 27 | Dhakri | 23 | 24 | Pali |
| 28 | Sojat Road (CT) | 28 | 37 | Pali |
| 29 | Dolatpura | 59 | 64 | Sikar |
| 30 | Dujod | 49 | 55 | Sikar |
| | Total | 1460 | 1620 | |
Source: CFAR
How did this happen?
In rural India, gram panchayats are the lowest tier of governance and the first points of contact for local communities. So, the first phase of the programme focussed on winning over panchayat representatives, such as sarpanchs (heads of the councils) and gram sevaks (village development officers), which involved explaining to them the implications of the declining child sex-ratio, gender discrimination, reproductive rights of women, pre-natal diagnostic and termination-of-pregnancy laws and flagship schemes and programmes for women.
"When I first saw the statistics, I was shocked," said Vinita Rajawat, the sarpanch of Dolatpura Kotda, currently serving her second term. "I knew there was a problem with the number of girls, but CFAR's orientation and training helped me to understand the problem in detail. Being from a Rajput family myself, where patriarchy is deeply entrenched, I wanted to use my sarpanch post to bring about a change in our area."
Conversations regarding empowering the girl child were tough to initiate.
The panchayat members were mostly used to discussing construction of roads, development projects and other generic tasks, and detested conversations centred around women. Rajawat was a woman, and that complicated the situation further.
Rajawat persevered. Her efforts in mobilising the panchayat and the local community bore fruit.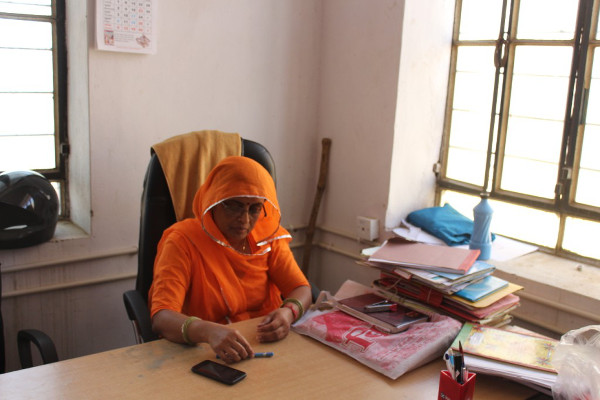 Vinita Rajawat, sarpanch of Dolatpura Kotda, a panchayat of 6,034 people in northern Rajasthan, in her office. Every time a girl is born, she opens a bank account for the girl and deposits Rs 200.
Following the intensive discussions, panchayat representatives started to believe in the idea and decided what they could do--in the form of resolutions--to mobilise communities, and support girls and their care-givers.
This was not easy.
"We faced two major obstacles," said Rakhee Badhwar, State Program Manager, CFAR. "One, the decades-old traditional and patriarchal mindsets of panchayat representatives, and two, the denial of the fact that sex ratios are skewed and gender discrimination indeed exists."
As many as 540 panchayat resolutions were implemented across six districts, including: inspirational wall paintings, rallies, candle marches, signature campaigns, birthing kits (which included a toy, an urine mat and a towel) to all new-born girls, regular mid-day meals for adolescent girls and bank accounts in post offices.
For every new-born girl in her gram panchayat, Rajawat with the help of husband Sugal Singh, now opens a post office account in the girl's name and deposits Rs 200, Rajawat's own money. She even sends a badhai patra (congratulatory letter) and a box of sweets to each mother.
Efforts by Rajawat and the frontline workers ensured that Devi's in-laws did not pressurise her further.
"When my first daughter was born, my in-laws were against a baby girl," said Devi. "But the efforts put in by the panchayat and others made their attitude somewhat neutral. They are still not fully supportive, but they don't pressurise or taunt me either."
Click on image to move to the next one.
Sending out an army of women to talk to women
While administrative and governance matters were handled by the gram panchayats, an army of frontline, primarily female workers–auxilliary nurse midwives (ANMs), accredited social health activists (ASHAs) and anganwadi (creches run under a national programme) workers and saathins (literally, friends, employed under a female development scheme)--who have last-mile access to families and door-to-door reach did the actual influencing.
An important part of this phase was to train these workers in identifying and counselling families that discriminated against women.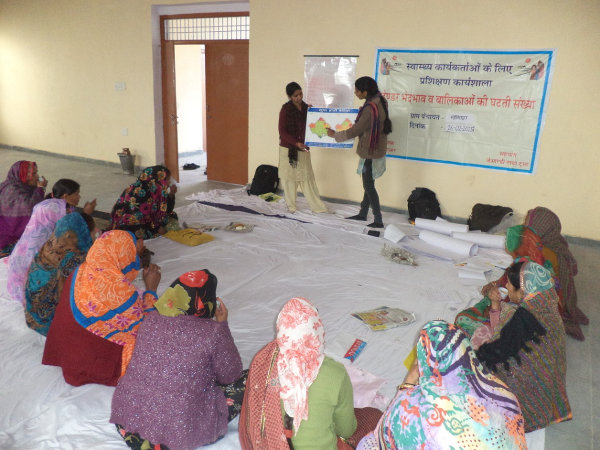 Training for frontline workers in Narsinghpura gram panchayat, a village of 1,029 people, 15 km west of Jaipur. Workers--and families--held several myths. Two examples: Girls do not need nutrition and healthcare, and that immunisation causes a girl to be born.
They were counseled and trained about schemes and programmes for women and girls, the reproductive rights of women, including the right to safe abortion, and myths and discriminatory beliefs associated with pregnancies and abortion.
"The discriminatory beliefs and myths amongst workers as well as the communities were quite shocking," said Bhupender Singh, a CFAR supervisor. A few examples:
Immunisation will lead to a female child


A woman cannot abort her child


Girls do not require nutrition and healthcare


There are more girls than boys in their gram panchayat


There is no gender discrimination in their area
"Before this program, new-born girls were discriminated against," said Krishna Sharma, 59, an ANM at a health sub-centre in Dolatpur. "Families did not vaccinate girls and did not register their births. But over the past three years, there has been a significant change in mentality and attitude."
"We even went to all the local schools to create awareness about vaccinations, which really helped," said Sharma.
The challenge: How do you ensure more girls continue to be born?
Since the project lasted three years, it was important that the processes and efforts continued.
A resource pool was created, comprising school teachers, journalists, self-help groups, former panchayat members, youth leaders, frontline workers and grassroots leaders.
Over the past three years, many of them have not only helped to raise consciousness but also guided and supported panchayat members in organising events and reaching services and entitlements to women and girls.
Eventually, government officials needed to be equally involved and dedicated to the cause. That involvement was evident at the Amber Block office, under whose jurisdiction Dolatpura Kotda falls.
"Earlier there was no discussion on gender issues in official meetings," said Surender Singh Rathore, Block Development Officer, Amber Block. "But now, we have made discussion of these issues mandatory."
We also focus on praising sarpanchs who do good work. Therefore, if other sarpanchs see that during meetings, a particular sarpanch's name is being taken regularly, he or she will feel motivated to work harder on those issues".
How the government and its programmes play a role
Mukhyamantri Balika Sambal Yojana (Chief Minister's girl-child support scheme). Jyoti Yojana (The—woman--as--light programme). Mukhyamantri Shubh Laxmi Yojana (Chief Minister's auspicious girl scheme). Palanhar Yojana (Caretaker scheme). Sukanya Samriddhi Khata (Girl-child prosperity account). Janani Suraksha Yojana (Mother protection scheme). Janani Express (Mother Express). Bhamashah Yojana (Named after Bhamashah, a general of medieval Rajasthan king Rana Pratap).
Rajasthan has 51 schemes–central and state–to support mothers and girls.
"Without the support of good schemes and initiatives, it would be difficult to implement our project," said Badhwar. "They offer so many incentives that influence the parents to a large extent but the problem was that there was no awareness about them. We distributed pamphlets and posters that highlighted these schemes."
Click on image to move to the next one.
Badhwar cites another initiative conceptualised by CFAR but later implemented throughout Rajasthan by the government: All hospitals in Rajasthan give a congratulatory certificate to every mother who gives birth to a girl.
"Receiving a certificate with the Chief Minister's signature and photo is a big morale booster for the parents," said Badhwar.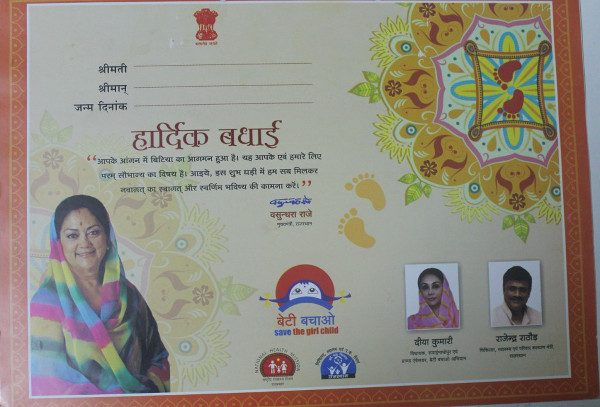 Each hospital hands out congratulatory certificates to mothers who give birth to a girl. The certificate includes the Chief Minister's, local councillor's and health minister's photographs.
Devi concurred. She has used many of these schemes–received Rs 4,200 under the Mukhyamantri Shubh Laxmi Yojana, Rs 700 at the time of Khushi's delivery and logistical support pre and post-pregnancy from the local ASHA worker under the Janani Suraksha Yojana, and a bank account in her name under the Bhamashah Yojana--and wants both her daughters to receive a good education.
"Although I haven't thought about what they will become," said Devi. "I do know that I will support them in their education, and they should be able to stand up on their own in life."
(Saha is a freelance journalist based in New Delhi.)
Photography by Devanik Saha.
---
"Liked this story? IndiaSpend.org is a non-profit, and we depend on readers like you to drive our public-interest journalism efforts. Donate Rs 500; Rs 1,000, Rs 2,000."