Rahul Gandhi's Punjab Youth Dope Problem Gaffe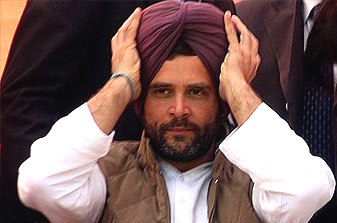 Politicians are often averse to using data to highlight or debate important issues. As the ongoing debates and campaign speeches in the United States presidential elections suggest, this is a problem across the world.
But using data, without a thorough check-back can land you into trouble too. The latest victim in some ways is Indian National Congress general secretary Rahul Gandhi. During his trip to Punjab recently, Gandhi claimed that 7 out of every 10 youth in Punjab have a 'drug' problem. Not surprisingly, the statement kicked up a storm.
Professor Ranvinder Singh Sandhu of Guru Nanak Dev University, who wrote the report Drug Addiction in Punjab, A Sociological Study, 2009 quoted by Gandhi, the media and even the government, told IndiaSpend the data has been misinterpreted.
"It is a minor mistake by the lower level of bureaucracy that was sent to the Punjab and Haryana High Court. Rahul Gandhi has given the figures based on an affidavit. They misinterpreted the sample of 600 drug addicts as the entire population of Punjab," Professor Sandhu told IndiaSpend in a telephonic interview.
The surprise, as pointed by Professor Sandhu, is that the Punjab government's draft disaster management plan also uses this 'data' for planning. (Click Here For Report)
The study had analysed 600 drug addicts, and it was found that about 73.5% of the addicts were between the 16-35 age group. "Somewhere down the line, this was misinterpreted, and taken as representing the entire population. The disaster management report figure is wrong too," Professor Sandhu added.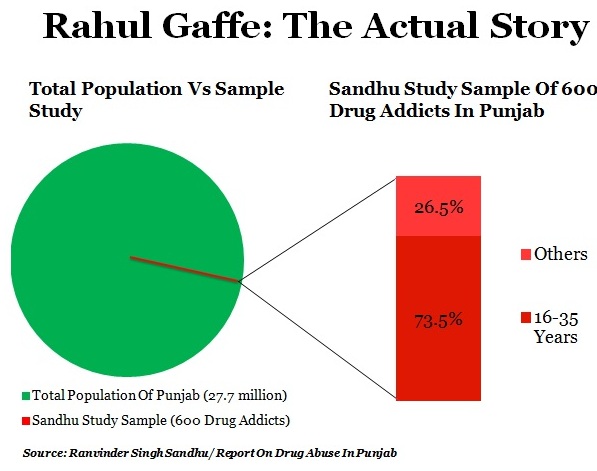 So, to claim that 70% of Punjab youth are drug addicts is stretching the line too thin.... but the fact is that the state, according to a report by Tehelka (which also repeated the 70% figure), is in the grip of a severe drug-abuse crisis.
So what are the reasons for Punjab's drug addiction problem? According to Professor Sandhu, they include unemployment, easy availability of drugs and poverty.