Ragging Incidents Up 75% In 1 Year, Over 3,000 Complaints In 5 Years
Mumbai: The University Grants Commission (UGC) received 3,022 complaints of student ragging over the last five years, between 2013 and 2017, according to official data presented in the Lok Sabha (lower house of Parliament).
Reported incidents of ragging increased 41% from 640 in 2013 to 901 in 2017, and 75% in one year (from 515 in 2016).
A ragging incident was reported from Kolkata where a first-year student of St. Paul's College was allegedly stripped and tortured by ex-students on May 17, 2018, The Times of India reported on June 2, 2018. "Feeling humiliated, the victim also allegedly made a failed attempt to end his life," the report said.
The maximum complaints (15% or 461) were reported in Uttar Pradesh--the country's most populous state--between 2013 and 2017. As many as 143 complaints were reported in the state in 2017, the most registered by any state over the last five years.
Source: Lok Sabha
Uttar Pradesh was followed by Madhya Pradesh (357), West Bengal (337), Odisha (207) and Bihar (170).
Ragging persists despite efforts to curb menace
Of the 2,041 complaints received between January 1, 2015 and March 27, 2018, students have been punished in 871 cases including suspension in 338 cases, Satya Pal Singh, minister of state in the ministry of human resource development, told the Lok Sabha in a reply on April 2, 2018.
The UGC had brought regulations to curb the menace of ragging in 2009, the minister said. The regulations provide suspension, debarring, rustication and even expulsion of guilty students.
"Despite the Government's ban on ragging since the late 1970s and two subsequent interventions by the Supreme Court (1999 & 2006) issuing guidelines to eradicate ragging, it is still found that a significant section of stakeholders continue to support ragging and justify it by dividing the act into severe and mild, with the latter, in their argument, being benign in nature," according to a study, mandated by the Supreme Court of India, published on August 11, 2017.
As many as 22 students from Indian Institute of Technology, Kanpur, were suspended last year for bullying and abusing freshers, The Times of India reported on September 22, 2017.
In another incident last year, two engineering students were arrested by the police in Bhubaneswar for ragging a first-year student, Business Standard reported on September 12, 2017.
36% students surveyed feel ragging prepares them for the real world
Nearly 40% students who participated in the Supreme Court-mandated psycho-social study admitted to being ragged while about 33% enjoyed being ragged. Around 45% students said they felt bad initially but later felt it was alright.
Nearly 36% students felt ragging prepared them to deal with harshness of the outside world.
Themes that emerged from interviews with 187 students on questions pertaining to ragging practices. Figures denote the number of interviews in which that theme occurred.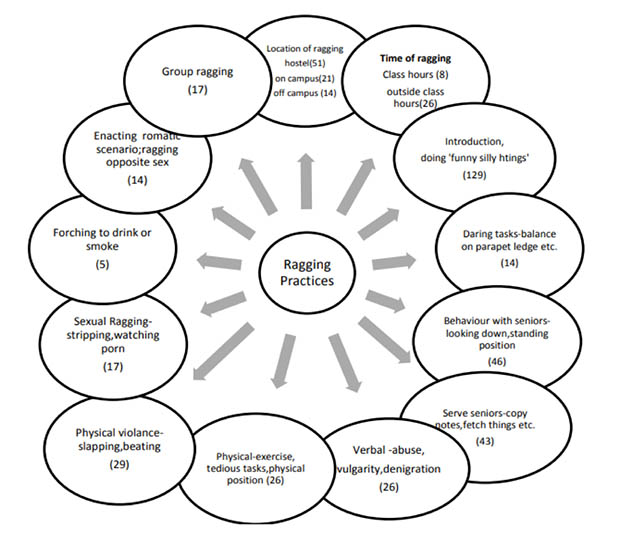 Source: University Grants Commission
While 40% students felt ragging helped making friends in colleges, 28% said it added fun to college life. Over 30% students said it impacted studies negatively.
As many as 84% students said they did not complain when ragged. While 41% said they were not sure whether authorities would take action against seniors, 38% said they did not want to harm their career.
Ragging can lead to long-term psychological and negative impact on students, the study found. Victims of ragging face mental health problems such as depression, anxiety, suicidal ideation, suicide attempts, and lower levels of self-worth when compared to students who are not ragged.
(Mallapur is an analyst with IndiaSpend.)
We welcome feedback. Please write to respond@indiaspend.org. We reserve the right to edit responses for language and grammar.