Punjab: Slow Growth, High Unemployment Big Challenges For New Government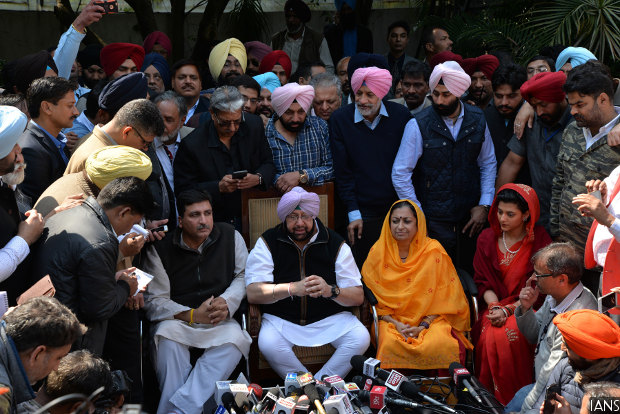 Punjab Congress chief Captain Amarinder Singh addresses a press conference after his party won the assembly elections with 77 out of 117 seats, up from 46 in 2012.
The new government in Punjab, which takes oath on March 16, 2017, faces multiple challenges in the state, with slow economic growth, high youth unemployment, high drug addiction among youth, and large dropouts before secondary school.
On March 11, 2017, the Congress party led by Captain Amarinder Singh won the Punjab elections with 77 out of 117 seats, up from 46 in 2012. Seats won by the Shiromani Akali Dal (SAD), the party in power from 2012-17, reduced from 56 to 15.
In 2014-15, Punjab had a per capita income of Rs 96,638, which is likely to increase 5% to Rs 101,498 in 2015-16, according to advance estimates, but this rise does not reflect a host of economic and social problems, as IndiaSpend reported in January 2017.
As the new Congress government takes charge, here is a look at some of the major issues in Punjab, India's 11th richest state, and the solutions laid out by the Congress in its election manifesto.
Slow agricultural growth
The rate of agriculture growth in the state declined over nine years, from 0.95% in 2005-06 to -3.4% in 2014-15, according to Punjab government data, affecting 6.3 million people of the working population engaged in agriculture, according to the 2011 Census.
Source: Economic & Statistical Organisation, Punjab government
Although Punjab is likely to have recorded a higher agricultural growth rate in 2015-16 than the national agricultural growth rate, average farm sizes have fallen from 3.9 hectares to 3.7 hectares over five years from 2005-06 to 2010-11, according to 2010-11 Agricultural Census data. Many youth are no longer interested in farming, as this 2016 study in the Asia Pacific Journal of Research observed.
Lack of research and development and the inability to exploit irrigation facilities and boost yields are issues that lead to agriculture to grow slower than it could, according to the Economic Survey 2015-16 of Punjab.
What the manifesto said" For higher agricultural growth, the Congress manifesto said it would continue to provide free power to farmers, improve agricultural product markets, support the development of new high-yielding varieties of seeds, improve the canal irrigation system, incentivise farmers to invest in crop diversification, promote food processing industries, set up modern warehouses for produce, cold storage and better transport infrastructure for agricultural produce.
The manifesto also proposes several other programs, including a direct transfer of agricultural subsidies to reduce leakage, and increasing compensation for crop failure to Rs 20,000 per acre.
High youth unemployment
In Punjab, the unemployment rate among youth--the proportion of the labour force between 18 and 29 years that is unemployed--is 16.6% while the Indian average is 10.2%. Punjab also has India's eighth-highest rural youth unemployment rate.
Youth Unemployment Rate, 2015-16
Source: Labour BureauNote: For persons between 18-29 years in percentage
Increasing mechanisation of agriculture and the lack of required skills to work in information technology firms have left Punjab's rural educated youth in a limbo, according to this 2014 paper by the Economic and Political Weekly.
As many as 18,770 factories closed between 2007 and 2014, when the SAD was in power, the Hindustan Times reported on February 3, 2014, quoting right-to-information data obtained by the Punjab Pradesh Congress Samiti (Punjab state congress committee): 8,053 factories closed in Amritsar, and no new industries were started in Tarn Taran, Moga, Rupar and Mansa districts, according to the data.
Increasing subsidies--and hence a shortage of money for government investment--has been cited as a key reason for Punjab's declining growth rate, according to this 2012 commentary by the CATO Institute, an American think tank based in Washington DC.
Populist policies, such as free electricity to farmers, could also be responsible for slowdowns, the Wall Street Journal reported in May 2011. The Congress manifesto said it would continue to provide free electricity to farmers.
Inflated land prices due to restrictive laws, neglect of higher education due to emphasis on agriculture, investment rates below the national average since the 1990s and corruption are other reasons for slow industrial growth in Punjab, according to this 2012 paper by the CATO Institute.
What the manifesto said: The Congress manifesto said the government will provide 'Ghar Ghar Rozgaar', a job in every household. For this, it proposes to revive small and medium scale industrial clusters such as hosiery, textiles, sports goods, electronics, wood work, electrical, hand-tools, light machinery parts, while aggressively pursuing global and domestic investors to set up units in Punjab. The manifesto said the government would select companies based on the employment opportunities for the youth of Punjab.
It also promises an unemployment allowance of Rs 2,500 per month to all unemployed, until these jobs can be created.
To attract industry, the manifesto promises electricity at Rs 5 per unit, subsidised water and a sewerage facility. It also suggests a revamp of the excise, taxation policy, and administration to check corruption.
Deep and spiralling drug problem
There are nearly 230,000 opioid dependent and 860,000 opioid users in Punjab, according to the 2015 Punjab Opioid Dependence Survey, conducted by researchers from the All India Institute of Medical Sciences and Society of Promotion of Youth and Masses, a non-profit working towards prevention of drug abuse.
While 80% of addicts tried to quit, no more than 35% received professional help. Opioid dependents spent Rs 1,400 per day on drugs or an estimated Rs 7,575 crore state-wide every year, and drug use is linked with poverty, unemployment and illiteracy, as IndiaSpend reported in February 2017.
What the manifesto said: The Congress manifesto suggests a 'Zero tolerance policy'. It proposes 'permanent cure, perfect rehabilitation' through a new legislation for the speedy trial of those who engage in the drug trade, and confiscation of their property, along with a policy of rehabilitation for those who 'have been wrecked by this evil'. Anyone who registers themselves at a district de-addiction centre will be treated free of cost, and receive training so that they can earn their livelihood.
It also proposes to increase economic productivity with higher investment to create large-scale employment for youngsters. Finally, it proposes an overhaul of the education policy so that the youth can benefit from India's growing economy.
The neglect of primary education, and Punjab's drop-out problem
Female literacy rate increased 11 percentage points from 70.7% in 2011 to 81.4% in 2015-16, according to data from the National Family Health Survey, 2015-16. The male literacy rate saw a slower growth of seven percentage points, from 80.4% in 2011 to 87.5% in 2015-16.
But even though literacy and the general education budget rose, the average annual dropout rate at the primary level increased, from 1.3% in 2014-15 to 3.1% in 2015-16, according to District Information for System Education (DISE) data.
In Punjab, 84% of primary-age students were enrolled in primary school in 2015-16, but only half (51.6%) of secondary-age school students were enrolled in secondary school, according to the DISE data.
Though learning levels in the state are higher than many other Indian states, many students are left behind, and others don't learn at the grade level. For instance, in 2016, in rural Punjab, less than half (48.7%) of grade III children surveyed in households could subtract, while as few as 35.2% could read a grade II level text.
Lack of classrooms, over-congestion of present ones and unavailability of basic electricity or drinking water are some reasons as to why students dropped out or cut classes, the Indian Express reported in May 2016.
What the manifesto said: The Congress manifesto lays out several provisions for improving education in the state, including spending 6% of the state's gross domestic product on education, emphasis on early childhood care and education, promoting quality education, a digital education program, recruiting teachers in sufficient numbers, reducing their time spent on non-teaching related tasks, and providing free transportation to school for all students.
Weak healthcare system, low coverage of health insurance
Punjab faces a double burden of obesity and poor nutrition. Obesity among men (27.8%) and women (31.3%) increased by 5.6 and 1.4 percentage points, respectively, in the decade to 2015, putting more people than ever at risk of different non-communicable diseases, a situation the state's healthcare system appears unprepared to deal with.
Simultaneously, the proportion of anaemic men doubled between 2005 (13.6%) and 2015 (25.9%), and anaemic women went up from 38% to 53.5%.
Wasting (low weight-for-height) among children has increased from 9.2% in 2005 to 15.6% in 2015, and one in four children is still stunted (low height-for-age), according to an analysis of the latest government data, by the Observer Research Foundation in February 2017.
Vacancies and absenteeism at Punjab's public-health facilities make it difficult to improve health status through publicly provided healthcare, according to this 2014 Princeton University study. As a result, dependence on private healthcare facilities is high--83% for outpatient and 66% for inpatient--leading to Punjab having the highest average medical expenditure per episode of hospital admission in India.
Punjab also has among the lowest proportions of population covered by health insurance–5.6%, compared to the all-India average of 15.2%.
What the manifesto said: The Congress manifesto promises compulsory health insurance for all, with premiums borne by the state government for those below 18 years and those above 60 years.
It also promises that primary and community health centres would be developed as multi-speciality hospitals with adequate medical and non-medical staff, while proposing to hire doctors every year to avoid a shortfall.
We welcome feedback. Please write to respond@indiaspend.org. We reserve the right to edit responses for language and grammar.
__________________________________________________________________
"Liked this story? Indiaspend.org is a non-profit, and we depend on readers like you to drive our public-interest journalism efforts. Donate Rs 500; Rs 1,000, Rs 2,000."