Progress With Nitish, But Bihar Still On Lowest Rungs—II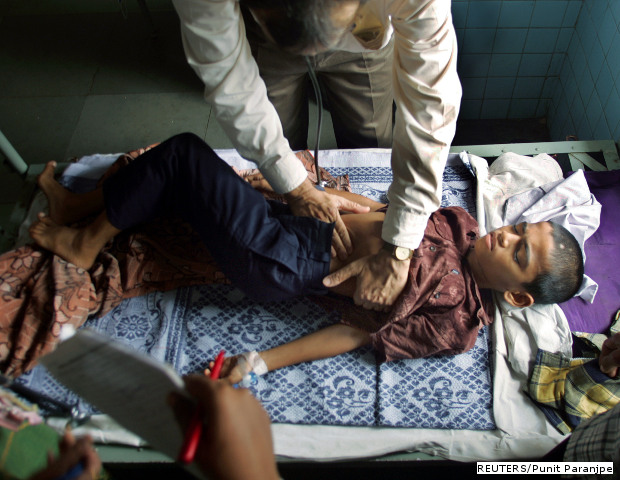 Bihar has the lowest enrolment in secondary schools among poor states
Bihar's crime rate is second highest among poor states
Bihar has cut its infant mortality rate and now does better than some richer states
Bihar's maternal mortality is the lowest among poor states
Bihar–India's third-most populous state with as many people as the Philippines—is the focus of attention, as IndiaSpend reported in the first part of this series as its legislative assembly prepares for re-election soon.
We have seen how Bihar lags in terms of economic and infrastructure development.
Here we look at data on socio-economic indicators of the state and compare it with the Empowered Action Group (EAG) states, eight poor, backward provinces—Bihar, Chhattisgarh, Jharkhand, Madhya Pradesh, Orissa, Rajasthan, Uttaranchal and Uttar Pradesh.
Bihar has India's lowest literacy rate
Bihar has India's lowest literacy rate, according to the 2011 census: 64% of Bihar's 104 million people are literate, a rate lower than several, poor African countries, including Malawi, the two Congos and Sudan.
The Indian literacy rate is 74%.
Bihar's gross enrolment ratio at the primary level (age 6-14; grade 1 to 8) is lower than 100, although education is now compulsory for all children aged six to 14.
(Gross Enrolment Ratio or GER is the enrolment in a specific level of education, regardless of age, expressed as a percentage of the eligible official school-age population, corresponding to the same level of education in a given school-year. If there is late or early enrolment, or repetition of a grade, total enrolment can exceed the population of the age group that officially corresponds to the level of education, leading to ratios greater than 100.)
Source: District Information System for Education (primary) 2013-14
GER for secondary level schooling (age 15-16; grade nine and 10) in Bihar was 60 in 2013-14. This means that beyond the compulsory age of education (six-14 years), not many children are going to schools in Bihar.
Source: Unified District Information System for Education (secondary) 2013-14
Source: District Information System for Education (primary) 2013-14; Figures in %
Only 58% schools in Bihar had separate toilets for girls in 2013-14. Drinking water was available only in 88% schools, the lowest among EAG states. Poor infrastructure is reportedly a major reason for low enrolment in schools, especially toilets.
Bihar reported only 31.7% project completion of the Swachh Vidyalaya (Clean Schools) programme till March 31, 2015.
Bihar's infant mortality better than MP, UP, Odisha, Rajasthan, Chattisgarh
Madhya Pradesh had the worst infant mortality rate (IMR) in the country with 54 deaths per 1,000 live child births in 2013.
Source: Census of India, 2011
With an IMR of 42, Bihar is doing well, compared to other EAG states. The state has improved its IMR from 48 in 2010 to 42 in 2013, better now than Bangladesh, Namibia, Myanmar and Pakistan.
Despite its improvements, Bihar is still a distance from the worst-performing southern state Karnataka (31), Maharashtra (24), Gujarat (36) and a long way from Kerala (12)
Rural IMR continues to be a matter of concern at 42, while the urban number is 33.
The reduction in IMR has been more significant in rural areas, declining from 49 in 2010 to 42 in 2013. In urban areas, the IMR has come down from 38 to 33 over the same period.
A key reason for a lower death rate could be the improved use of oral-rehydration solution (ORS) among children suffering from diarrhea. Other improvements include better vaccination against diphtheria, pertussis, tetanus and measles.
Bihar has lowest maternal mortality among poor states
Bihar has the lowest maternal mortality ratio (MMR) among EAG states with 219 maternal deaths per 100,000 live births in 2013. The state brought down MMR from 261 in 2007-2009, at a faster rate than Odisha.
However, the state's MMR is high compared to the national average of 178.
Source: Press Information Bureau
Strengthening of institutional factors has led to the reduction in deaths of females during childbirth. Deliveries at home have come down from 47% in 2012 to 42% in 2011. While safe deliveries went up from 59.9% to 64.5%, institutional deliveries went up from 51% to 55.7%.
Law and Order Still A Concern In Bihar
Bihar has the second-highest crime rate among EAG states with 30. With 8.6% of India's population, it accounted for 10% of violent crimes reported nationwide.
(Crime rate, defined as the number of offences per 100,000 population, is derived by first dividing the number of incidents in an area by the number of people living there, and then multiplying the resulting figure by 100,000, according to the National Crimes Record Bureau.)
Source: National Crime Records Bureau; *crime rate is the no. of crimes committed against every 100,000 people
The crime rate in Bihar has gone up to 30.5 in 2013 from 25.1 in 2012. This could mean that more people are reporting crimes.
Almost 17% of crimes reported were against scheduled castes and scheduled tribes. Bihar reported 3,441 murder cases, 10% of India's total murder cases in 2013.
Patna district reported the highest number of murder cases (286 cases) in Bihar. Motihari district reported the highest number of attempt-to-commit-murder cases (719) in 2013.
Source: National Crime Records Bureau; *crime rate is the no. of crimes committed against every 100,000 children
Bihar has the second-lowest crime rate against children among poor states at 3.57 per 100,000 children. This is far lower than the national average of 13.23. The crime rate against children in poor states is the highest in Chhattisgarh at 37.68.
Source: National Crime Records Bureau; *crime rate is the no. of crimes committed against every 100,000 women
Bihar has the lowest crime rate against women: 28 per 100,000 women.The high population of Bihar (104 million, of which 49.8 million are women) could be one of the main reasons that crime rate is low compared to other poor states and the all-India level of 52.2.
With more than 13,600 cases, Bihar reported the fifth highest number of crimes against women among EAG states.
A caveat: NCRB data may not represent realities. IndiaSpend previously reported how crime and other data is fudged in neighbouring Uttar Pradesh.
You can read the first part of this series here.
Tomorrow: Exclusion of SCs/STs In Bihar
(Salve and Tewari are policy analysts with IndiaSpend.)
(This story is part of IndiaSpend's special analyses of Bihar. You can read the other stories of this series here.)
________________________________________________________________
"Liked this story? Indiaspend.com is a non-profit, and we depend on readers like you to drive our public-interest journalism efforts. Donate Rs 500; Rs 1,000, Rs 2,000."