Primed For Change, But Only 3.2% Assamese Have Aadhaar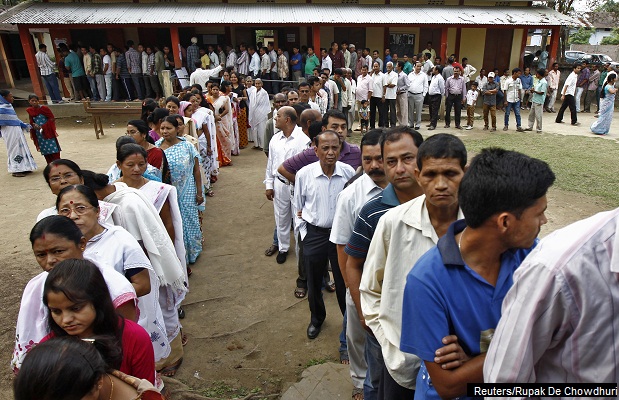 A 65-year-old citizenship issue, reflecting the strains of migration, has resulted in no more than 3.2% of Assam being enrolled in Aadhaar, India's biometrics-based unique identity system, the world's largest.
Voting in Assam has concluded (results are scheduled for May 19th), and the new government will inherit a state with some of India's lowest development indicators--the country's highest maternal mortality, the worst infant mortality; low literacy ranking (26th of 35 states/union territories)--and growing aspirations.
With no more than 0.3% (8,994) of 2.9 million LPG consumers in Assam linked to Aadhaar as on December 7, 2015 (the national average is 61%), the lack of unique identities will preclude the spread of related social-security benefits and programmes.
Five-and-a-half years after the programme started, a billion Indians (93%) are now issued with a 12-digit identification number called Aadhaar (Hindi for foundation), and more than 500,000 are enrolled every day. As of April 4, 2016, 1,000,856,739 Indians (not necessarily citizens) received Aadhaar identities, according to the Unique Identification Authority of India (UIDAI).
With the Aadhaar identity increasingly linked to variety a government payments, Assam will find it hard to implement many of Prime Minister Narendra Modi's technology-driven social-security programmes.
Held back by disputes over citizenship and unease over migration from Bangladesh, the states of Assam, Meghalaya, Mizoram, Nagaland, Arunachal Pradesh and Manipur do not mirror the speed of Aadhaar's nationwide spread. In Assam, no more than 1.04 million of 32 million people (3.2%) had Aadhaar numbers on March 31 2016, followed by Meghalaya (3.5%).
"Enrolment in Assam has started in only three districts—Golaghat, Nagaon and Sonitpur—probably because of National Register of Citizens (NRC) issue in the state because of which operations are yet to be started in full-swing," L K Pegu, Unique Identification Authority of India (UIDAI) Deputy Director General, Guwahati Regional Office, told IndiaSpend. "So, penetration is low."
The NRC is a register with information of all Indian citizens, first prepared after the 1951 Census. It contains the names of citizens, based on electoral rolls up to 1971 and the 1951 NRC.
Following the creation of Bangladesh (formerly East Pakistan) in 1971, illegal migration into Assam has risen, with violent agitations since the 1970s over the issue. So, unless the names of citizens are recorded in the updated NRC, Aadhaar enrolment has been quietly slowed--even though Aadhaar is not meant for confirmation of citizenship.
Migration and citizenship--stumbling blocks for Assam and other northeastern states
The NRC is being updated in Assam, and only those whose names appear in the NRC (1951) and electoral rolls up to March 24 (midnight) 1971--and those who came to Assam on or after January 1, 1966, but before March 25, 1971 and registered themselves with the government and have not been declared as illegal migrants or foreigners--are being included.
"Aadhaar operations in six north-east states--Assam, Meghalaya, Mizoram, Nagaland, Arunachal Pradesh and Mizoram--are done by the Registrar General of India under the Directorate of Census. Tripura and Sikkim are operated by UIDAI," said Pegu.
In Tripura, 91.5% of the population now has Aadhaar numbers; in Sikkim, 90%, as on March 31, 2016.
Prime Minister Narendra Modi and Bharatiya Janata Party (BJP) president Amit Shah have promised to stop migration if the BJP comes to power in Assam.
??? ?????-?????? ?? ????? ????? ??? ??? ?? ?????????? ?? ??? ????? ?? ???? ???? ???? ?? ?????? ??? ?? ???? ?? ???? ??? ??? ???? ?????|

— Amit Shah (@AmitShah) March 28, 2016
If the Bharatiya Janata Party coalition government comes to power in the state, infiltration along the states bordering Bangladesh will be stopped and borders will be completely sealed.
As many as 141,733 doubtful/disputed voters were reported in Assam by the Election Commission in April last year, according to an April 23, 2015 Lok Sabha reply. People who cannot produce proof of nationality are marked 'disputed' or 'D' voter by the Election Commission.
Poor Aadhaar enrolment in Assam might deprive its population of economic benefits
Poor Aadhaar enrolment indicates that more than 31 million people in Assam cannot avail the benefits of JAM (Jan Dhan-Aadhaar-Mobile)--a direct transfer of social-security benefits into bank accounts--introduced in February 2015 by the BJP-led National Democratic Alliance government.
The government aims to implement direct benefit transfers (DBT) through JAM, which will improve the economic condition of India's poor by reducing leakages and market distortions.
As many as 7,246,130 Jan Dhan accounts have been opened in Assam, of which only 4% (313,239) were linked to Aadhaar as of March 30, 2016, compared to 44% nationwide.
Of 36 states and union territories, Assam ranks 34th, followed by Mizoram (1.8%) and Meghalaya (1.6%) at the bottom, in terms of Aadhaar linked to Jan Dhan.
Similarly, mobile penetration in Assam is also low at 56%, the only state besides Bihar (54%) to have less than 60% mobile penetration, another hindrance for JAM.
As many as 296 million JAM beneficiaries were reported in 2014-15, of which 57% were linked through the Aadhaar system.
"About 120 million families will receive LPG subsidies directly into their bank accounts in 2016, most enabled by what is called the Aadhar Payments Bridge (APB), an interface between banks, gas companies, UIDAI and consumers," Viral Shah, co-author of Rebooting India and one of Aadhaar's architects, had told IndiaSpend earlier.
"I expect that many more schemes will adopt the Aadhaar Payments Bridge to send money, using the Aadhaar number as a financial address, into Jan Dhan accounts, in the same way," said Shah.
More than 947 million transactions were recorded through the Aadhar payments bridge, valued at Rs 28,363 crore ($4.4 billion), as on March 31, 2016, against 71.3 million transactions, valued at Rs. 4,474 crore ($700 million), on May 31, 2014.
"More than 230 million people have linked their bank accounts to their Aadhaars on the Aadhaar Payment Bridge," an official release said on April 4, 2016.
1.5 million Aadhaar numbers can be generated every day
UIDAI is capable of generating more than 1.5 million Aadhaar numbers every day through 37,304 enrolment stations nationwide manned by 376,543 certified operators.
I am happy to announce that 100 crore (1 billion) people in India have #Aadhaar digital identity. #TransformingIndia pic.twitter.com/SANnpRH4l1

— Ravi Shankar Prasad (@rsprasad) April 4, 2016
In 13 states and union territories (UTs), 90% of the population has Aadhaar numbers, while between 75-90% of adults were enrolled in another 13 states and UTs as on April 4, 2016, an official release said.
Delhi tops the list with 110.2% of population with Aadhaar numbers, followed by Telangana (100.4%) and Haryana (97.3%). Enrolment above 100% indicates enrolment of migrants from neighbouring states.
Parliament passed the Aadhaar (Targeted Delivery of Financial and Other Subsidies, Benefits, and Services) Act 2016 last month, giving the Aadhaar programme the legislative backing it lacked.
(Mallapur is an analyst with IndiaSpend.)
We welcome feedback. Please write to respond@indiaspend.org. We reserve the right to edit responses for language and grammar.
__________________________________________________________________
Liked this story? Indiaspend.org is a non-profit, and we depend on readers like you to drive our public-interest journalism efforts. Donate Rs 500; Rs 1,000, Rs 2,000.