Prime Minister Manmohan Singh rules out 3rd term; says Modi as PM will be disastrous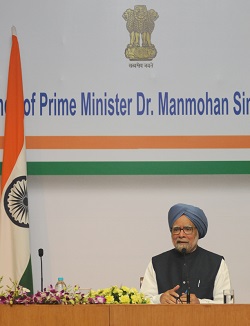 Key points
* Rural wages up in real terms; rural per capita real consumption has increased four times faster.
* Population below poverty line down faster in 2004-2011 than in previous 10-year period; number of people below poverty line down by 138 million.
* Widened educational opportunities through Sarva Shiksha Abhiyan and scholarships for SCs, STs, OBCs and minorities with focus on the girl child and young women.
* Not been successful in generating employment in the manufacturing sector.
* Not been successful in controlling inflation primarily because of high food inflation.
* To hand baton over to new Prime Minister; hope it will be a UPA chosen Prime Minister.
Prime Minister Manmohan Singh ruled out a third term for himself after the 2014 general elections. "In a few months, after the elections, I will hand the baton over to a new PM. I hope it will be a UPA PM," Singh said today in his 2nd full-fledged press conference during the UPA-II rule and the 3rd in his entire 10 years as Prime Minister.
In his strongest ever attack on Bharatiya Janata Party's Prime Ministerial candidate Narendra Modi, Singh said that someone who "presided over massacre of citizens on the streets of Ahmedabad" shouldn't be the PM.
Calling Prime Minister's remarks on Modi laughable, BJP hit out at Singh, saying that the 9 years of UPA rule were disastrous for the country. BJP president Rajnath Singh said: "Narendra Modi has made Gujarat a model of development for the country, PM's statement on Modi is condemnable."
Singh listed out the achievements of the UPA Government - GDP growth of 9% and inclusive economic policies benefitting the poor and underserved.
On inflation, Singh admitted that "worry about inflation is legitimate but we should also recognise that incomes for most people have increased faster than inflation. Per-capita consumption in both rural and urban areas has increased significantly."
Click Here To Read The Full Speech By Prime Minister Manmohan Singh