Poor Working Conditions: NRIs In Saudi, Kuwait 10 Times More Likely To Die Than Those In US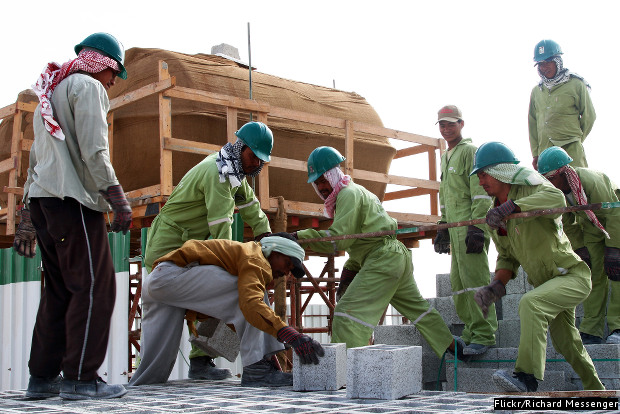 An Indian living in Saudi Arabia or Kuwait is at ten times the risk of death, compared to an Indian living in the US, due to poor working conditions, an IndiaSpend analysis has revealed.
More than 7 million Indians live and work in the six oil-rich nations of the Gulf Cooperation Council (Saudi Arabia, UAE, Kuwait, Oman, Qatar and Bahrain), accounting for more than 60% of all global non-resident Indians (NRIs).
Qatar has recently come under fire for poor conditions for many of around one million workers, including a large number of Indians, toiling at construction sites linked to the 2022 Soccer World Cup: 1,387 Indians workers have died in Qatar alone from 2010 to mid-2015.
The deaths of workers from India, and those from other countries, such as Nepal and Bangladesh, have been a matter of controversy, with some saying the toll could rise to 1,200 before any matches start.
The Qatari government strongly denies that poor working conditions have anything to do with the death toll. The Indian government appears to concur: In its response to a question in the Lok Sabha, the government has said that most of the deaths in Qatar have been due to natural causes.
Given that about 600,000 Indians live in Qatar, that is plausible.
But is the death toll among Indians in Qatar unnaturally high?
Indiaspend ran a check on the number of Indians living overseas, by country, and on the number of Indians who died in countries across the world between 2010 and 2013 (Refer Table 1).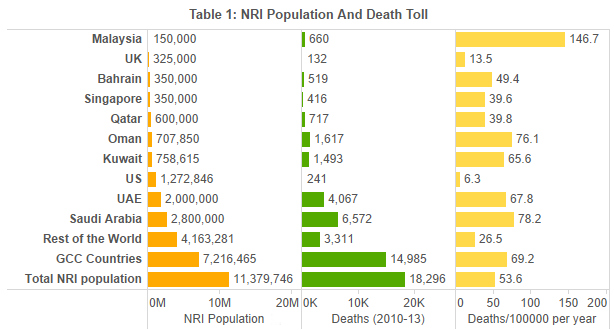 Source: Ministry of Overseas Indian Affairs, Lok Sabha
The check threw up some uncomfortable statistics:
On an average, there are 53.6 deaths per 100,000 NRIs annually. However, this number conceals a sharp discrepancy. The average for the six GCC nations is 69.2 deaths, while the figure for rest of the world is 26.5 deaths, almost 60% lower.
Saudi Arabia, UAE, Oman and Kuwait report between 65 and 78 deaths per 100,000 Indian workers. Qatar actually fares much better than these four states.
For the US and the UK, the toll is 80-90% less than these four states, meaning, an Indian citizen in Kuwait or Saudi Arabia has ten times the risk of death compared to an NRI in the US.
Indians living in US and UK work mostly in the financial and technology sectors, whereas Indians in the GCC often work in riskier jobs, such as construction. Secondly, Indians in US and UK also have access to better healthcare, given their relatively better incomes and the better medical infrastructure of these states.
The data also show that the death rate in Qatar per 100,000 Indians is half that of Saudi Arabia. Assuming that Indians in Qatar work in similar roles as Indians in Saudi Arabia, Kuwait or Oman, it is evident that a lot of lives can be saved through better working conditions and better medical attention.
Qatar has probably come to the attention of Western media because it was awarded the 2022 Soccer World Cup and because of recent controversies linked to FIFA, the international soccer body—and, perhaps, that is the reason its standards are better than its neighbors.
Similar publicity for other GCC nations could help improve the lives of expats in those countries.
(Amit Bhandari, is a media, research and finance professional. He holds a B-Tech from IIT-BHU and an MBA from IIM-Ahmedabad.)
---
Note: The headline and copy has been updated.
"Liked this story? IndiaSpend.com is a non-profit, and we depend on readers like you to drive our public-interest journalism efforts. Donate Rs 500; Rs 1,000, Rs 2,000."