Poor, Struggling Vidarbha Is Up For Grabs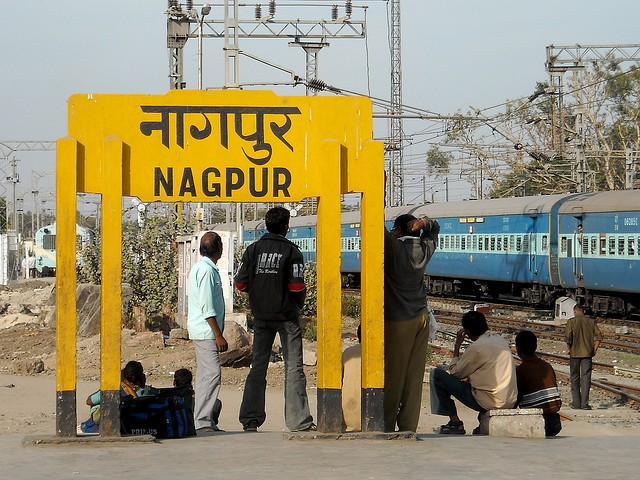 "As long as I am sitting in Delhi, I assure you that no power can divide Maharashtra. Some people are spreading rumors that BJP will sever Mumbai from Maharashtra. It's a lie. Maharashtra is incomplete without Mumbai."
This is what Prime Minister Narendra Modi said recently during an election rally, an affirmation that he would not divide India's most prosperous state.
Although the statement referred to Mumbai, it sparked concerns among party leaders, such as Bharatiya Janata Party (BJP) state president Devendra Fadanvis, who is from Vidarbha and has been supporting the demand for a separate state in one of Maharashtra's poorest, most-troubled regions.
Another BJP leader, Sudhir Mungantiwar, believes that a separate Vidarbha state is essential to address the region's problems, including farmers' suicides, Naxalism and endemic poverty.
Vidarbha, which forms the eastern region of Maharashtra, includes 11 administrative districts. Part of the Central Provinces during colonial rule, Vidarbha became a part of Maharashtra in 1960, when the state was created on linguistic lines. The region is known for its geographical richness and cultural heritage. Nagpur is the largest city in the region and the second capital of the state; the city which holds the annual winter session of the state assembly. Despite this political importance, Vidharba achieved national infame for thousands of suicides by farmers; 965 killed themselves in 2012 and 942 in 2013.
Let us look at the constituencies representing Vidarbha and the successful parties for the last three elections.
In 2009, Congress won 24 out of 62 seats from Vidarbha (out of the total 288 assembly seats) followed by BJP with 19 seats. Shiv Sena has held eight seats for the last three assembly elections. With the end of the BJP-Shiv Sena and the Congress-NCP alliances Vidarbha is open country for these parties.
Since Vidarbha has become an election issue again, we decided to look at the economic situation of the region. Most of the regions of Vidarbha still suffer from lack of development. Washim, a part of the Vidarbha region, is the poorest district in the state with per capita income of Rs 36,087 while Gadchiroli is the third poorest at Rs 36,286. The average state per capita income is Rs 95,339.
The recent human development index (HDI) report for the state highlighted that out the 11 districts of the region, eight are in the low and medium category of HDI scores. All the districts in Vidarbha have very high infant mortality rates. Despite having good doctor –patient ratio, there is very low utilisation of healthcare services with only 23% institutional deliveries in districts like Gadchiroli.
Vidarbha also lags other parts of Maharashtra in irrigation. The Maharashtra Water Regulatory Authority (MWRA) reports that Vidarbha's creation of irrigation potential, a reference to the annual gross total area under various crops proposed for irrigation, is lower than other areas.
The potential created in Vidarbha is only 41.2% as compared to the rest of Maharashtra which is 75%. The highest potential was created in Pune division with 101.2%. Vidarbha, which includes Nagpur and Amravati divisions, also has the lowest potential in Amravati at 27.8%. When it comes to irrigation projects, the region had 22 projects under the Accelerated Irrigation Benefits Programme (AIBP), a scheme that funds unfinished projects with federal money, of which 13 were completed and 9 were on-going as of July 2014.
Manifestos, promises
BJP has promised to bring Nagpur, along with key cities, under CCTV surveillance within a year, and develop Nagpur, Chandrapur, Akola and Amravati as new industrial hubs. The party has also promised a nodal officer of the rank of additional chief secretary to complete irrigation projects in Vidarbha.
Congress has promised the development of the second capital of Maharashtra. Capital subsidy of 10% for extension of projects and new textile units for industries in Vidarbha. It has also promised investments in agriculture, irrigation, roads and basic infrastructural facilities.
Shiv Sena, in its manifesto, has promised Nagpurkars a metro and mono-rail. It has also promised to make Nagpur a transport hub under (Hub Cities- Smart Cities) project. Keeping in view the different geographical, cultural, industry and tourism aspects of different regions of Maharashtra the Shiv Sena has promised to provide educational, industrial and employment opportunities by developing hub cities or smart cities.
NCP, in its manifesto, has promised eco-tourism and industrial growth in Vidarbha and a metro and mono-rail for Nagpur.
Image Credit: Flickr
"Liked this story? Indiaspend.org is a non-profit, and we depend on readers like you to drive our public-interest journalism efforts. Donate Rs 500; Rs 1,000, Rs 2,000."