Poor, Rich, Middle-Class: All For Kejriwal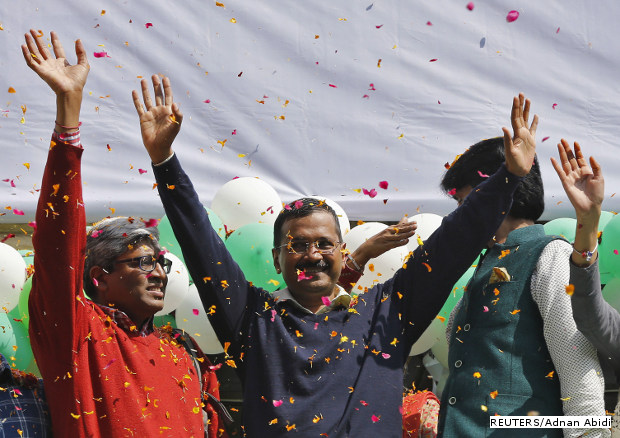 Delhi's vast underclass—more than 60% earn less than Rs 13,500 per month—was always expected to back Arvind Kejriwal and his Aam Aadmi Party (AAP). But the great surprise has been how middle-class and upper-class areas too voted for the upstart party.
The vote share of the AAP has climbed 25% over 2013, indicating widespread support across income and class groups. The BJP's vote share fell by a little more than 1%, but India's first-past-the-post system, caused a loss of 29 seats over 2013.
The AAP's triumph has been at the expense of both principal rivals, with Congress votes appearing to have been transferred to the newbie party en masse.
Prime Minister Narendra Modi's popularity wave, evident even in Maharashtra and Jammu and Kashmir assembly elections until a few months ago, appears to have lost momentum.
As for the Congress, it's been wiped from Delhi's electoral face, as this chart shows: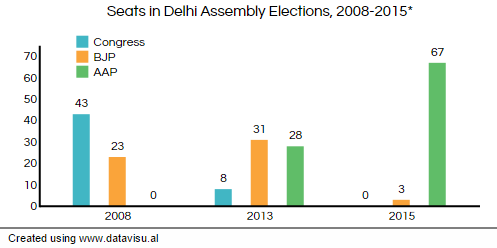 Source: Election Commission
AAP has won 67 of 70 seats; far higher than most exit polls had predicted. The party will win more seats than any party ever has in Delhi. Thus far, the Congress had the highest number ever, in 1998: 52 seats.
A bit of rewind: the 2013 Delhi elections ended in a hung assembly. While the Bharatiya Janata Party (BJP) was the single largest party, the AAP formed the government, ironically with the support of their biggest opponent Congress.
A strong anti-incumbency wave was responsible for Congress's loss in Delhi, and subsequently in the national elections that followed in 2014. The results of the last assembly elections in 2013 give some indication of how the Congress receded:
Congress lost 35 seats
BJP got 17 of Congress seats
AAP got 17 of Congress seats
AAP got 11 of BJP seats
SAD (Shiromani Akali Dal) got 1 Congress seat
AAP won 28 seats
Although the BJP and the AAP split the Congress seats between them:
AAP won 39% of Congress seats (17/43 of Congress seats went to AAP)
AAP won 47% of BJP seats (11/23 of BJP seats went to AAP)
IndiaSpend had earlier analysed how BJP managed to get a major chunk of the AAP vote share in the national elections. Now, it has been a reversal of fortunes for the parties.
In terms of vote share, AAP has 54%, again higher than any party has had in the past two assemblies. The BJP's vote share for 2015 is 32%. The BJP has only lost about 1 % of its vote share, maintaining its loyal core.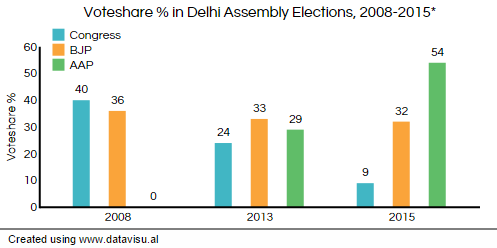 Source: Election Commission
While an IndiaSpend report has analysed the reasons for BJP's loss and AAP's win, Kejriwal has already sounded a word of caution: ""Don't get arrogant, the Congress and the BJP were defeated because of arrogance."
The AAP government is not short of challenges to start work on immediately after it takes oath at the Ram Lila Maidan on February 14th.
A new love story is set to begin with AAP ki Dilli.
Update: Figures have been modified to reflect latest Election commission numbers.
_____________________________________________________________
"Liked this story? Indiaspend.org is a non-profit, and we depend on readers like you to drive our public-interest journalism efforts. Donate Rs 500; Rs 1,000, Rs 2,000."