Poor PM, All He Did Was Talk About Growth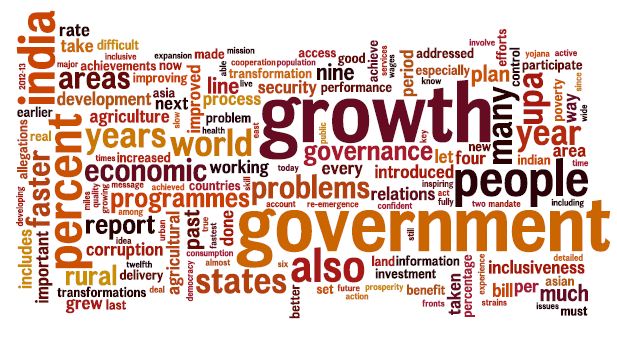 Aruna Roy, well known social activist, decided recently to quit the National Advisory Council (NAC), an advisory board led by United Progressive Alliance (UPA) chairperson and Congress president Sonia Gandhi.
Roy said that she wanted to go back to the grassroots level to work on issues related to the poor. She was also quoted criticising the Congress-led UPA Government. "If you look at the bias of the UPA-II, it is in favour of growth."
Is it? The numbers seem to suggest otherwise – this afternoon, the Government revealed that the economy grew 5%, a decade low. Nevertheless, we did a small analysis of the words used by Prime Minister Manmohan Singh in his recent speech lauding the accomplishments of the last nine years under the UPA government.
Here is what we found – as represented by the graphic above – bigger the word, more times PM said it. What was the word most repeated in PM Singh's speech, one that contained 2,101 words? "Growth" and "Government" –- each were mentioned 18 times. In fact, the first two of the four areas of key achievement were performance of the economy and inclusive growth. Other key achievements stressed by the Prime Minster? Better governance and better delivery of welfare programs and improved relations in the world.
What about the words that Ms. Roy would have probably liked to hear? The PM mentioned "Inclusive" (6 times), "Poverty" (3 times), "Poor" (2 times), "Health" (2 times), "Education" (1 time), and "Jobs or Employment" (0 times). You can add those all together, and it is only 14 mentions where as "Growth" came in at 18 times. Maybe Ms. Roy is on to something….