Pollution Soars, Odd-Even Not Enough For Delhi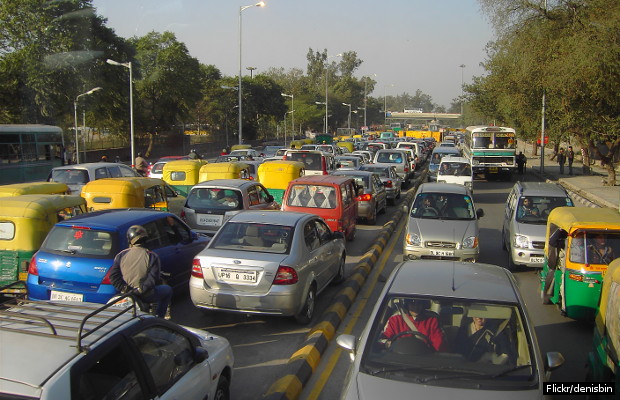 Delhi had one of its worst air-pollution days of the season on day four of the odd-even programme, indicating that the government will have to do much more to clean up the air of the world's most polluted city.
The additional measures--promised by the Aam Aadmi Party government but not yet implemented--include curbs on two-wheelers, ensuring fuel for vehicles is five times cleaner than it is now, re-routing trucks, controlling construction dust and shutting or cleaning up power plants.
Although traffic was light, all but one of IndiaSpend's 17 sensors across the National Capital Region recorded "severe", or the worst-possible level of air pollution, with some sensors registering record highs.
Packed trains, light traffic and formidable challenges ahead
Monday was seen as a litmus test for the odd-even plan, with people returning to work for the first time in the new year with registration restrictions in place.
The scheme allows only vehicles with registration numbers ending in odd-numbered digits to run on odd-numbered dates and vice versa.
Opinion towards the odd-even plan on social media was mixed, with some reporting positive experiences while driving because of fewer cars on the road.
Others complained that public transport was much more crowded than before, especially the 190-km Delhi Metro network.
Some commentators even declared the Odd-Even plan a success.
Some tried to sound a note of caution.
Why is pollution still high? Getting vehicles off road not enough
Sensor readings from #breathe, IndiaSpend's air-quality monitoring network, provide an indication of the challenges ahead.
For instance, our sensor at Connaught Place, New Delhi, at 6 PM on Monday January 4, 2016, reported an hourly Air Quality Index (AQI) of 529. This qualifies as 'severe', meaning that it could result in respiratory illnesses on prolonged exposure.
The Connaught Place sensor at 6 PM reported an hourly average Particulate Matter (PM) 2.5 concentration of 315 micrograms per cubic metre while PM 10 concentration was at 533 micrograms per cubic metre. (Particulate matter is the collective term for particles found in the air. PM 2.5 are particles with a diameter under 2.5 microns, while PM 10 are particles with a diameter under 10 microns.)
Source: IndiaSpend #breathe
So what's behind the pollution in Delhi? Different studies put the blame on different factors, as this report in The Economic Times pointed out.
Vehicles did not figure in the top three, according to a three-year (2007-2010) study from the National Environmental Engineering Research Institute (NEERI), which said the major source of air pollution was road dust (52%), followed by industry (22%) and burning garbage (18%).
Road dust was similarly the leading cause of PM2.5 levels (38%), according to a 2013 Indian Institute of Technology (Kanpur) study submitted to the Supreme Court and quoted in this PTI report. Vehicles contributed 20% to PM2.5 pollution, while industrial sources were third with 11%.
Fuel needs to be five times cleaner, power plants shut down
Given the varied sources of pollution in Delhi, the AAP government will have to kickstart its other proposals. Here they are:
Close the Badarpur and Rajghat thermal power plants, as well as move an application in the National Green Tribunal for closing the Dadri power plant near Greater Noida.
Implement Euro-VI emission norms by January 1, 2017, years before the cut-off date set for the rest of the country.
Vacuum clean dust from roads in Delhi. Target start date set for April 1, 2016.
Undertake horticulture works to ensure areas such as kuccha parts of the road and other open spaces are greened and do not contribute to dust.
Allow goods trucks to move on Delhi roads only after 10 PM so that that they won't slow down or disrupt traffic. Also check if trucks meet emission norms and impose fines if they don't.
None of these will be easy.
Consider, shutting the Badarpur and Rajghat thermal power stations. The Badarpur plant is more than 40 years old and one of India's least efficient, according to this column in Business Standard. The government sent notices in December for the plants to be shut down but apparently they haven't yet, and they won't be shut down soon enough to have an effect during the odd-even period.
The AAP government has also made it mandatory for vehicles to meet Euro VI or the equivalent BS VI (Bharat Stage VI) emission standards by 2017, which means they must run on fuel that is five times cleaner than it is now. But union environment minister Prakash Javdekar said that might not be possible over the next two years.
Oil refineries need an upgrade to supply fuel to BS VI vehicles, which might only happen by 2020. Currently, the fuel available in major cities complies with BS IV standards, which has 50 parts per million or ppm of sulphur, as Mint reported. BS VI fuel has only 10 ppm of sulphur.
Other measures proposed include vacuum-cleaning of roads by April 1, 2016, as well as a plantation drive along roads to control dust.
The odd-even plan clearly won't be enough unless these other, less-publicised plans of the government kick in.
Meanwhile, litmus tests for the odd-even plan continue.
We welcome feedback. Please write to respond@indiaspend.org. We reserve the right to edit responses for language and grammar.
---
Liked this story? IndiaSpend.org is a non-profit, and we depend on readers like you to drive our public-interest journalism efforts. Donate Rs 500; Rs 1,000, Rs 2,000.