Pollution In A/C Transit-Corridor Buses 25% Lower Than In A/C Cars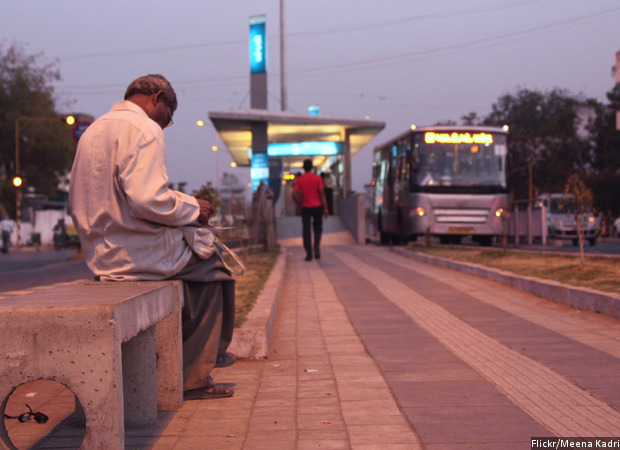 Commuters in air-conditioned (AC) buses experience an average 25% drop in levels of fine, toxic particles--called PM2.5--than their counterparts in AC cars and a 76% drop compared to non-AC modes of transport, according to a new study conducted in the city of Ahmedabad over three seasons.
The buses studied plied on the 89-km Bus Rapid-Transit System (BRTS) in Ahmedabad, a city of 5.5 million, where the annual growth rate of motorised vehicles (24%) is about five times higher than that of the city population (4.7%). The BRTS is India's most extensive and the study indicates how bus-based rapid-transit systems--94% cheaper than metro rail, according to this study --might be the best option for India's growing cities.
PM2.5 refers to particulate matter smaller than 2.5 micrometers, or roughly 1/30th the thickness of human hair.
BRTS commuters were exposed to the least PM2.5 levels because toxic particles were most abundant closest to the ground; the buses ran on a segregated corridor, often screened by trees; and travel time was quickest on the BRTS, so limiting PM2.5 exposure.
The study, "Impact of Bus Rapid Transit on Urban Air Pollution: Commuter's exposure to PM2.5 in Ahmedabad", was conducted on a 10 km stretch in the city of Ahmedabad, by the Centre of Excellence-Urban Transport, CEPT University, Ahmedabad and EMBARQ India, a transport research advocacy.
The measurements were done in three phases (December 2011-January 2012; April 2012-May 2012 and June 2012-July 2012) representing winter, summer and the monsoon period.
India's urban air-pollution levels exceed safe levels many times over; India has overtaken China in terms of PM2.5 levels and 13 of the world's 20 most-polluted cities are now in India.
Why other Indian cities need dedicated bus corridors
With Delhi announcing, in its new budget earlier this week, that it would introduce more buses to persuade richer commuters to abandon their cars, the Ahmedabad experience is relevant to larger cities, although Delhi in 2016 controversially dismantled its Rs 180-crore, 5.8-km bus corridor built in 2008.
Soon even the rich of Delhi will be able to use public transport without any hassle.#MShonestBudget pic.twitter.com/pWD2oaIj01

— Ankit Lal (@AnkitLal) March 28, 2016
With the second phase of Delhi's odd-even experiment to be implemented from April 15, studies of personal-exposure levels will allow more relevant debate.
About 150,000 buses run in Indian cities, but there are virtually no dedicated corridors for buses, a requirement if PM2.5 levels are to be as low as Ahmedabad. No studies have been done of PM2.5 levels in metro-rail systems.
Ahmedabad's BRTS commuters experienced the city's lowest PM2.5 levels irrespective of season and time of day, compared to commuters who travelled by other modes of transport. Due to seasonal variations, there was a 57%, 49% and 67% reduction in mean PM2.5 levels compared to other modes of transport during winter, summer and monsoon respectively.
PM2.5 concentrations varied significantly over the year, registering the lowest levels during the monsoon and highest in winter--mean levels dropped 61% from winter to summer and 25% from summer to monsoon.
Delhi experiences the highest levels of pollution in winter because of several reasons, including the burning of paddy fields in neighbouring states, winter fog, construction dust and vehicular exhaust, as IndiaSpend has reported.
Buses in dedicated corridor 27% speedier than other buses
An non-BRTS bus in Ahmedabad traveled 18 km per hr, an average of 18 minutes per trip, compared with an average travel time of 13 minutes in a BRTS bus, leading to reduction in exposure to PM2.5 levels and other pollutants.
The assessment demonstrates that the reduction of travel time by 25,000 hours can help in reducing exposure to higher PM2.5 counts through BRTS travel and potentially lead to significant health benefits.
What must shift in the debate on air pollution
The primary focus of the air-pollution debate has been the ambient (or atmospheric) pollutant levels in cities from the data recorded by CPCB, IndiaSpend and other sources. The Ahmedabad study emphasises the need to move the debate from ambient readings to personal-exposure levels--which, eventually--should be the focus.
"The odd-even experiment didn't register any decrease in ambient levels as the data reveal, but I am sure it must have had a significant impact on personal exposure levels, which should be the focus going forward," said Madhav Pai, Director of EMBARQ India, and co-author of the study.
What is the road ahead for Delhi?
The BRTS in Delhi, the world's most polluted city, failed due to several shortcomings, as this article in The Wire by Dinesh Mohan argued. Mohan, who was part of the team that advised the government on the BRTS, wrote:
The biggest mistake made was to limit the corridor to 5.8 km instead of the planned 18 km. If that had happened, a huge number of bus commuters, bicyclists and pedestrians would have benefitted and served as a pressure lobby to retain the corridor.
All bus drivers and their managers should have been put through a training programme on safe and efficient use of the corridor.
"Rather than investing in expensive freeways and flyovers, Delhi should invest in footpaths, cycle tracks, buses, and BRT," said Clayton Lane, Chief Executive Officer of The Institute for Transportation & Development Policy, headquartered in the US, in this interview to The Hindu.
What the Metrobus is doing for Mexico City
Metrobus, a bus rapid-transit corridor in Mexico city, a city of 8.8 million, is expected to eliminate an average of 6,100 days of work loss, 12 cases of chronic bronchitis and three deaths every year between 2005-2015, according to a study by Instituto Nacional De Ecologia, a decentralised body of the Secretariat of Environment and Natural Resources of Mexico. These health benefits are estimated to provide the citizens of Mexico City an average of $3 million in health benefits each year.
(Saha is a freelance journalist based in New Delhi.)
We welcome feedback. Please write to respond@indiaspend.org. We reserve the right to edit responses for language and grammar.
__________________________________________________________________
Liked this story? Indiaspend.org is a non-profit, and we depend on readers like you to drive our public-interest journalism efforts. Donate Rs 500; Rs 1,000, Rs 2,000.