Political Dynasties Alive And Well In Haryana, Maharashtra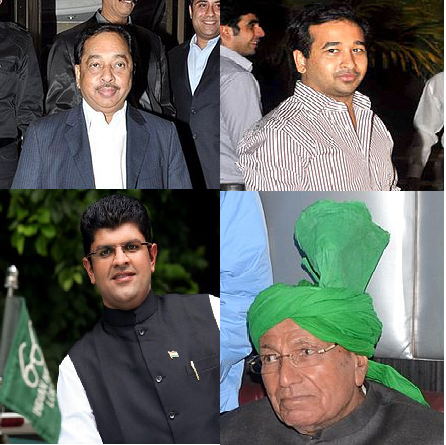 Indian politics is known for its dynasty politics, accepted by the electorate since Independence.
If the Nehru-Gandhi family has held sway at the Centre, the states have seen similar dynasties, including the Chautalas in Haryana, the Thackerays in Maharashtra, the Yadavs in Uttar Pradesh and the Gowdas in Karnataka.
The 2014 Lok Sabha campaign by Bharatiya Janata Party (BJP) called for an end to dynastic politics, especially targeting the Congress. That strategy appeared successful, so it was also tried during the state elections, for instance, in Haryana—a bastion of political families like the Lals, Chautalas and Bishnois.
Haryana, 2014: 7 wins, 5 losses
Let us take a lookat the political dynasties in Haryana and see how they fared in the just concluded assembly elections.
Devi Lal (1914-2001), the former Chief Minister of Haryana, who later became the Deputy Prime Minister of India between 1989 and 91, is survived by Om Prakash Chautala, a former Chief Minister of Haryana and president of the Indian National Lok Dal (INLD). Abhay Chautala is Om Prakash's son, Naina Singh is the wife of Om Prakash's other son, Ajay Chautala,currently jailed on corruption charges. Dushyant Chautalais Ajay's son.
Bhajan Lal (1930-2011), the former Chief Minister of Haryana, is represented by two sons,Kuldeep Bishnoi, who contested from Adampur,while second son,Chander Mohan Bishnoi,contested from Nalwa representing Haryana Janhit Congress. Renuka Bhishnoi, MLA from Adampur and wife of Kuldeep Bishnoi contested from Hansi.
BansiLal (1927-2006), the former Chief Minister of Haryana, is represented by his son Ranbir Singh Mahendra, former president of the Board of Control for Cricket in India. Ranbir contested from Badhra on a Congress ticket. His daughter Sumitra Devi contested on a Bahujan Samaj Party (BSP) ticket from Loharu. Sombir Singh, BansiLal's son-in-law, also contested from the same seat as an independent candidate. Kiran Choudhary, Bansi Lal's daughter-in-law, contested on a Congress ticket from Tosham.
Bhupender Singh Hooda ,the current Chief Minister, is the son of Chaudhary Ranbir Singh, a minister in undivided Punjab. Hooda' son Deepinder Singh is the Lok Sabha MP from Rohtak.
Savitri Jindal, an MLA and non-executive chairperson of Jindal Steel and Power, is the 12th richest Indian as per the Forbes List,2014.
Randeep Surjewala, aminister in the Congress govt, is the son of Chaudhary Shamsher Singh Surjewala, a former Congress minister in Haryana.
Let us look at how they fared in the elections.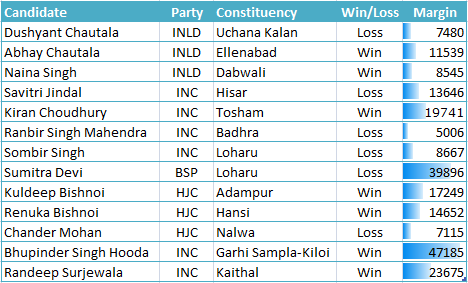 Source: Election Commission
The results have been a mixed bag with seven wins and five losses.
Maharashtra: 13 wins, 9 losses
The elections in Maharashtra were no different. This year saw the fate of at least 17 dynasties at stake, with 10 candidates from the Congress, eight from the NCP, and one each from BJP, Shiv Sena and Samajwadi Party contesting the elections.
People, it seems, did vote in favor of political dynasties, however marginal some wins might have been. The BJP saw Pankaja Munde, daughter of the late Gopinath Munde, former union minister, winning the elections with a margin of 25,895 votes. She fought against her own cousin, Dhananjay Munde, who was fighting the election in Parli on a ticket from Nationalist Congress Party (NCP).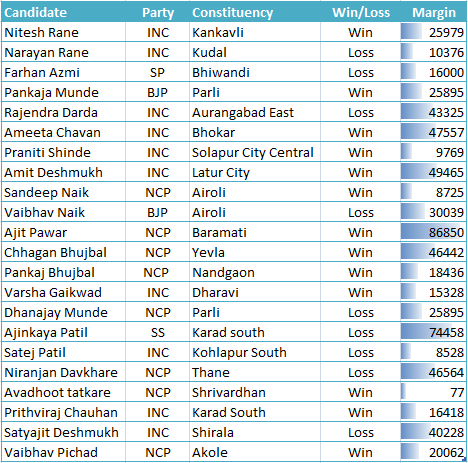 Source: Election Commission
For the battered Congress, six of 10 dynastic candidates held on to their political legacy in Maharashtra. It was an easy win for Ameeta Chavan, wife of former Chief Minister and MP Ashok Chavan with a margin of 47,557 votes. Amit Deshmukh, son of late Vilasrao Deshmukh, won with a margin of 49,465 votes. It was mixed feelings for the Rane clan. While NiteshRane won the election, Narayan Rane was defeated from home town Kudal by a margin of 10,376 votes.
The NCP managed to salvage only half its dynastic seats, with four candidates winning contests. Pankaj Bhujbal and his father Chhagan Bhujbal, minister in the outgoing administration,retained their seats. Despite a successful rally at Baramati by Prime Minister Narendra Modi, the seat went to NCP's Ajit Pawar with a victory margin of 86,850 votes. But the most closely fought battle was between Avadhoot Tatkare (nephew of former human resource minister Sunil Tatkare) of the NCP and Ravi Munde of the Shiv Sena. Avadhoot won the election by a margin of 77 votes.
Visualisation: Chaitanya Mallapur
"Liked this story? Indiaspend.org is a non-profit, and we depend on readers like you to drive our public-interest journalism efforts. Donate Rs 500; Rs 1,000, Rs 2,000."