Pakistan's 11-Year Terror Bill: $100 Billion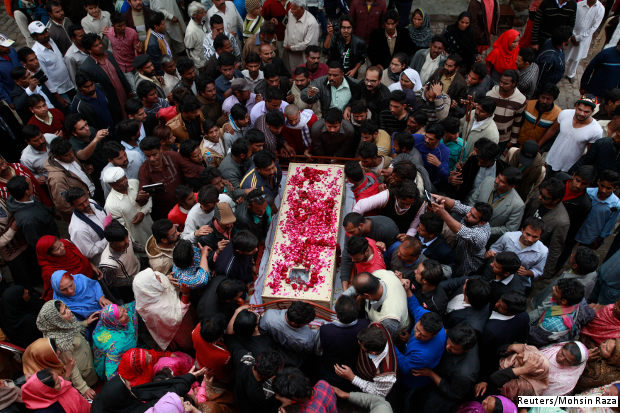 Pakistani Christians carry the coffin of Zahid Yousaf, one of the victims killed in a suicide attack on a church, during his funeral in Lahore, Pakistan on March 16, 2015.
Terrorism cost the Pakistani economy nearly $100 billion (Rs 6.4 lakh crore, in Indian rupees) between 2004-05 to 2014-15, according to data released in the Pakistan Economic Survey, 2014-15.
That's enough to finance Pakistan's education budget for 134 years (based on the current year).
Source: Pakistan Economic Survey 2014-15, * Figures for 2015 for first 9 months only
The losses are direct and indirect costs of terrorism. Of $6.63 billion lost due to terrorist attacks in 2013-14, 38% represented reduced tax collection and 30% reduced foreign investment.
Source: Pakistan Economic Survey 2014-15
Pakistan contends that the heightened incidence of terrorism is a reaction to the conflict and instability in Afghanistan, after the 9/11 attacks.
The US invasion of Afghanistan led to an increased influx of refugees into bordering Pakistan, which "witnessed a sudden spike in the frequency and scale of terrorist attacks", according to the Economic Survey.
Pakistan's economy is estimated to have grown 4.2 % during 2014-15.
How terrorism disrupts business
Terrorism in Pakistan is driven by sectarian and ethnic factors, and 54,960 people (including terrorists) have died since 2005, according to data released by South Asia Terrorism Portal (SATP), a resource from the New Delhi-based Institute of Conflict Management.
IndiaSpend had earlier reported that Pakistan had seen a 748% increase in terrorism-related deaths over the past decade.
Terrorism has disrupted production cycles, delayed exports and increased business costs. "Pakistani products have gradually lost their market share to competitors," the Survey said.
Pakistan is ranked 154th out of 162 countries, according to the 2015 Global Peace Index, a measure of unrest, published by the Institute for Economics & Peace, a think-tank based in Sydney, Australia.
The index judges peacefulness of a country based on 23 indicators under three broad themes: 1) safety and security in society; 2) domestic and international conflict and; 3) degree of militarisation.
With a rating of 3.049, Pakistan is ranked 8 places ahead of last-placed Syria (ranked 162nd) but 11 places behind neighbouring India (ranked 143rd).
Tribal areas the most violent
The Federally-Administered Tribal Areas (FATA) in North-western Pakistan is the country's most violence-prone region. It accounts for more than half of all terrorism-related deaths in 2014, according to SATP.
Sindh accounted for 21% of total deaths, followed by Balochistan with nearly 12%.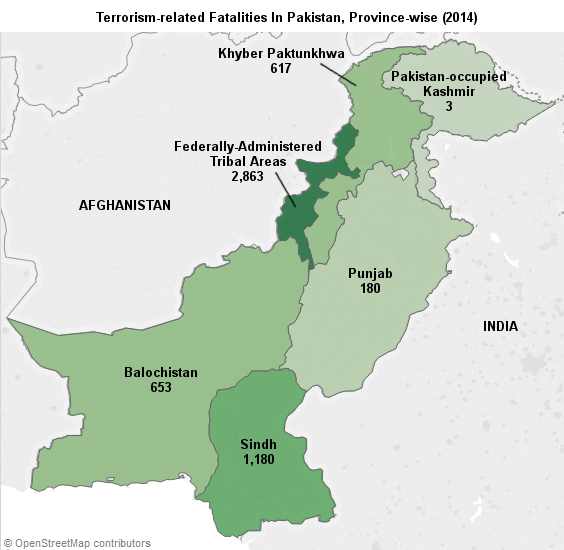 Source: South Asia Terrorism Portal
The FATA region is home to the violent Tehreek-e-Taliban Pakistan (TTP), founded in 2007 and currently headed by Maulana Fazlullah.
The TTP is a different organisation from the Afghan Taliban, originally founded and supported by Pakistan in the 1990s to exert influence over Afghanistan.
TTP "was founded to fight (the) Pakistani establishment," D. Suba Chandra, director of Institute of Peace and Conflict Studies, said in a comment in The Hindu.
TTP has claimed responsibility for some of the most serious attacks in Pakistan, including the attack on an army school in Peshawar last year. More than 130 children died in that attack.
"This attack is a response to Zarb-e-Azb (sword of the prophet, PBUH) military offensive and the killing of Taliban fighters and the harassment of their families," TTP spokesperson Muhammad Khorasani had said last year.
The Pakistani army launched Zarb-e-Azb on 15 June 2014 in retaliation after a deadly attack on Karachi airport left 28 people (including 10 terrorists) dead.
The operation has led to the death of 2,763 militants over the past year, according to Asim Bajwa, Director General, Inter-Services Public Relations, Pakistan.
However, Pakistan's anti-terrorism efforts have been selective as a US State Department report points out.
It says that the Pakistani military moved against domestically-focussed groups, such as the TTP, while the Afghan Taliban and the Haqqani network leadership continued to find safe havens.
While the Pakistani military action only disrupted the activities of these groups, it did not target them directly, the US report said.
The report further states that Pakistan took no action against groups such as anti-India Lashkar e-Tayyiba (LeT), which continues to "operate, train, rally, propagandise and fund-raise in Pakistan".
Terrorism has been a contentious issue between India and Pakistan. Pakistan accuses neighbouring India of supporting separatists in Balochistan as well as other militant groups. Pakistan's Defence Minister Khwaja Asif recently accused India of helping terrorist groups in the country to launch "heinous acts" and said that India "has designs against Pakistan".
India, in turn, accuses Pakistan of being a state sponsor of terror, responsible for terrorist attacks in Kashmir and the rest of India, the most serious being the 26/11 attack on Mumbai.
(Sethi is an analyst with IndiaSpend.)
__________________________________________________________________
"Liked this story? Indiaspend.com is a non-profit, and we depend on readers like you to drive our public-interest journalism efforts. Donate Rs 500; Rs 1,000, Rs 2,000."