Pakistan Ceasefire Violations Up 9 Times In 4 Years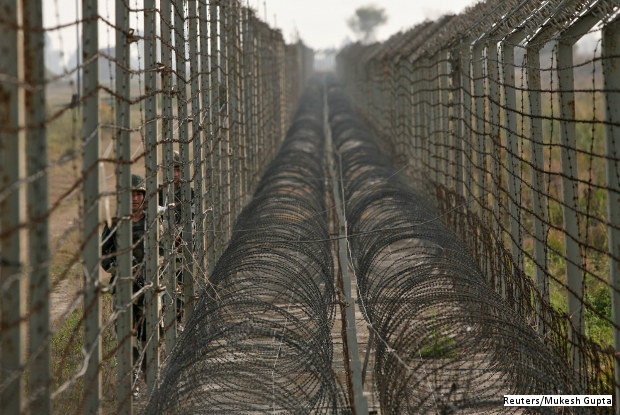 A section of the border fencing along the Line of Control in Jammu and Kashmir.
One Indian civilian was killed in a ceasefire violation by Pakistani troops in the Pargwal sector of Jammu and Kashmir (J&K) on August 4, 2015.
One Indian army jawan was killed in a sniper attack by Pakistani troops in Poonch district of J&K on July 30, 2015.
Two Border Security Force (BSF) jawans were killed on July 5, 2015, and July 9, 2015, in firing by Pakistani troops across the Line of Control in J&K. The second incident took place before a bilateral meeting between Indian Prime Minister Narendra Modi and his Pakistani counterpart Nawaz Sharif in Ufa, Russia.
"Ceasefire violations" by Pakistan along its border with India have increased nine times from 2011 to 2014, according to data tabled in the Rajya Sabha. The ceasefire agreement it refers to was signed 12 years ago.
As many as 1,106 violations were reported in the four-year period; 199 were reported till June 30, 2015.
Pakistani Ceasefire Violations Along India-Pakistan Border (According To India)

Year

Ceasefire Violations

Ceasefire Violations Along LoC

Ceasefire Violations Along International Border

2011

62

51

11

2012

114

93

21

2013

347

199

148

2014

583

153

430

2015*

199

NA

NA
Source: Rajya Sabha, 1, 2 and 3; *Up to June 30, 2015
Indian security forces have strongly retaliated, killing Pakistani security forces, terrorists and citizens. Pakistan, in turn, accuses India of similar ceasefire violations and has even filed a complaint with the United Nations Military Observers Group in India and Pakistan (UNMOGIP).
Cross-border firing by Pakistani security forces from 2011 to 2013 was concentrated along the Line of Control (LoC) that separates the part of J&K administered by India from Pakistan-Occupied Kashmir (PoK).
The trend saw a reversal in 2014; 74% of the firing was concentrated along the international border of the Indian states of Punjab, Gujarat and Rajasthan.
2014, a particularly volatile year
There were 583 ceasefire violations by Pakistan in 2014, according to data tabled in the Lok Sabha. That is an average of one incident every 15 hours, resulting in the total deaths of four army soldiers, one BSF jawan and 13 civilians in 2014.
Border Firing: The Casualties In India

Year

Army Soldiers Killed Along The LoC

Civilians Killed

Civilians Injured

Security Personnel (Army + BSF) Injured

2013

10

0

26

32

2014

4

13

101

33

2015*

2

2

NA

NA
Source: Lok Sabha, Rajya Sabha; *Up to June 30, 2015
As many as 101 civilians and 33 security personnel (Army + BSF) were injured, and 128 private structures/properties suffered damage.
Infiltration Attempts From Pakistan
India accuses Pakistan of being a state sponsor of terror and that ceasefire violations by its security forces are an attempt to provide cover to terrorist incursions.
As many as 945 incursions from Pakistan have been recorded between 2012 and 2014. Indian security forces killed 38 terrorists in 2013 and 36 in 2014 (till October 31, 2014), as they attempted to cross the LoC; 42 incursions were reported in 2015 (till June 30, 2015), leading to the deaths of eight.
Incursions By Pakistani Terrorists Reported Along Indo-Pakistan Border (As Claimed by India)

Year

2012

2013

2014

2015*

Cases

332

345

268

42
Source: Lok Sabha, 1, 2; *Up to June 30, 2015
Indian security forces cannot stop incursions. India's Home Minister Rajnath Singh said that terrorists responsible for the recent Gurdaspur and Udhampur attacks crossed the border.
The rise in ceasefire violations indicate worsening relations, which have been particularly tense after the Modi government called off foreign-secretary-level talks with Pakistan in August 2014, in reaction to the Pakistani envoy's meeting with Kashmiri separatists.
"Ever since the Modi government has come to power, Pakistanis have upped the ante to test India's resolve," according to veteran journalist and national security expert Nitin Gokhale. "And after the foreign secretaries talks were called off, Pakistan wants to keep the pressure on."
To counter Pakistan's ceasefire violations, the Indian government ordered its troops last October to retaliate by "firing at will".
This strategy, part of a tougher foreign-policy stand taken by the Modi government, is aimed at deterring further ceasefire violations. However, some argue this is ineffective, leading instead to further escalation in tensions.
Escalation may raise fears of the possibility of war between India and Pakistan but as IndiaSpend reported earlier, mutual deterrence induced by possession of nuclear weapons and effective warhead delivery mechanisms ensures that the status quo between both countries remains in place.
"Covert operations and disproportionate response are two options which the Indian government should consider while countering Pakistan," Gokhale said.
"Treading the middle path remains the only option for India in dealing with Pakistan as lack of engagement tends to result in border violations," said Ramya P.S., research fellow at International Strategic and Securities Studies Programme, Bangalore.
To break the deadlock between the two countries, leaders from both sides agreed to restart bilateral talks during their meeting in Ufa, Russia.
This includes a meeting later this month between India's National Security Advisor Ajit Doval and Pakistan Prime Minister's Adviser on National Security and Foreign Affairs Sartaj Aziz.
As Gokhale warns, "don't expect much headway in the talks." ¦
(Sethi is an analyst with IndiaSpend.)
__________________________________________________________________
"Liked this story? Indiaspend.org is a non-profit, and we depend on readers like you to drive our public-interest journalism efforts. Donate Rs 500; Rs 1,000, Rs 2,000."