Over 10 Years, Bengaluru Molestations Reported Rose 417%, Conviction Rate Was 0.37%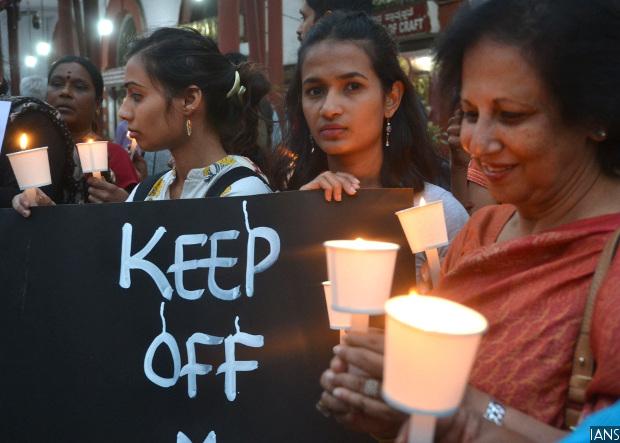 People stage a demonstration against molestation of women in Bengaluru. Of the 4,241 complaints of molestation filed between 2006 and 2016 in Bengaluru, the conviction rate was 0.37% (16 cases).
In a decade to 2016, the incidents of molestation reported in Bengaluru increased more than four-fold, statistics compiled by the Commissioner of Police, Bengaluru, on cases of molestation (under Section 354) show. Yet, according to our analysis of police data, of the 4,241 complaints filed between 2006 and 2016, the conviction rate was 0.37% (16 cases).
The number of complaints under under Section 354 of the Indian Penal Code (assault to outrage the modesty of a woman) rose from 150 in 2006 to 776 in 2016. Experts say this could be because of an increase in the number of incidents as well as greater willingness on the part of women to register complaints.
The data were compiled by Bengaluru Commissioner of Police for the Karnataka Legislature Committee on Prevention of Violence and Sexual Abuse of Women and Children. This data project could serve as a template for how police in India's burgeoning cities can make sense of their crime data in public interest.
Section 354 includes sexual harassment (354A), use of criminal force with intent to disrobe (354B), voyeurism (354C) and stalking (354D). The data obtained from the Bengaluru commissionerate group these offences under 'molestation'.
Bengaluru--India's IT capital--entered 2017 with reports of mass molestation of women in the city's bustling MG Road and Brigade Road areas despite deployment of thousands of police personnel. The reports came as a shock to Bengaluru residents and for people across the country who believed the city to be safe for women.
Bengaluru's conviction rate for molestation is indicative of the larger problem nationwide. "Few women who survive sexual assault have a pathway to justice and recovery from their horror," said Meenakshi Ganguly, South Asia director at Human Rights Watch, an advocacy, in a statement issued after the Supreme Court upheld on May 4, 2017, the death sentence to four men who were part of the gang that raped in 2012 a Delhi physiotherapy student now known as Nirbhaya.
'A stranger tried to kiss me in front of dozens of people! No one came to my help'
Kavya S, 24, was on her way to work when a stranger attacked her in public. "It was around 8:30 am in broad daylight, I was walking to work in Kormangala when a stranger grabbed me and tried to kiss me in front of dozens of people! No one came to my help but when I screamed and kicked him, they yelled at me and asked me to leave him," she recounted.
Kavya immediately filed a complaint with the local police under Section 354, but did not pursue the case once she shifted her residence. "Police officials were very cooperative," she recalled, "but I couldn't follow up on the case as I had to shift my house and job."
Cases such as Kavya's are increasingly common, although Bengaluru police say they are working to improve the law and order situation for women. "We have identified areas that are hotspots for crimes against women and launched 51 Pink Hoysalas (mobile units) that are dedicated to women. We have also launched an app called 'Suraksha' last week (April second week). Anyone can inform us if they are in danger and we would reach the spot in 10 minutes," S Ravi, Additional Commissioner of Police (Crime), told IndiaSpend.
4,241 cases reported, 53% pending trial, 12% acquittals, 0.37% convictions
Bengaluru's criminal justice system is marred by delays, as with the rest of India's (discussed here, here and here). Of the 4,241 molestation cases reported, 2,248 (53%) are pending trial, according to data from the Bengaluru City Police Commissionerate.
Among the cases tried, there have been 523 acquittals (12%) and 16 convictions (0.37%)--even as the police consider 97% of cases to be "true" after investigation. A decade earlier, the figure for "true" cases was 84%, indicating more open-mindedness in dealing with women's complaints as well as better effort on the police's part to investigate.
However, lawyers and activists believe the large proportion of acquittals are due to shoddy investigation. "In most crime against women cases, especially the molestation cases, the accused get acquitted or the cases are kept pending for years," Pramila Nesargi, a noted lawyer and a well-known women's rights activist, said. "The main reason for all these is the reluctance of police in getting proper evidence." She said the government needs to appoint well-trained investigative officers.
Source: Bengaluru City Police CommissionerateNote: Figures are for cases under Section 354 of the Indian Penal Code. Totals may not tally as some cases may be under investigation.
The government needs to think from women's perspective, Rani Shetty, coordinator of Vanitha Sahayavani, a government agency that provides rescue and support services for women in distress, and operates from the office of the Commissioner of Police, told IndiaSpend. "I have met many victims of molestation whose cases have been pending for years. The legal system needs to be strong, there should be fast-track judgment for any cases related to women," she said.
As per law, the police have to file a chargesheet within 90 days of a crime being reported. "[I]n most cases, they fail to do so, and this in turn affects the court proceedings," Ugrappa VS, a member of the Karnataka Legislative Council and chairperson of the expert committee to prevent crimes against women and children, told IndiaSpend.
At the same time, public prosecutors, who are responsible for presenting the case in court, are overworked. "The main reason for cases pending for years is because public prosecutors are given too many cases," public prosecutor SN Hiremane, who has been in the field for over 20 years, said. "I myself have 450 molestation cases pending so far."
Judicial delays, which make it easy for the accused to get bail, can be extremely dangerous for victims of sexual assault. In one case, a grade IX student was molested by her 25-year-old neighbour. Her family filed a Section 354 case at the Peenya police station and the accused was arrested immediately. On his release on bail within four months, he kidnapped the girl and raped her. He is back in jail now.
"What happened to me shouldn't happen to any girl. He has to be punished," the girl told IndiaSpend.
"If the police had taken strict action on his first crime, they could have prevented the second incident. Now he is in jail but he might do the same thing when he comes out," her father said.
The city's burgeoning population, with a massive influx of immigrants, could be one of the factors behind molestation cases such as the one that took place on New Year's eve, former Lokayukta Justice (Retd) N Santosh Hegde said speaking at a private college in the city in March 2017. The 2011 census had pegged Bangalore city's population at 84.4 lakh. By 2016, it had risen to more than 1.15 crore.
"They come alone. They stay alone. And the manly desire is always there," he said at the discussion about immigrants, adding that the benefit of anonymity in an overcrowded city apparently emboldens them to pursue their pervert desires. He also cited a lack of morals as one of the reasons.
She said cases of sexual violence against women have their root in the society's mindset towards gender and it depends on how boys and girls are raised in home and school, Monisha Srichand, noted psychologist and Director of TalkItOver Counselling Services, explained.
"From childhood, boys are taught they are better, superior to girls, while the latter are seen as sex objects. They see it all around them in the media, movies... There's a lot of gender inequality and as men see women walking around freely, being independent, working outside the house, being out late, they subconsciously want to assert their power over her," she added.
(Mani is a Bengaluru-based independent journalist and a member of 101Reporters.com, a pan-India network of grassroots reporters.)
We welcome feedback. Please write to respond@indiaspend.org. We reserve the right to edit responses for language and grammar.
__________________________________________________________________
"Liked this story? Indiaspend.org is a non-profit, and we depend on readers like you to drive our public-interest journalism efforts. Donate Rs 500; Rs 1,000, Rs 2,000."