Only 6% Compensation To Repair Destroyed Forests (Mis) Used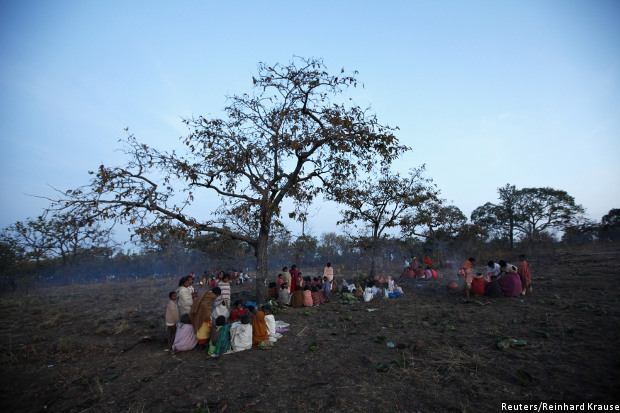 Members of the Dongria Kondh tribe gather on top of the Niyamgiri mountain to protest against a mining project in Orissa. No more than 20% of a government fund meant to restore forests was handed over by the Centre to states, and no more than 6% was used for what is called "compensatory afforestation".
Bengaluru: No more than 6% of a government fund--collected over six years from companies and institutions--meant to restore forests lost to development projects has been used, according to government data, a pointer to the laws violated and promises not kept after forests are cut.
Even the money so used has been misused, with more than a third being used for "non-plantation activities, such as cultural activities, computers, furniture, laptops, vehicles and fuel", said a media report.
The data reveal widespread failures of the "Ad-hoc" Compensatory Afforestation Management and Planning Authority (CAMPA), a ministry of environment and forests agency, which the government's own auditor said was failing to implement--as the first part of this series reported--what appeared to be inherently flawed laws.
As on March 10, 2015, the Compensatory Afforestation Fund had grown to Rs 35,853 crore, according to data presented to the Rajya Sabha (Parliament's upper house). No more than 20% of this amount (Rs 7,298 crore) was handed over by the Centre to states. No more than 6% (Rs 2,357) was used for what is called "compensatory afforestation".
Source: Compensatory Afforestation Management and Planning Authority
Any transfer of forests for defence, industrial and other development projects--23,716 were cleared over the last 30 years--must be compensated by regenerating an equal or greater area, according to the Forest Conservation Act, 1980. Regeneration is financed by compensation paid by project builders, a process that the government has acceded to only with prodding from the Supreme Court.
In October 2002, after Supreme Court orders, the Government notified--meaning, officially announced--the formation of CAMPA, which wasn't actually set up. In May 2006, the Supreme Court ordered the government to set up an "Ad-Hoc" CAMPA. The Court then ordered that compensatory money, which was deposited with state environment departments nationwide, be transferred to the "Ad-hoc" CAMPA.
Disuse of funds made worse by misuse of what's been distributed
The disuse of funds gathered for compensatory afforestation is made worse by misuse of 6% of the funds that have been distributed.
Nearly 37% of the expenditure, around Rs 879 crores, was for purposes other than growing trees, as we said earlier.
"Most of the afforestation is only on paper," said T.V. Ramachandra, associate faculty, Centre for Ecological Sciences, Indian Institute of Science, Bangalore. "The corrupt and inefficient system has all along created vouchers of expenditure contrary to actual progress."
The largest amounts from the compensatory afforestation fund have gone to Orissa (Rs 1145.9 crore), followed by Chhattisgarh (Rs 774.2 crore) and Andhra Pradesh (Rs 750.7 crore).
Source: Compensatory Afforestation Management and Planning Authority
"There has been gross mis-utilisation of CAMPA funds," said Ajay Kumar Saxena, Programme Manager (Forestry), Centre for Science and Environment, "due to poor enforcement and tardy implementation of forest laws."
Of the 14,000 sq km of forests "diverted" for development over the last 36 years, nearly 6,747 sq km has been afforested, according to government data quoted in the first part of this series. This is an afforestation rate of 48%.
Source: Lok Sabha
Madhya Pradesh has regenerated the most land (1,601 sq km), followed by Maharashtra (962 sq km). Afforestation in other states is insignificant.
"Ecological and social performances of these afforestation projects are by and large poor and non-productive," said Saxena. "This is alarming and has devastating effects on the environment and ecology of these areas."
Most experts said "compensatory afforestation" in its present form is a flawed and unscientific concept because complex, diverse ecosystems with thousands of interdependent species cannot be replaced by largely sterile monocultures, which is what most afforestation is.
The government only intends to hasten the release of money for afforestation; the Compensatory Afforestation Fund (CAF) Bill, 2015, was introduced in the Lok Sabha on May 8, 2015.
"On the face of it, this might seem like a progressive step," Praveen Bhargav and Shekar Dattatri, former Wildlife Board members wrote in The Hindu earlier this year. "But given that the Bill is anchored on a flawed and unscientific premise, it is only likely to provide a 'fig leaf' for covering up the increasing diversion of forests in the name of development."
(Ghosh is with 101reporters.com, a pan-India network of grassroot journalists. He writes on political and social impact stories.)
Series concluded. You can read the first part here.
We welcome feedback. Please write to respond@indiaspend.org. We reserve the right to edit responses for language and grammar.
__________________________________________________________________
Liked this story? Indiaspend.org is a non-profit, and we depend on readers like you to drive our public-interest journalism efforts. Donate Rs 500; Rs 1,000, Rs 2,000.