Only 17 of 100 Biharis support JD(U): Unravelling The Nitish Kumar Myth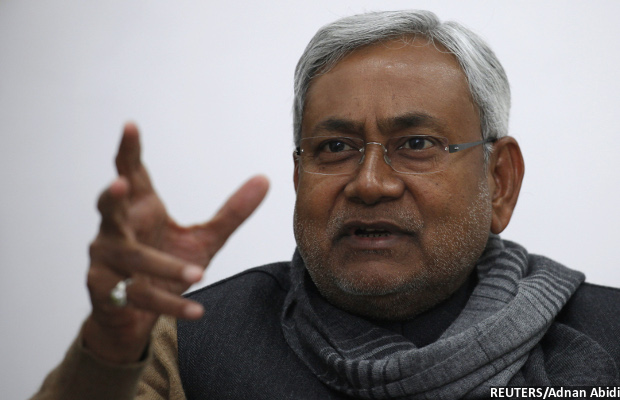 Nitish Kumar, the Chief Minister of Bihar, is a very popular leader in that state, with virtues of probity in public life and governance focus on development, the English press and the larger media narrative would have us believe.
Do actual voters in Bihar think the same? Not according to our analysis. Nitish Kumar's party has only been above the Congress in electoral popularity, the Bharatiya Janata Party (BJP) has been the state's most popular party--its popularity preceding Prime Minister Narendra Modi--and no more than 17 of 100 voters chose to vote only for Nitish Kumar's Janata Dal (United), or JD (U), according to our analysis of electoral results over six elections since 2004.
Over the last decade, voters in Bihar have voted in six elections – 2004 Lok Sabha, 2005 Vidhan Sabha, 2009 Lok Sabha, 2010 Vidhan Sabha, 2014 Lok Sabha and 2015 Vidhan Sabha. Over this period, of every 100 Bihari voters, roughly 37 voted only for the BJP, 30 only for Lalu Prasad Yadav's Rashtriya Janata Dal (RJD), no more than 17 only for the JD (U), and 10 only for the Indian National Congress (INC).
In other words, Nitish Kumar's supposed popularity in Bihar is not borne out in electoral numbers. So, how has Nitish Kumar been chief minister for nearly 13 years since 2005? The answer lies in Nitish Kumar's manoeuvring of electoral alliances and taking advantage of India's first-past-the-post electoral system.
Over the course of six elections in Bihar since 2004, electoral alliance partners have always changed, with inter-breeding across the four main parties: JD(U), BJP, RJD and INC. So, it has been difficult to accurately judge voter support for each of these parties.
But there was at least one instance across these six elections when each of these parties went solo, and that gives us a way to reasonably gauge standalone support for the party and/or its leader. In 2009 and 2010, the RJD and INC contested on their own. In 2014, it was the JD(U) and BJP. In 2015, the BJP went solo. Here is the electoral map of the six elections:
Why the BJP has the least to gain from any alliance
The BJP is the most popular stand-alone party in Bihar, chosen exclusively by--as we said--37 of every 100 voters, regardless of alliances. The BJP's support in Bihar has been the most stable (37-39%), and they appear to have the least to gain from any alliance.
The BJP's popularity in Bihar predates Narendra Modi's 2014 general election victory. Lalu Yadav's RJD is the second-most popular party on a stand-alone basis with roughly 30 of 100 voters.
Nitish Kumar, contrary to perception, is the least popular among the three, with 17 of 100 Biharis voting for him alone. The chart below shows the contested vote share for each of these parties across these four elections, and the highlighted vote share is their smallest vote share when they contest on their own.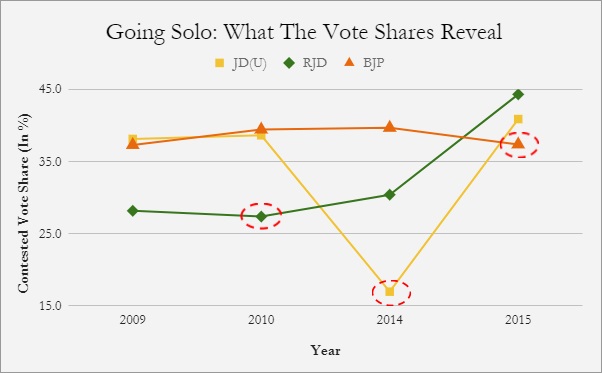 To delve further, there are 55 assembly constituencies in Bihar that had a JD (U) candidate in each of four elections between 2009 and 2015. In these 55 constituencies, only 22% of the voters chose JD(U) when it contested alone, but when it allied with either the BJP or the RJD, 43% chose the JD(U).
In other words, a large number of Biharis only vote for the JD(U) only when it is in an alliance. In contrast, there were 58 constituencies with an RJD candidate in each of the four elections we mentioned: 33% chose the RJD when it stood alone and 45% chose it when it entered into an alliance. The RJD has a much stronger stand-alone support than the JD(U).
What is more striking is that Nitish Kumar is Chief Minister largely due to Lalu Yadav's RJD. In the 2015 elections when Nitish Kumar, Lalu Yadav and the Congress joined hands, it was Lalu Yadav's supporters that turned this alliance to victory. The RJD and JD(U) contested in 101 constituencies each as alliance partners in the 2015 election. In more than half of these constituencies, the JD(U) could not transfer all of its votes to this alliance, while the RJD transferred all its votes from 2014 to this alliance in nearly three-fourths of constituencies.
The direct beneficiary of this transfer was JD(U), which saw its vote share rise from 17% in 2014 to 41% in 2015. It is clear from the data that Nitish Kumar would not be the Chief Minister of Bihar today had RJD's core supporters not been as loyal and deserted this alliance.
Only when Nitish Kumar was left to contest on his own in 2014 did it become very clear that his support base is not nearly as large and loyal as was perceived. Nitish Kumar needs either the BJP or the RJD more than they need him. As the legendary investor Warren Buffet famously said: "Only when the tide goes out do you know who is swimming naked."
(Chakravarty is Founding Trustee, IndiaSpend. Research support by Ishita Trivedi of IDFC Institute)
We welcome feedback. Please write to respond@indiaspend.org. We reserve the right to edit responses for language and grammar.
__________________________________________________________________
"Liked this story? Indiaspend.org is a non-profit, and we depend on readers like you to drive our public-interest journalism efforts. Donate Rs 500; Rs 1,000, Rs 2,000."