Only 16 Of Every 250 Fake Notes Detected In India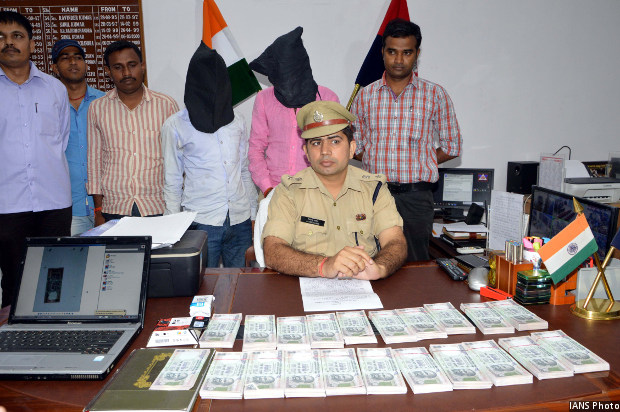 Jitendra Rana, senior superintendent of police, Patna, after a counterfeit currency racket was busted. In 2015, 0.88 million fake notes worth Rs 43.8 crore were seized, according to data from the National Crime Records Bureau.
Is India doing enough to detect fake notes, cited by the Prime Minister as a significant reason for withdrawing 86% of India's currency, a process popularly known as "demonetisation"?
In 2015-16, only 16 of every 250 fakes notes in India were detected, according to an IndiaSpend analysis of government data.
Prime Minister Narendra Modi cited terrorism financed by fake Indian currency as a major reason for invalidating the Rs 500 and Rs 1,000 notes that made up 86% of money in circulation. On November 9, 2016, in response to Telugu film-star Nagarjuna's tweet praising "demonetisation"--as the process has been called--Modi tweeted:
Dear @iamnagarjuna, this step will check corruption, black money and fake currency rackets that slow our progress. https://t.co/qns6cyosAB

— Narendra Modi (@narendramodi) November 9, 2016
Of the 90.26 billion Indian currency notes in circulation in 2015-16, no more than 0.63 million--that is 0.0007%, or seven-millionths of 1%, seven in every million--were detected as fake, according to RBI data. The value of these fake notes in 2015-16 was Rs 29.64 crore, which is 0.0018% of the Rs 16.41 lakh crore currency in circulation.
Counterfeit Currency Detected, 2015-16

Denomination

Counterfeit Notes

Notes in Circulation

Counterfeit (%)

Counterfeit Value

Total Value

2,5

2

11,626 million

0

Rs 7

Rs 4,069.1 crore

10

134

32,015 million

0

Rs 1,340

Rs 32,015 crore

20

96

4,924 million

0

Rs 1,920

Rs 9,848 crore

50

6453

3,890 million

0.0000017

Rs 322,650

Rs 19,450 crore

100

221447

15,778 million

0.000014

Rs 2.21 crore

Rs 1,57,780 crore

500

261695

15,707 million

0.0000167

Rs 13.09 crore

Rs 7,85,350 crore

1000

143099

6,326 million

0.0000226

Rs 14.31 crore

Rs 6,32,600 crore
Source: Reserve Bank of IndiaNote: Assuming number of Rs 2 and Rs 5 notes to be equal
These data do not include notes seized by the police and other enforcement agencies.
In 2015, 0.88 million fake notes worth Rs 43.8 crore were seized, according to data from the National Crime Records Bureau tabled in the Lok Sabha (parliament's lower house) on November 18, 2016.
Rs 27.8 crore was seized until September 30, 2016, the data further reveal.
Source: Lok Sabha
250 in every million notes fake, claims another study
The value of fake currency in circulation at any given time is Rs 400 crore, and 250 in every million notes are fake, according to this 2015 joint study by the Indian Statistical Institute and National Investigation Agency, to analyse fake-currency trends, especially those originating across India's borders.
The study estimated that fake currency worth Rs 70 crore enters circulation every year, with agencies only being able to intercept one-third of it, the Times of India reported in May 2016. The detection of fake currency is carried out primarily by commercial banks, but such reporting is irregular: Only three banks--Axis, HDFC and ICICI--report about 80% of fake currency detected.
Cash component of black economy ranges from 3-7%
In 2012, the then Finance Minister of India Pranab Mukherjee wrote a white paper on black money in India, which revealed that the cash component of undisclosed incomes ranged from 3.7% to 7.4%, based on searches conducted by the Central Board of Direct Taxation.
For instance, in financial year 2011-12, of undisclosed admitted income of Rs 9,289 crore, no more than Rs 499 crore (5.4%) was found in cash, according to the white paper.
Source: Ministry of Finance; *As admitted
On November 17, 2016, Sitaram Yechury, General Secretary, Communist Party of India (Marxist), tweeted:
Black economy is only 6% Cash, rest wired. Counterfeit currency 0.025% of total currency. So what is the #Demonetisation move targeting?

— Sitaram Yechury (@SitaramYechury) November 15, 2016
Yechury's claim was based on a Hindustan Times analysis of data from tax raids for the financial year 2012-13 onwards. Cash recovered was less than 6% of the undisclosed income seized from tax evaders, said the newspaper.
Data from income-tax investigation between April 1 and October 31, 2016, revealed that black-money holders accepted having Rs 7,700 crore worth of unaccounted assets; of this, Rs 408 crore, or 5%, was cash. The rest was invested in business, stocks, real estate and benami bank accounts, the data showed.
In 2015-16, a year that reported the largest detection of black-money, 6% was cash.
"While, in the public eye, piles of cash are synonymous with corruption, we should be careful about distinguishing between the three components of black economy. The first is the underlying source of corruption. An example of this would be the high stamp duties on real estate transactions that lead to payments in cash. The second is the methods adopted for storing unaccounted wealth. An example of this would be holding assets in gold. The third element is the method through which transactions are effected. This could involve cash," Vijay Kelkar and Ajay Shah wrote in the Mint. "The black economy involves all three elements. Targeting unaccounted cash on one particular day is only a small part of the story."
(Saha is an MA Gender and Development student at Institute of Development Studies, University of Sussex.)
We welcome feedback. Please write to respond@indiaspend.org. We reserve the right to edit responses for language and grammar.
__________________________________________________________________
"Liked this story? Indiaspend.org is a non-profit, and we depend on readers like you to drive our public-interest journalism efforts. Donate Rs 500; Rs 1,000, Rs 2,000."