On World Water Day, Worst Water Crisis In Decade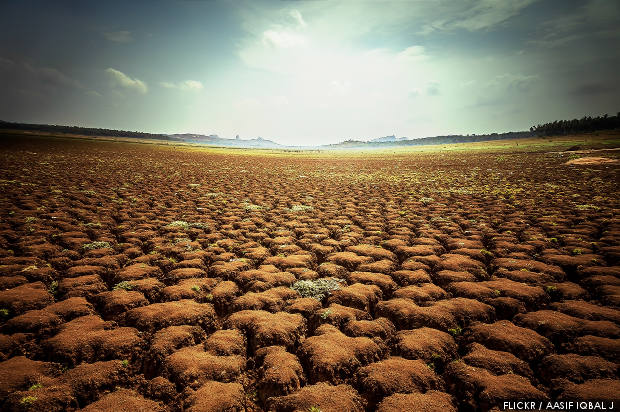 Kanha Reservoir, Karnataka, runs dry, May 2014. India is left with only 29% of water in 91 major reservoirs, to face the upcoming three-month long summer.
Water levels at 91 major reservoirs nationwide are the lowest in a decade--no more than 29%, according to the latest weekly bulletin of the Central Water Commission (CWC).
As World Water Day is marked today, water levels at Indian reservoirs are 71% of last year, or 74% of average storage over the last decade, the CWC data reveal.
The 91 major reservoirs contain 157.8 billion cubic metre (BCM) of water; the capacity of these reservoirs is 250 BCM. Another 400 BCM water is available for irrigation in India through groundwater, according to this answer given by the government in the Lok Sabha (the lower house of Parliament) in July 2015.
With more than three months for the monsoon, which breaks in the first week of July, 2016 is on course to witness the worst water scarcity in a decade.
Source: Weekly bulletins of Central Water Commission, March 2016 and April 2015.
Reports of widespread scarcity are already evident, as is conflict over water use for agriculture, domestic use and manufacturing.
Thousands of villages in Maharashtra's Marathwada--facing record-breaking drought--depend solely on water from state-supplied tankers, with the city of Latur supplying water to its people once in three weeks. Last week, the Latur district administration, fearing violence over water, imposed restrictions on assembly.
Fodder camps in parched rural Maharashtra shelter not just cattle but hundreds of families. The government is now recommending that towns and cities stop water supply to swimming pools.
Madhya Pradesh (MP) is bracing for drought and the government is preparing to send tankers to villagers. In Bundelkhand--spread across MP and Uttar Pradesh--there hasn't been water to sow the winter crop, agricultural productivity has halved and people find it hard to buy salt. In Odisha, farmers have broken embankments of public lakes to save crops.
Farmers demanding water recently blockaded Bangalore. And the water crisis in Karnataka is witnessing a fallout in Andhra Pradesh (AP) and Tamil Nadu. AP, Uttarakhand, Maharashtra and Tamil Nadu likely to be India's most water-scarce states this summer.
South India is the worst off, reservoir levels at 20%
Reservoirs in India's eastern and central regions have the most water, with levels at 44% and 36%, respectively, of capacity; while levels in the south, west and north are 20%, 26% and 27%, respectively, according to the CWC data.
The 10-year average for water levels is 38.5%.
The Krishna river basin in peninsular India is particularly short of water, affecting Maharashtra, Karnataka, Telangana and Andhra Pradesh.
The Indus, Tapi, Mahi, Cauvery and Godavari basins are also deficient basins, today's data reveal, forecasting scarcity situations in the coming months in Maharashtra, Gujarat, Karnataka, Andhra Pradesh and Tamil Nadu.
Jayakwadi in Aurangabad district—in Marathwada, parts of which are enduring the worst drought in a century, as IndiaSpend reported in January—of Maharashtra has only 1% water left of its 2.17-BCM capacity.
The reservoirs of Bhima Ujjani in Maharashtra with a capacity of 1.5 BCM and NagarjunaSagar in Andhra Pradesh with 6.8 BCM storage capacity are empty.
Source: Central Water Commission Bulletin March 2016; Reservoirs in Madhya Pradesh contain 33% more, while those in Tripura contain 320% more water than average.
No lessons learned, no preparations evident
"Availability of water has been taken for granted till recently. It is so no more. The rapid growth in population, coupled with increasing economic activities, has put a tremendous pressure on the available water resources," said this report tiled Reassessment of Water Resources Potential of India 1993, Central Water Commission.
Warnings about India's water crisis are not new and rarely make news, as the CWC report did not in 1993, when India's population was 880 million--a third less than that today.
IndiaSpend has reported on the world's worst groundwater crisis and how half the groundwater in India--which uses 37% more fresh water than China--is contaminated.
Water for drinking and sanitation was given the highest priority in the National Water Policy 2012, preceding agriculture and economic purposes, such as industry and power generation.
Rural India lives in about 1.7 million habitations (including villages), three-quarters of which—1.3 million —gets 40 litres of water per person per day for all uses, including drinking and other usage like bathing, washing clothes, utensils and sanitation.
There are 66,093 rural habitations in India where the drinking-water source is contaminated with either one or more chemicals, such as like arsenic, fluoride, nitrate, iron and salinity; although this is down from 84,292 over two years, as IndiaSpend reported on World Water Day 2015.
Water-guzzling crops and power outages
Of 650 BCM water available for irrigation, 15%, or 100 BCM of water, is used by sugarcane (the crop uses water from reservoirs as well as groundwater), which is planted on no more than 2.5% of India's farmland. Sugarcane uses a disproportionate amount of water, this Current Science study explained.
Agriculture and industry compete for the same water, and overuse, as with sugarcane, affects Indians in other ways, such as electricity generation.
For instance, low water-levels in West Bengal forced a shut down of the National Thermal Power Corporation's Farraka coal-fired plant, causing outages in Jharkhand, Bihar, Odisha and West Bengal
Electricity generation at Parli in Maharashtra, Raichur and Sharavathi in Karnataka are facing similar shutdowns. Maharashtra and Karnataka are generating half the power they are capable of because of the unfolding water crisis.¦
(Waghmare is an analyst with IndiaSpend.)
We welcome feedback. Please write to respond@indiaspend.org. We reserve the right to edit responses for language and grammar.
__________________________________________________________________
"Liked this story? Indiaspend.org is a non-profit, and we depend on readers like you to drive our public-interest journalism efforts. Donate Rs 500; Rs 1,000, Rs 2,000."