On Karva Chauth, 22 Married Women Will Be Killed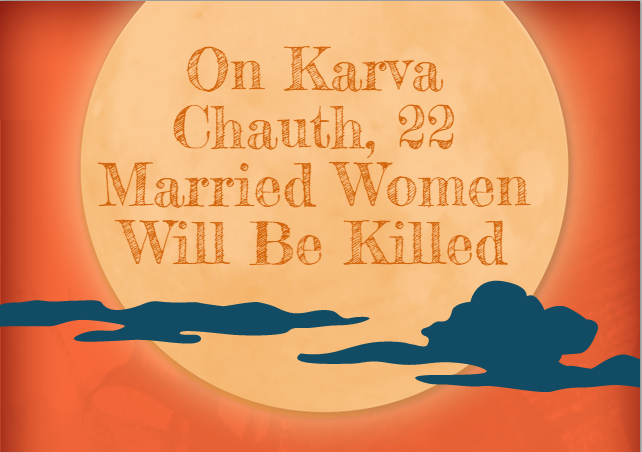 As millions of married Hindu women fast to seek longevity and prosperity for their husbands today on the occasion of Karva Chauth, mainly in north India, the data reveal that their prayers are often reciprocated by violence.
Every day, more than 22 women die—mostly burned—from violence inflicted on them by husbands or family over dowry demands. Over the last three years, nearly 25,000 women have been victims of what is called a "dowry death", according the Ministry of Home Affairs.
Karva Chauth is a one-day festival. Married women fast from sunrise to moonrise. Karva is clay pot and chauth is fourth, a reference to the fourth day after the full moon during Kartik, a month in the Hindu calender. Sometimes, unmarried women observe the fast for their fiances or to get an ideal husband.
No more than a third of those accused of causing dowry deaths are convicted, and the conviction rate fell by 21% over two years to 2013, according to National Crime Records Bureau (NCRB) data.
Karva Chauth is mainly celebrated in the states of Uttarakhand, Uttar Pradesh, western Bihar, Himachal Pradesh, Jammu and Kashmir, Haryana, Punjab, Rajasthan, Chhattisgarh, Madhya Pradesh and Gujarat.
Crimes against women in general have been rising with a 69% increase over the last decade, reveal data from NCRB. One in three women between the ages of 15 to 49 experienced physical violence and one in 10 sexual violence, translating into millions of women who have—and continue to—suffer violence from husbands and other in the family, according to the National Family Health Survey (NFHS) 3 from 2005-06, the last available such data. The latest round of NFHS data will be available only next year.
"I almost dress like a bride," the actor Sridevi said in this recent news report. "You pray for your family every day, but it's nice to pray for your husband's well-being on this day."
Dowry and domestic violence are two of the many forms of violence against women. One other instance is marital rape, which is not considered an offence in India, so there are no registered cases or data available.
Karva Chauth is strongly observed among India's rising middle class, with modern twists, which include calling it "the North Indian Valentine's day" and uploading "henna selfies" on social media.
There were 118,866 cases of domestic violence against women from husband or husband's relative, According to NCRB West Bengal reported the highest number of cases registered, 18,116, or 15.2% of cases nationwide.
And now for the numbers: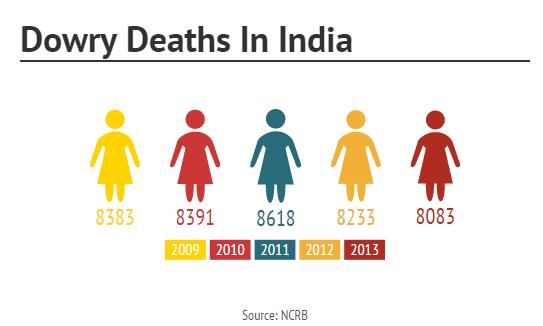 The table above shows the dowry deaths from 2009 to 2013. There has been a decrease of 3.5%, but in 2011 there was a sudden spike in cases registered. It is unclear why.
The table below shows dowry deaths registered over the last three years. There has been a 6.2% decrease from 2011 to 2013, but there is also, as we mentioned earlier, a decrease in convictions; 33.6% of these cases now end in convictions.
The table below shows that Uttar Pradesh, with 2,335 deaths leads the list, followed by Bihar, 1182 deaths, and Madhya Pradesh, 776 deaths, recorded the highest dowry-related deaths. The cases of dowry deaths have increased in all these states over the years. All-India figures have risen every year.
The custom of dowry and the violence attached to it after marriage has long plagued Indian society. The promise of swift and firm action by the police and judiciary are as important as awareness, education and gender sensitization.
There have frequently been parliamentary questions about pending cases of dowry deaths. The government's response has been to establish special courts to fast-track trials, increasing the numbers of judges and judicial officers, improving the physical infrastructure of courts, urging out-of-court settlements, alternate dispute resolution, such as mediation and Lok Adalats, or people's courts.
Expertshave said that courts are being overwhelmed by the number of cases going to trial every year. The onus to prove guilt beyond reasonable doubt falls on the prosecution, which is often inefficient. This results in a low conviction rate. Also, when cases take long to resolve, witnesses lose interest and do not come to court. Many of those accused of killing women over dowry are acquitted due to a lack of evidence.
Video: The "Baap Wali Baat" is a part of the #ItStartsWithMe campaign by UNICEF India. It has been created to empower people to educate their daughters and delay their marriage.
[embed]https://www.youtube.com/watch?v=-I1_nMOh3fc&feature=youtu.be[/embed]
"Liked this story? Indiaspend.org is a non-profit, and we depend on readers like you to drive our public-interest journalism efforts. Donate Rs 500; Rs 1,000, Rs 2,000."