Older, Prosperous Bengaluru Registers More Crime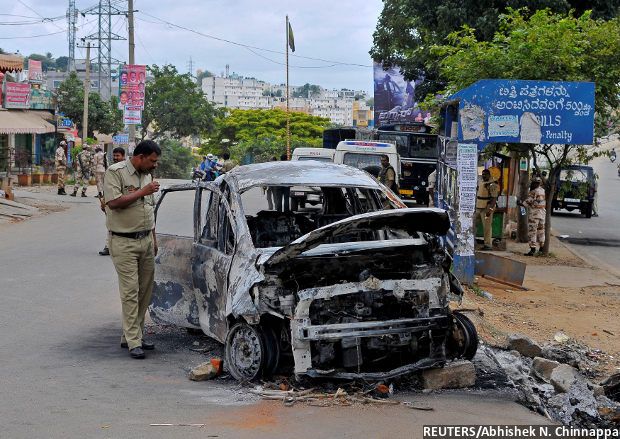 Bengaluru: While older, more prosperous Bengaluru localities witnessed the most crime in 2015, a third of the city reported no crime through the year, according to an analysis by 101reporters.com and IndiaSpend of police data for 2015, accessed through Right to Information (RTI) filings.
Nearly 34% more crime was reported during the day, including more rapes and crimes against children, the analysis shows.
The 95 police stations in India's third-largest city (by population) for which data were available recorded 145 complaints of crime on average each day, including 10 complaints of "heinous" crime against women. (There are 111 police stations in Bengaluru, of which data from 16 were not complete and could not be used.)
Jayanagar reported the maximum number of crimes of all sorts, registering more than six complaints on average every day; HSR Layout came in next with about four complaints a day, and Koramangala third, averaging three a day.
101Reporters.com, a Bengaluru-based network of grassroots reporters, used the RTI to access police data on crime for the year 2015, the latest year for which complete data are available. Mapping the data shows where crime is concentrated, enabling the police to focus attention and resources on high-crime areas, and opening up the possibility for the state administration to deploy limited resources better.
This is the first of a three-part series analysing and mapping crime data for Bengaluru for the year 2015. This part focuses on area-wise incidence of crime and the city police's efforts to combat it. The second part will focus on crime against women, and the final part will conclude with cyber crime.
More crime is reported in areas with lesser police deployment
The Madiwala police station in southeastern Bengaluru, under whose jurisdiction HSR Layout falls, registered the highest incidence of crime in all of India in 2015.
Warning against interpreting this to mean that the area is the most unsafe in the country, Deputy Commissioner of Police (South-East) Boralingaiah M.B. pointed out that the Madiwala police station looked after the largest area among all 14 police stations in South-East Bengaluru. To improve policing, he said, the area was divided into four jurisdictions in January 2016, and claimed that crime has fallen as a result.
The Peenya Industrial Area police station registered the most cases after Madiwala, and its jurisdiction was also subsequently halved to 6 sq km. By improving the police-to-population ratio, the police hope to control the incidence of crime, Boralingaiah said.
Jayanagar witnessed the highest number of kidnappings (28), crimes against women (120) and crimes against children (32) in the city.
Meanwhile, in areas as disparate as Jakkur Aerodrome, BEL Area, Krishnarajpuram and Kaval Bairasandra--home to middle-class professionals from both old and new Bengaluru--there was little or no crime reported. According to the data, 226 (36%) of the 626 localities witnessed no crime while 99 localities recorded between one and five incidents in the entire year.
Bengaluru Police Commissioner Praveen Sood attributes the low crime rate in certain parts of the city to better patrolling and active citizens' engagement in alerting the police to suspicious activities. "When the registered crime in the city is increasing it means people are coming forward to report the incident and more criminals are getting arrested," Sood said.
On lowering the crime rate, he said the department is working to improve the police-to-residents ratio, and increase patrolling. "As on date, we have 272 Hoysalas [police patrolling vehicles] of which 51 are Pink Hoysalas [all-women patrolling vehicles] which are tracked in real time. We have also released an app, Suraksha, through which a person can seek police help within 10-15 seconds at the click of a button," Sood said.
More rapes, crimes against children take place during the day
The 101Reporters study found that 34% more crime took place during the day than during the dusk-to-dawn period--609 day-time kidnappings were reported as against 258 at night. More rapes and crimes against children were reported during the day, too.
However, more crimes classified as "heinous"--such as murder, attempt to murder, rape, kidnapping and molestation--took place at night, 9% more than during the day. Likewise, more crimes against women--rape, molestation, dowry harassment and kidnapping--occurred at night (1,820) than during the day (1,448).
According to the study, 3,157crimes against women (including rape) transpired in India's Silicon Valley in 2015. The National Crime Records Bureau (NCRB) reported a lower occurrence, pegging the number at 3,079. That means on average, 10 women in the city were molested, sexually assaulted/harassed or subjected to violence each day.
NCRB data show that instances of crime against women have been on the rise in Bengaluru--from 2,263 in 2012, the number rose to 2,608 the next year, and was 3,554 in 2015.
Conviction rate for crimes against women is low, falling: 2% for molestation
The conviction rate in cases of crime against women, especially rape and molestation, has fallen, Karnataka Director General and Inspector General of Police Rupak Kumar Dutta told IndiaSpend, explaining that this is owing largely to delay in court proceedings.
In 2012, the 709 rape complaints filed in Karnataka resulted in 46 people being convicted, Dutta said, and during the same year, less than 2% of all molestation cases (3,215) resulted in conviction. In a third of the cases (1,099), either the accused were acquitted or the case was dismissed.
In 2013, 841 rape complaints were filed and the accused were sent behind bars in 66. Of the 4,213 molestation cases registered, a little more than 1% saw conviction. In 1,200 instances, the accused were acquitted or the case was dismissed.
There are "false" cases, and true cases that go unreported
Bengaluru police flagged 10% of all molestation cases (385) between 2006 and 2016 as "false," but there are cases where actual crimes went unreported too. Jayanthi J.K., president of the Karnataka chapter of the International Human Rights Action Committee, told IndiaSpend that instances of crime against women and children have increased significantly in Bengaluru, but families of many victims hesitate to approach the police owing, allegedly, to the harassment that follows. She said over the two decades she has worked for women- and children-related causes, she has met many victims who have faced derision and high-handedness from the police.
Jayanthi cited two instances from the past year: In one, a gangrape survivor's complaint was closed without her consent after an assistant sub-inspector allegedly accepted a bribe from the accused. In another instance, in 2015, a 35-year-old auto-rickshaw driver, Syed Rizwan, a resident of DJ Halli, was tracked down and detained by the Cubbon Park police for a day following an anonymous rape complaint. Upon investigation, the police found him innocent and released him, she recalled.
Geeta Menon, women's rights activist and secretary of NGO Stree Jagruti Samiti, recounted her personal experiences of the police's non-cooperation. She claimed that in one case the police not only refused to register a complaint but also dared the victim to do what she could (about it). She alleged that when NGOs approach senior officers about such issues, they are told to go to court. "There's a highly active protection mechanism within the police department," she said, alleging that police officials shield their juniors against complaints.
Dutta accepted that police personnel need to be sensitised for handling such cases, and said regular training programmes are held for this purpose.
A police officer's refusal to file a complaint amounts to a cognisable offence, Rohini Katoch Sepat, the then Deputy Commissioner of Police (South-East), said, adding that erring cops have been suspended for this in the past.
Getting an FIR registered can be arduous anywhere in India, particularly in cases related to women, Sood said. "We have no denial on this, but we are also working hard to eliminate this issue," he said, adding that the high number of criminal complaints in Bengaluru means the police are doing a good job of registering cases. This speaks well for Bengaluru police because refusing to register cases is an easy way to keep crime figures down, he said.
Bengaluru needs to recruit more police
The population of Bengaluru breached the 10 million mark in 2013. Karnataka Police, meanwhile, remain understaffed. According to NCRB data, Karnataka was among the bottom 10 on the list of states with the best police coverage in 2013. For every 100 sq km, the state had on average 40 police personnel, compared with the national average of 55. In contrast, top rankers Chandigarh and Delhi had more than 5,000 police for an area spanning 100 sq km.
In 2008, Karnataka police enforced an 11.30 pm deadline on Bengaluru's nightlife due to their staffing problem. It took frequent requests from residents and much trial and error on the police's part until the early deadline was repealed eight years later.
As the city and its population grow, pressure on the police department, whose staff is already spread thin, increases. A year ago, the Karnataka High Court had directed the state police to fill the 24,000 vacant positions. Four months after that, Karnataka Chief Minister Siddaramaiah had announced that 15,000 men and women would be recruited in the next two years. However, no large-scale recruitment has been conducted yet, Bangalore Deputy Commissioner of Police H.D. Anand said.
(Deshpande and Mallikarjunan, members of 101Reporters.com, a pan-India network of grassroots reporters, have contributed to this story. Amol Dhekane, lead software engineer at 101Reporters.com, has designed the map.)
Note: Some areas, such as Kengeri, Turahalli, parts of Banashankari, Parappana Agrahara, BIAL and Electronic City, could not be mapped due to insufficient information. Of the 111 police stations in the city, complete data were available for 95).
This is the first of a three-part series analysing and mapping crime in Bengaluru in the year 2015.
Next: Cruelty In Marriage, Molestation Most Common Crimes Against Women In Bengaluru